2) Favour Ofili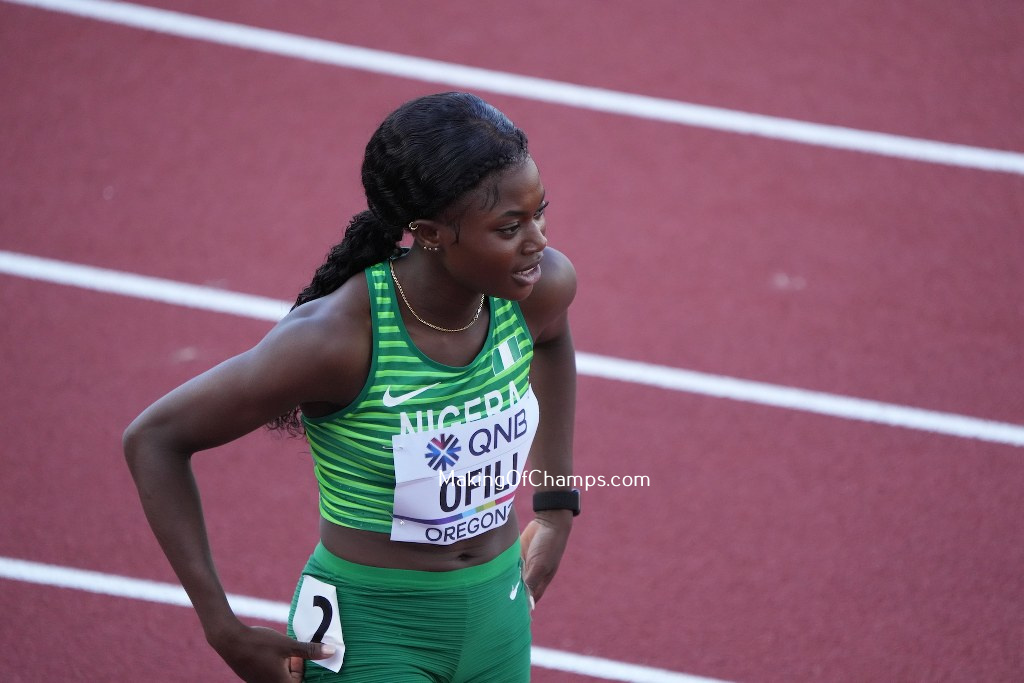 From one Favour to another, but no prizes for guessing correctly if you say that her surname is Ofili. They call her 'Star Girl' and she is living every part of her name delivering remarkable performances that have left fans enthralled.
Favour Ofili has had a stellar season in the NCAA, and she has propagated the Nigerian colours with great pride, representing her school with great successes at the numerous meets she competed in for Louisiana State University.
It is surprising that for all of Nigeria's prowess in producing super sprinters over the years, no one else had gone under 22s in the women's 200m until Ofili sauntered into the conversation. Not only did she run a Nigerian Record, she became the first Nigerian woman in history to run sub 22s, storming to a PB and NR of 21.96s.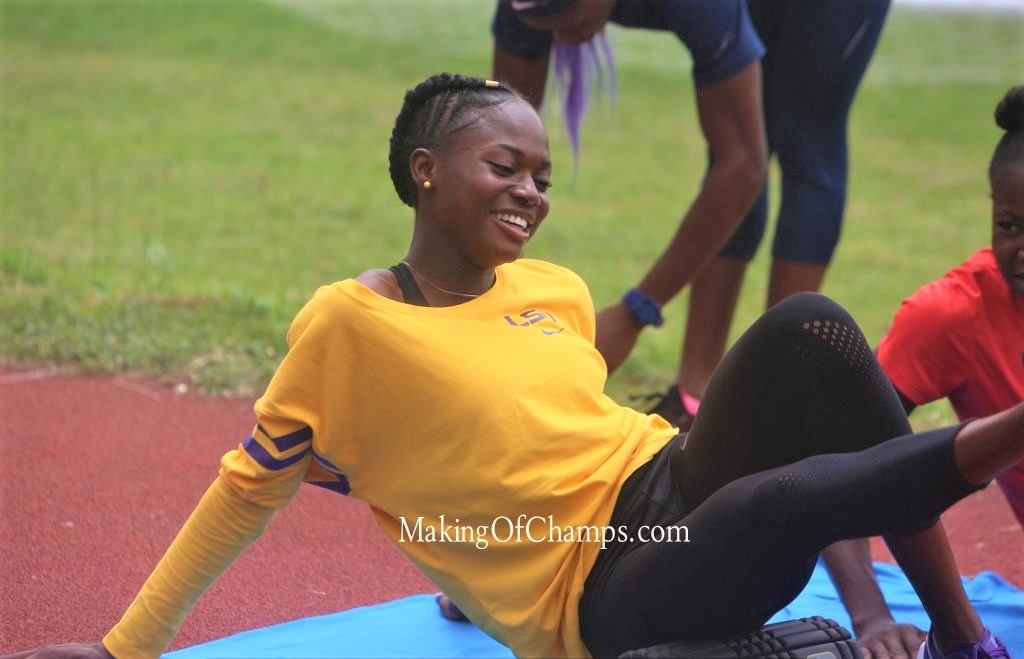 Only three women in Africa have ever dipped under 22s, and Ofili is one of them, becoming the second fastest African woman over that distance in history. That is not a cakewalk; it required hard work, talent, determination and discipline to punch that weight.
This season, Ofili moved into a territory she had put on abeyance, stepping down from the quarter-mile to fully focus on the shorter sprints. It's not like she had never run the 100m; it was just that she hadn't run the event for close to five years. She started out with 100m, but found a habitat in the 400m.
So when she opted for the 100m this season and excelled in stunning fashion, it wasn't surprising to Athletics buffs who have closely followed her. First ever 60m race, and she posted a fast PB of 7.27s. It was incredible because her next two races were PBs as well, 7.25s and 7.24s respectively. Ofili would further improve on that mark, posting a 60m PB of 7.17s, a joint 9th place on the Nigerian all-time list.
The indoor 200m was where Ofili really left her footprint. It's not like she didn't leave her mark in other events, but she was quite imperious in her 200m indoor outings in 2022.
Ofili set three indoor African records in the 200m, equalling Murielle Ahoure's 22.80s in her first outing in this event this season. She then blazed to a new AR of 22.46s a month later to finish 2nd at SEC Indoor Championships. She won the Silver medal at the NCAA Indoor Championships, posting a time of 22.50s.
No other African woman boasts of the number of sub 23s, Ofili has in the 200m indoors. She has nine to her name; in fact the only other African to run a sub 23s is Ahoure, and the latter ran it once. 'Star Girl' was showing working all round, and the 100m was also feeling her stardust.
Two 100m races in the first week of April were all PBs: running 11.11s and 11.00s flat, she was knocking on the door of sub 11s. It's not all quarter-milers who step down from the one-lap event to the 100m that instantly fit in as though they have been there for a long time.
Ofili clocked a wind-assisted 10.90s (+4.2), but a week later, she deservedly ran a new 100m PB of 10.93s (+2.0) to win her school's invitational. She became the third fastest Nigerian woman in history, and also 5th in Africa in the all-time list. For someone who stepped down to the 100m this season, it was becoming all too easy for her, but her time in the sun was well deserved.
She replicated that time at the SEC outdoor championships, running her second 10.93s in 2022 to win that title, then 11.02s to qualify for the NCAA Championships. Both times were run into negative headwinds.
Ofili came into the NCAA Championships exhausted, and it affected her output in the 100m final where she finished 2nd in the semis and 5th in the final in a time of 11.17s. It wasn't the kind of outcome she had wanted, going by the standards she had set for herself. She would leave Eugene with a medal, rounding up her NCAA season with Silver in the 200m clocking 22.05s. It was an all round good season.
Individually, Ofili won her second individual senior medal for Nigeria, competing at the 2022 Commonwealth Games in Birmingham. Being up against Olympic champion Elaine Thompson and World Junior champion Christine Mboma, it was a field of champions. However, she was unfazed, powering through to a Silver medal with a time of 22.51s, and also securing automatic qualification for next year's World Championships.
Her records this season speak volumes, and she is undoubtedly going to become Nigeria's next biggest Track Star if she continues on this trajectory which is surely destined for greatness.