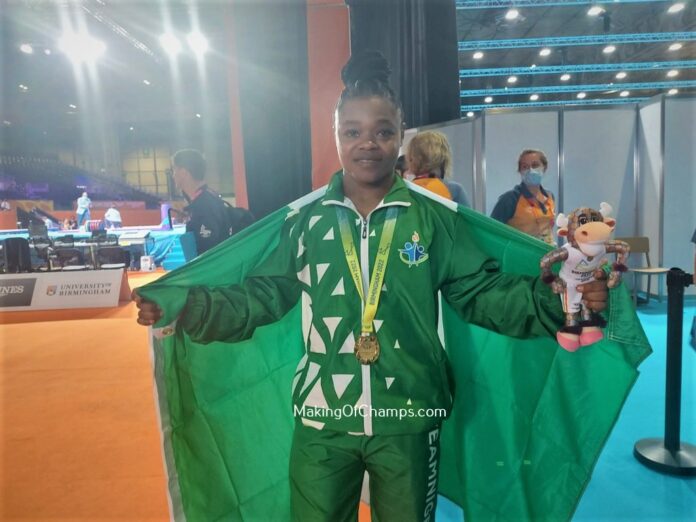 Nigeria clinched two medals on Day 3 of the 2022 Commonwealth Games in Birmingham, and both medals came from the Weightlifting event through Rafiatu Folashade Lawal and Edidiong Joseph Umoafia who won GOLD and Bronze respectively.
Lawal particularly was in an impressive form in women's 59kg, showing great intent right from the Snatch category when she set a new Commonwealth Games record of 90kg, lifting it on her first attempt of trying. She was the only weightlifter to lift 90kg in the Snatch and it was a momentum she carried into the Clean & Jerk.
Nigeria has been a good Weightlifting nation in the past, particularly dominant in the Para-Powerlifting, but had a lull in performances over the last decade across major championships. However the good outing so far in Birmingham is giving hints of a resurgence that could lead up to Paris 2024 Olympics.
Going into the Clean & Jerk leading with a 4kg advantage, it was a position that could be overturned, but Lawal was not going to be usurped of that position, going yet again for another big weight of 110kg.
Lawal broke three Commonwealth Games records en route lifting a combined total weight of 206kg to clinch GOLD. She lifted 9kg more than her closest challenger, Jessica Brown who won Silver lifting 197kg.
"I'm so excited & happy because I didn't really expect what happened today. I wasn't under any pressure because of the support my English opponent received from the home crowd. I've trained very hard and my target coming here was to get the GOLD medal," Lawal said on her victory.
Umoafia on his part had set the tone for the medals' rush, winning Bronze in the men's 67kg event. In fact he was in danger of not making it to the Clean and Jerk, needing three attempts to lift 130kg in the Snatch.
That might have set him back, and he tried 160kg twice in the Clean and Jerk before consolidating on Bronze, missing out on Silver by 3kg, then GOLD by 10kg.
With more Weightlifting events lined up for Team Nigeria, the medals might continue to come in, and it could be a pointer about a resurgence of the sport in the country.