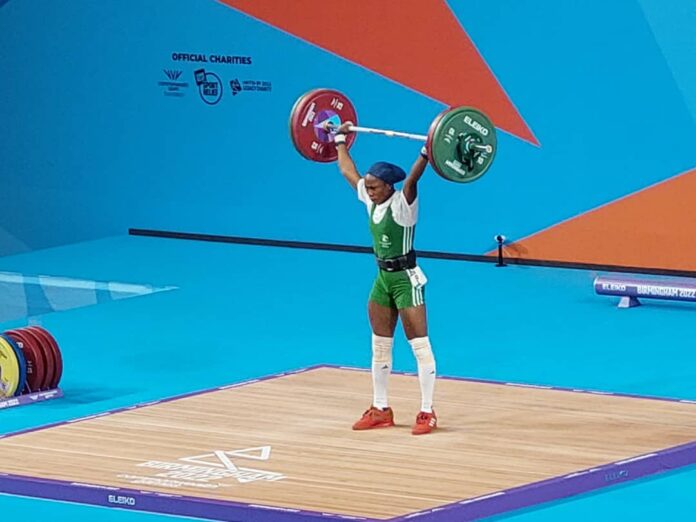 Adijat Adenike Olarinoye gave Nigerians something to cheer about, winning her country's first medal at the ongoing 2022 Commonwealth Games in Birmingham, setting a new Games' record of 203kg to win GOLD in the women's 55kg Weightlifting event.
It was by no means an easy victory for Olarinoye, in fact she had some luck on her side having almost let GOLD slip from her grasp, after it looked like Nigerian technical crew made a conservative decision on her lifts which could have cost her the GOLD.
The Nigerian lifter went for 111kg after lifting 110kg on her second attempt, and luckily her other opponents did not capitalize as she held on to win the event. At the time of the call by the Nigerian officials, it might have looked like a gamble, but they were probably managing her body strength after two consecutive lifts without much rest.
Olarinoye set her stalls early, breaking two Games Record in the Snatch category, all with a space of 10mins after lifting 90kg and 92kg respectively. She attempted 93kg on her last attempt in the Snatch but missed, however she was the only athlete to lift a weight over 90kg, taking a 3kg advantage going into the Clean and Jerk.
Having come under pressure from the English and Indian Weightlifters, the Nigerian lifter was lucky they didn't match her combined total of 203kg, lifting 110kg and 111kg in quick succession in the Clean and Jerk.
With one more attempt left for India's Bindyarani Sorokhaibam, and England's Fraer Morrow trying to match 203kg, the latter missed her last attempt at 115kg, while the former moved into Silver medal with a lift of 116kg.
Overall Olarinoye took her chances and was undoubtedly the best lifter of the day, bowing down to pay obeisance to her maker for her triumph.
Meanwhile, in women's 49kg weightlifting, 19-year old Stella Kingsley narrowly missed out on the podium finishing 4th with a combined lift of 170kg. Kingsley was so close to picking a medal, losing out on the Silver medal by just 2kg, and Bronze by 1kg.
Kingsley had lifted 94kg in the Clean & Jerk, and on her final attempt, tried lifting 98kg to move into an outright second place. However she got two greens and a red, and was adjudged not to have cleanly lifting the weight, settling for 4th place.
Overall, it was a good day for Nigeria at the Games. The men's Table Tennis team progressed to the quarterfinals of the team event, and the women's team came very close to advancing also, losing 3-2 to England in their final group match.