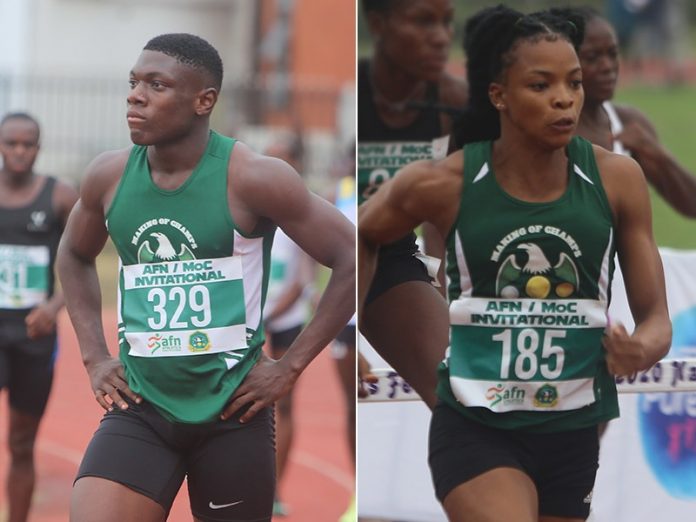 Keeping up with his impressive form in 2021, Favour Ashe won the men's 100m Final B at the inaugural AFN/MoC Invitational, a one-day event which held at the Yaba College of Technology in Lagos.
He stormed past the rest of the field for a clutch win in a time of 10.33s into a slight headwind of -0.3m/s, and comfortably ahead of Emmanuel Arowolo who took 2nd in 10.67s as Donald Nwamere got 3rd in 10.76s.
In the Final A which was won by Alaba Akintola in 10.30s (-0.1), Ashe's MoC teammate Gracious Ushie did enough to take 3rd in 10.56s while Gafar Audu finished 6th. The women's equivalent, won by Tima Godbless in a Personal Best (PB) of 11.56s, saw Maria Umoibang take 6th with a time of 11.94s, followed by Moyosore Badejo in a time of 12.04s.
Ayo Adeola was the fastest MoC Track Club athlete in the 200m, returning a time of 21.81s (-1.3) to finish 2nd in the third heat of event, same time as Favour Ekpekpe who also finished 2nd in the fifth heat. Oluwabunmi Lateef was also not far off the win in his heat, clocking 21.98s to finish 3rd.
Meanwhile, the trio of Mercy Umoibang, Moyosore Badejo and Kelechi Christian, placed 2nd respectively in different heats of the women's 200m. The former two both ran 24.61s while Kelechi Christian in the final heat, finished in 24.71s.
Ayo Adeola before his 200m run, had earlier competed in the fifth heat of the men's 400m, placing 4th in 48.14s. Oluwabunmi Lateef and Segun Akhigbe took 3rd and 4th respectively in the preceding heat.
Out with intent in the women's 400m, Blessing Oladoye powered to victory in the first heat, laying claim on the win in a time of 54.62s and inspiring a 1-2 finish for MoC as her teammate Mercy Umoibang followed in 56.40s.
In the women's 100m Hurdles, Miracle Thompson staged a strong performance, sailing on dominantly to win in a time of 13.88s, her second time under 14s, following her performance at the National Sports Festival (NSF) where she won a Silver medal. She finished well clear of Ese Awusa who came 2nd in 14.30s and Adaeze Nwokike in 14.40s.