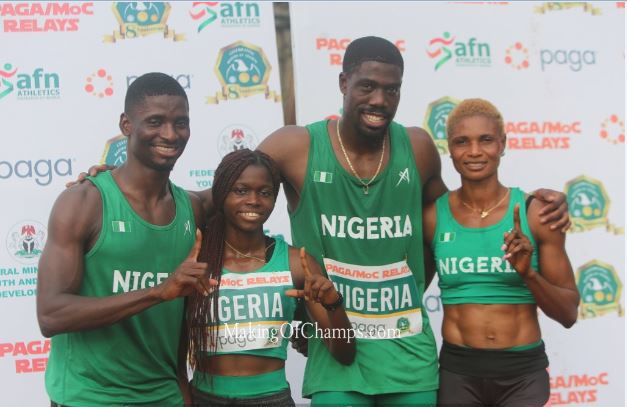 At the inaugural Paga/MoC Relays which held at the Yaba College of Technology (YABATECH) in Lagos on Sunday, June 27th, the country presented national teams in the men's 4x100m, 4x400m and mixed 4x400m in a final bid to secure qualification for the Tokyo Olympic Games in the respective events.
The mixed 4x400m Team A comprising Imaobong Nse Uko, Nathaniel Samson, Patience Okon-George and Chidi Okezie ran a strong race, storming past the entire field to prevail in a new National Record (NR) of 3:14.09.
The NR mark which broke the previous marker of 3:18.53 set by Delta State at the National Sports Festival, doubles as the African Record (AR) as it is better than Kenya's benchmark of 3:16.21, and is also the second fastest time in the world this season.
Yinka Ajayi, Sikiru Adeyemi, Amarachukwu Obi and Emmanuel Ojeli competed for Nigeria's Team B who followed suit in 2nd place in 3:19.39 while the Senegalese team placed 3rd in 3:20.19.
In the men's 4x100m, Nigeria, represented by the quartet of Godson Brume, Usheoritse Itsekiri, Jerry Jakpa and Enoch Adegoke in Team A did well to win their final race in a Season's Best (SB) of 38.53s, but missed Olympic qualification as they would have needed to run faster than 38.46s to displace at least Trinidad & Tobago that is currently placed 16th on the World Athletics (WA) rankings.
This came after they had run 38.62s in the semis with the same team, but a different formation, starting with Adegoke and anchored by Brume. Nigeria Team B finished 2nd in 40.12s while Cote d'Ivoire followed in 3rd with 40.99s.
Team Senegal ran the fastest time they have run in 25 years, winning the men's 4x400m in an SB of 3:04.82. The only time they've run faster was at the 1996 Atlanta Olympics, where they set the still-standing NR of 3:00.64. They finished well clear of the Nigerian quartet who clocked a time of 3:07.85.
On to the individual events, there were three heats of the women's 100m of which Blessing Ogundiran emerged fastest from heat in a time of 11.54s (0.0), Victory Godah won heat 2 in 11.81s, while Olayinka Olajide won the third heat in 11.77s.
Ogho-Oghene Egwero was the fastest across ten heats of the men's 100m, winning the opening heat in 10.39s. Senegal's Henry Bandiaky ran a PB of 10.45s, while Cote d'Ivoire's Gnamien Nehemie N'Goran was the 3rd fastest in 10.49s.
Rahmat Jimoh was the winner of the women's 800m in 2:12.51 ahead of Ada Bright who ran 2:13.11.
Salisu Habib controlled the men's race which he won in 1:53.28, putting daylight between himself and the rest of the field as Sodiq Adebisi finished 2nd in 1:56.24 and Reuben John took 3rd in 1:56.73
Oyeniyi Abejoye controlled the affairs of the men's 110m Hurdles, powering over the barriers for a thorough win in 13.96s (0.6). Alex Al-Ameen finished 2nd in 14.13s, while Wiseman Mukhobe followed in 14.21s. Miracle Thompson easily won the women's equivalent in 14.24s (-1.3m/s).
Meanwhile, Ousmane Sidibe won the men's 400m Hurdles in 51.42s, beating Ezekiel Nathaniel who clocked 52.08s and Gbenga Bakre in 3rd with 53.38s.
Abasiono Akpan took the reins of the women's 400m Hurdles in 58.82s, ahead of Faith Dennis (61.96s) and Temitope Adenuga (62.33s).
Esther Isa secured the win in the women's High Jump with a clearance of 1.86m, comfortably ahead of Temitope Adesina who was 2nd with 1.78m while Faith Peterside who managed 1.60m got 3rd place.
David Aya's clearance of 2.10m proved to be a tall order for the rest of the field in the men's High Jump as he beat Mike Edwards who topped a best of 2.05m, taking 2nd on countback from Cyprian Oyedele who cleared the same height.
Mercy Abire dominated the women's Long Jump, soaring to victory with a mark of 6.46m (0.5) ahead of Tina Olero Samson who leapt a PB of 6.16m (1.9) and Oluwabukola Onamaki at 5.79m (0.2).
Appollinaire Yinra took hold of the men's event where he swept to a PB of 7.84m (0.7) ahead of Marcel Mayack who managed 7.70m, while Blessing Oluwayemi finished 3rd with 7.18m.
Mayack would also win the Triple Jump with an SB of 16.32m (0.0) from Godwin Charles (15.50m) and Raymond Tchomf (15.44m). The women's event was won by Mary Oyuorah who jumped 12.50m (0.9).