3) Favour Ashe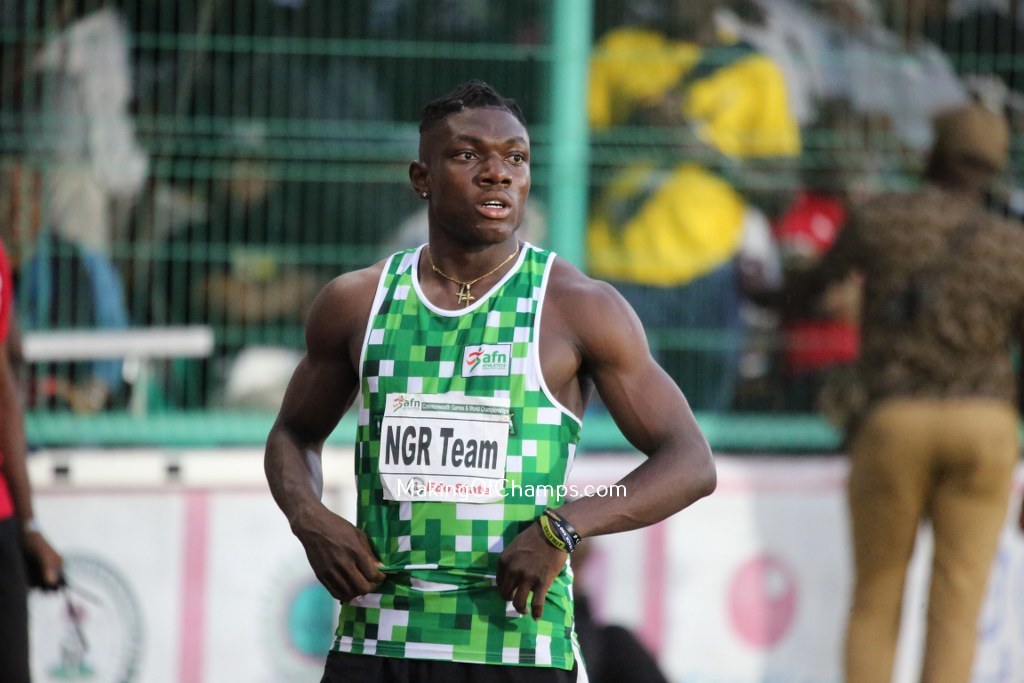 2022 was the year Athletics got its version of a Nigerian Nightmare, toeing the path of other sports like the UFC (Kamaru Usman) and Boxing (Efe Ajagba). Nevertheless, this was the year Favour Ashe joined that Whatsapp group after he was rechristened that by his coach in College.
Less than six months in the United States competing for the University of Tennessee, it was not surprising his performances left his teammates stunned, earning him that mantra of a Nigerian Nightmare.
This season, Ashe became Nigeria's fastest man, winning his National 100m title and attaining the height of a sub 10s runner, making him the 12th Nigerian in history to achieve that. Nigeria's sub 10s club is really an elite club of great athletes.
Like a phoenix, Ashe's stock started rising last season in Lagos when at 18, he ran an impressive PB of 10.17s. It was monumental because he ended up running 10.07s (+2.7) that same day, a performance that led to many Division 1 schools in the NCAA swooning over him.
So when he chose University of Tennessee, it was a sporting project that was appealing to him, and also because he wanted to tread the pathway some of his icons had passed through. He had it all mapped out.
Competing in his first ever indoor race, Ashe showed no trepidation and looked like a hand in a glove when he stormed out to an impressive 6.58s in his debut 60m race. For someone who had never been in an indoor competition before then, that was quite huge as he instantly shot up to 12th place on the Nigerian all-time list.
That 6.58s was not a flash in the pan because in his next 60m race two weeks later, he stormed to yet another PB of 6.52s, and 6.51s to go joint 4th alongside Davidson Ezinwa on the Nigerian all-time list. He would cap off his indoor season with a medal, winning Bronze at the NCAA Indoor Championships in Alabama, clocking 6.55s.
Ashe had taken the NCAA by storm, and it was a form he carried into the outdoor season, running a PB of 10.10s in that interesting race against his compatriot, Alaba Akintola who won on the day in 10.09s. But Ashe was building up momentum.
No Nigerian athlete in history had ever run any time in the region of 9.7s (under all conditions). The 20-year-old became the first Nigerian athlete to do so, running a windy 9.79s (+3.0). Statisticians would readily tell you that the 9.79s translates to a sub 10s in legal conditions.
Running a legal sub 10s was playing on Ashe's mind. He was too eager to finish off races, and ended up messing up some of his execution plan. At the Southeastern Conference which he won with a PB of 10.04s; a World Championships qualification mark, a distraught Ashe was downcast when he saw that it was not a sub 10s.
Any other athlete would have been over the moon with a new PB and World Championships qualifying mark. Not Ashe, whose confidence in his abilities had risen so much that anything less than a sub 10s didn't seem good enough for him.
The NCAA Championships was the first time he would race in Eugene, and if that 100m race had ended in the last 90m, he would have probably clinched the NCAA title in his first season, but for the closing speed of Joseph Fahnbulleh who beat him just before the line. Ashe settled for a Silver medal, and that was indeed a remarkable achievement for a fresher.
Like they say, delay is not denial. Ashe's time to get that elusive sub 10s would come, and what better occasion to get it than in front of his home fans at the Nigerian trials in Benin City. There was a lot of hype about the trials, and Ashe himself was pumped for it. He wanted to put to up a show for the Nigerian fans, and he did not disappoint.
In a race with so much at stake, Ashe powered to a clear win, but most importantly running a new PB of 9.99s to win the Nigerian title against a very stacked opposition. The Samuel Ogbemudia Stadium erupted into a frenzy, they had seen a sub 10s in Nigeria for the first time at the Nigerian Trials since Ashe's former coach, Deji Aliu ran 9.98s in Abuja.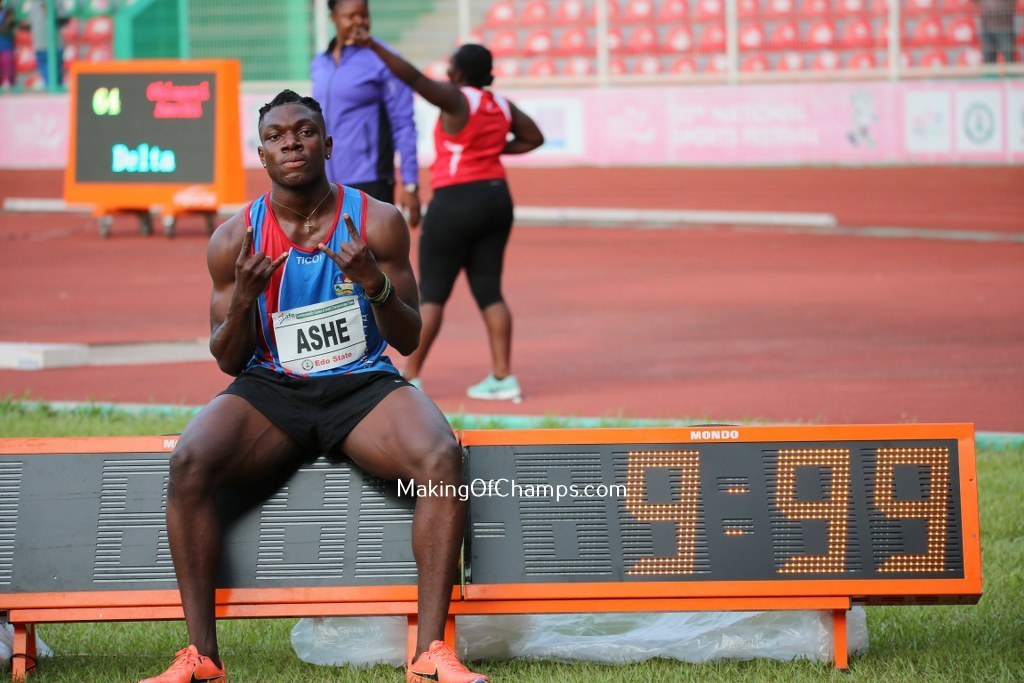 A new sprint King had been born, and Nigerian fans no doubt love this 'nightmare.' The World Championships was a good experience for him; it was a learning curve to build on for the future. Ashe progressed through the heats and ran his second fastest time in history, 10.00s, to qualify from his heat, but having finished 4th in his semifinal heat, he missed out on a place in final.
This season, Ashe has grown into a top athlete, competing in his second major championship for Nigeria. He ran two rounds at the Commonwealth Games in Birmingham, coming close to making the final, but missed out by a spot after finishing 3rd in his semis and 9th overall.
It's not everyone that gets put on a strong back straight in the 4x100m which most times decides the outcome of the race, but if you are quite good, then you would be entrusted with that responsibility. Ashe ran a good second leg, helping Team Nigeria clinch Bronze in the men's 4x100m, the first time in 32 years that Nigeria will be winning a medal in this event at the Commonwealth Games.
The prospects the Nigerian nightmare packs are scary, and if he gets to fulfill his potentials, then Nigeria has got a sprint king on their hands.