1) Tobi Amusan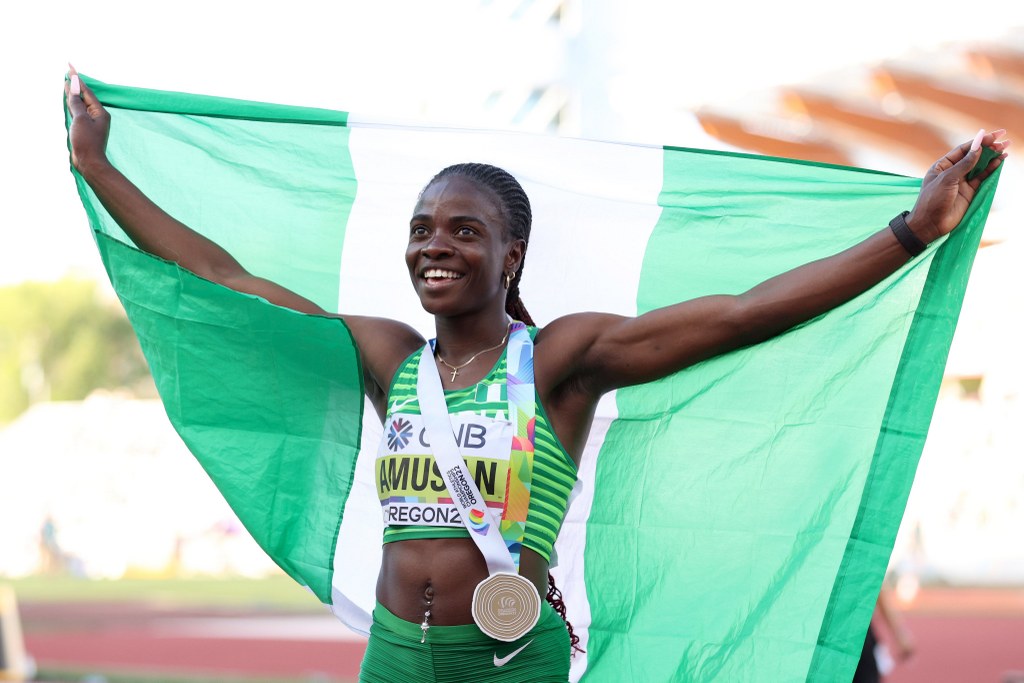 Was it ever in doubt who Nigeria's top athlete this season is? Really, did you think anyone else would have been crowned with the No. 1 spot other than…yes you know whom we are talking about, even though you have already seen her name in the header.
Tobi Amusan singlehandedly transformed the fortunes of a dwindling sport in Nigeria, bringing it to the fore and giving it primetime slots in sports and news bulletins, not just in Nigeria, but across the world and in countries where Track and Field is watched.
For many years to come, Nigerians will narrate tales of that night in July when Amusan, whom people now endearingly call Tobi Express, brought unspeakable joy to millions of Nigerians who stayed up late to watch her.
It was a perfect: "Where were you moment." Such has never been seen before in Nigerian Athletics, and to have someone who is a Nigerian break the World Record, was simply mind-blowing. There's still a tingling feeling while recollecting that race: it gives one the chills and goose-bumps. For the first time in the history of World Athletics Championships since Helsinki 1983, Nigeria produced its World Champion through Tobi Amusan who blew our minds away winning the World 100m Hurdles Title at the World Championships in Eugene.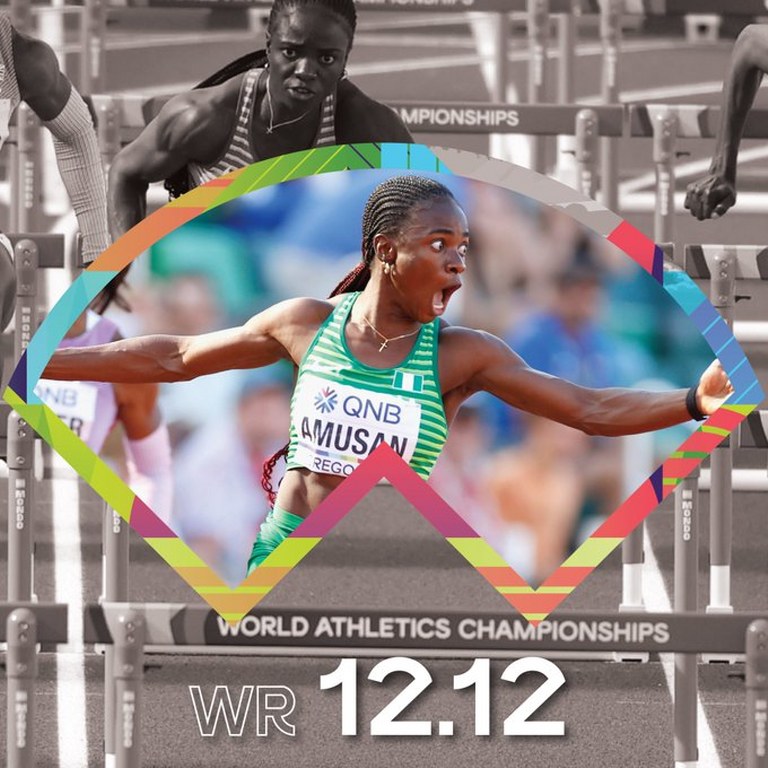 Last season, Nigerian fans were celebrating effusively after Tobi finally got her hand on Glory Alozie's African Record, setting a new one of 12.42s to win her first Diamond League trophy in Zurich. At the time, it was respite for the consecutive 4th place finishes in Doha (World Champs 2019) and in Tokyo (Olympic Games 2021).
This season, Tobi started brightly, even running 11.14s in the 100m dash. That time was good enough to qualify her for the 100m at the World Championships. Well, not like anyone expected her to compete in this event in Eugene as it looked like a one-off performance where athletes pull off the odd PBs when they binge a bit on their non-regular events.
Travelling to Mauritius in June, Tobi successfully defended her African title, and just before the Nigerian Trials, she improved on her African 100m Hurdles Record by one-hundredth of a second. Amusan against a modest field, clocked 12.41s, getting in the shape to challenge for a World Champs medal. And although she would return to Nigeria to win the National title in a Championships record of 12.65s (again, another of Glory Alozie's records), her performances looked regular and not a pointer of what was coming.
Tobi was listed by the Athletics Federation of Nigeria (AFN) for two events: 100m Hurdles and the 4x100m Relays, but she had been shouting to rooftops right from Port Louis that she was focusing on her main event. It has now clicked why she wouldn't risk running the relays, after her unprecedented feat in the 100m Hurdles.
After running yet another AR of 12.40s to win her heat, Tobi served everyone the performance of a lifetime when she ran a never-seen-before World Record of 12.12s to win her semifinal heat. Even Tobi herself was stunned by that remarkable time which ignited a debate across the world over the legitimacy of that time. Back in Nigeria, the euphoria was palpable. At the time she ran that race, it was around 1am in Nigeria. Not many were awake, but those who were and watched the race, made a resounding noise that simmered through the dead of the night.
It is one thing to run a World Record in the semifinal, but quite another to replicate a top performance in the final when the stakes are higher. If there was any doubt about the 12.12s Tobi ran in the semis, that was doused in the final when she blew away the field, crossing in a wind-aided 12.06s (+2.5). That was unchartered territory. No woman has ever run that fast in all conditions.
Tobi won Nigeria's first GOLD medal at the World Championships, and when those tears flowed from her eyes after receiving her medal and singing the Nigerian anthem, many in Nigeria cried along with her. What she did, resonated loudly and she trended for three days non-stop on social media, seeing her following skyrocket across her platforms by over one hundred thousand.
There will be more wins for Amusan who defended her Commonwealth Games title in Birmingham with a new Games Record of 12.30s, and equally defended her Diamond League title as well, surpassing Gail Devers' longstanding Meet Record, running a new MR of 12.29s.
She won it all in 2022, from the African title to the World Championships, Commonwealth Games and then the Diamond League trophy, whilst going up against a strong 100m Hurdles field at different competitions.
Amusan has now become so popular that Nigerian fans eagerly look forward to when next she is competing. She has ignited a movement and transcended sport in the country. Frankly, this is what Athletics in Nigeria really needs at this time…a Tobi Amusan!