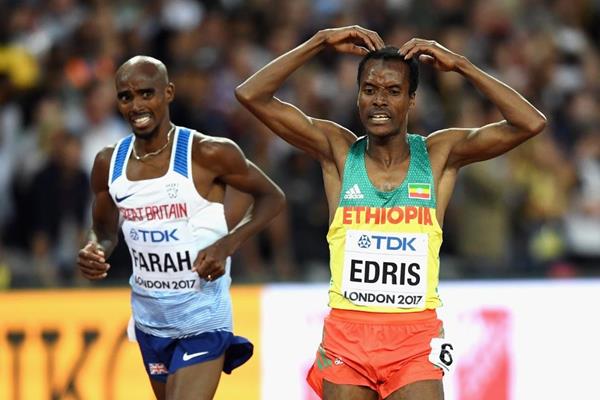 In what was a tactical masterclass by Ethiopia's duo of Yomif Kejelcha and Muktar Edris, Mo Farah was beaten in his last ever track event, as he switches to road races after the London 2017 World Championships.
Edris, with the help of national teammate Kejelcha, ran the race of his life to win the men's 5000m with a time of 13:32.79, with Farah settling for Silver in 13:33.22, and USA's Paul Chelimo taking Bronze in 13:33.30.
It was not the kind of finale many expected, with the crowd roaring and cheering for Farah who was gunning for an unprecedented 5th double global honours.
However, the Ethiopians didn't play into his game plan, kicking early after taking the bell while Farah played catch up, a situation the Olympic champion is not used to being in.
Farah's disappointment after the race was evident, as he missed the opportunity of doubling in London just as he did in 2012.
Edris on beating Farah and doing his trademark celebration: "Mo has many victories but now I have one. I am the new champion for Ethiopia. That's why I did the Mobot. I am the next champion," he said.
"I have won the gold in front of his home crowd. I didn't have much support but we did it. I did the Mobot out of respect as well for him" Edris added.
Farah on confirmation of his retirement: "It's been amazing. It's been a long journey but it's been incredible. It doesn't quite sink in until you compete here and cross the line – I had a couple of minutes to myself – that this is it.
"To be honest with you it takes so much out of me. It's not an excuse, but it took a lot more out of me than I realised. Tactically, I was trying to cover every move. They had the game plan: one of them was going to sacrifice themselves. That's what they did tonight, and the better man won on the day. I gave it all, I didn't have a single bit left at the end.
Farah on entering the home straight and whether gold was still possible: "I thought it might be possible, but my legs had it. I got boxed in early on – it doesn't normally happen – but I got boxed in early and couldn't get out."