Leading financial institution Union Bank has come through for Nigerian athletes set to represent the country at the forthcoming Olympic and Paralympic Games holding in Rio, Brazil in August and September respectively.
The bank on Wednesday, July 27th, unveiled a select team of five promising athletes to be known as 'Team Union', at a press parley held at their headquarters in Marina, Lagos.
Some of the dignitaries who graced the event are the 1st Vice President of the Nigeria Olympic Committee (NOC) and President of the Athletics Federation of Nigeria (AFN), Chief Solomon Ogba; Secretary General of the NOC, Mr. Tunde Popoola; President of the Para-athletics Federation of Nigeria, Mr. Frank Thorpe; Union Bank's Head of Transformation Mr. Joe Mbulu, and Head of Corporate Affairs and Corporate Communications, Mrs. Ogochukwu Ekezie-Ekaidem.
The athletes named as Union Bank's ambassadors to Rio include Nigeria's fastest man for two consecutive seasons, Seye Ogunlewe; National 200m Champion Divine Oduduru; World Relays GOLD medallist in the 4x200m, Regina George; Glasgow 2014 GOLD medallist, Odunayo Adekuoroye, and African Record holder in the T54 category of the women's 100m, Hannah Babalola.
Whilst assuring Team Nigeria of their support, the bank pledged the sum of N25 million to the contingent of 100 athletes going to the Olympics and Paralympics, with each member of the team expected to smile home with N250,000. They also backed the NOC with N5 million.
In his opening address, Mr. Mbulu reiterated Union Bank's commitment towards sports development in Nigeria. He said, "Union Bank has been supporting Team Nigeria for a long time so this is not new to us.
"Our support for sports transcends the Olympics, because we believe that sport drives unity; we are one country when we engage in sporting activities. We also want to use this opportunity to call on like-minded organizations to pitch in. We understand that times are tough, but we cannot abandon our team."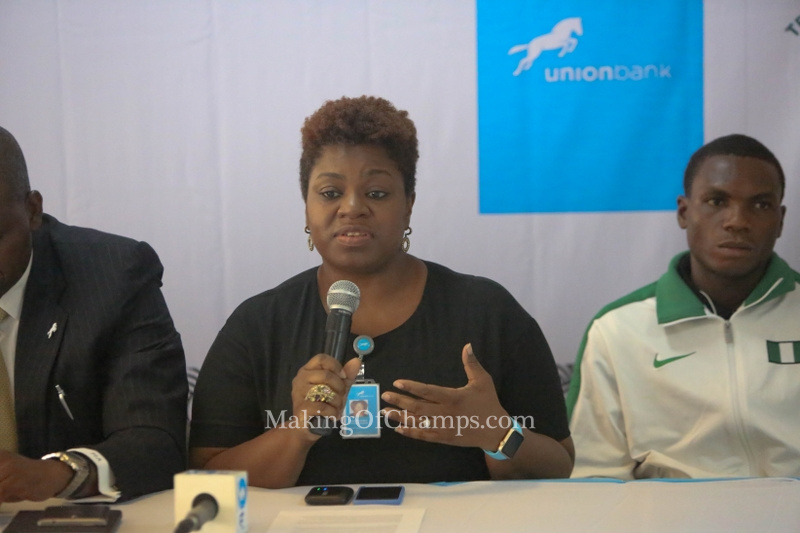 Mrs. Ekezie-Ekaidem revealed that Oduduru's interview with reporters shortly after winning the 200m at the Nigerian Trials in Sapele, triggered the bank's swift intervention. She said:
"We were thinking of how to get involved in the Olympics, but after seeing Divine Oduduru's video where he made an appeal to corporate organisations to come to the aid of athletes, we had to answer his call. We love Oduduru's personality and the fact that he has been very persistent.
"What we wanted to do was to help boost the morale of the athletes so that they can just focus on what they need to do, without worrying about anything else. Our partnership is a proposed six months to one year relationship, but the focus for now is the Olympics, and then afterwards we would review the relationship."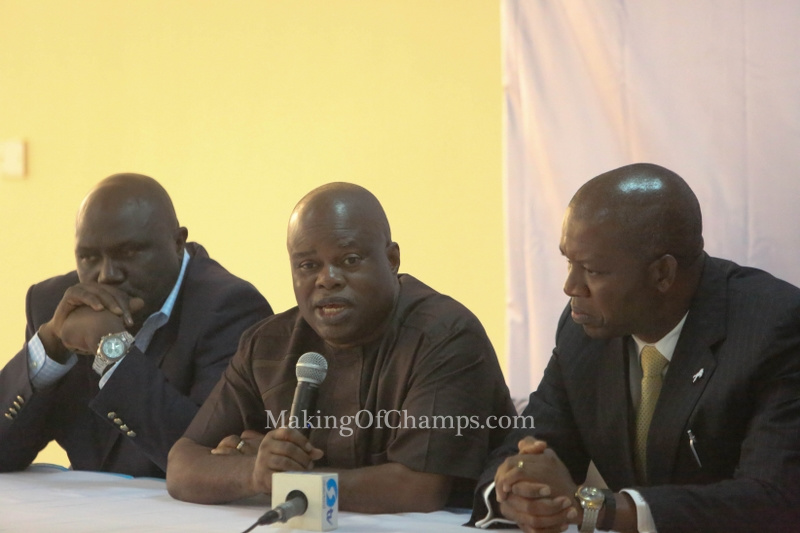 In his remarks, Chief Ogba commended Union Bank for their intervention: "Track and Field is the foundation of all sports, because out of the 23 medals Nigeria has won at the Olympics, 13 of them are from Athletics. I am sure that this gesture will go a long way in motivating the athletes. Union Bank has always been a trailblazer amongst the financial institutions, so all I can say is thank you", he said.
Speaking on behalf of 'Team Union', Oduduru assured his benefactors of the athletes' determination to do Union Bank proud in Brazil.