7) Ezekiel Nathaniel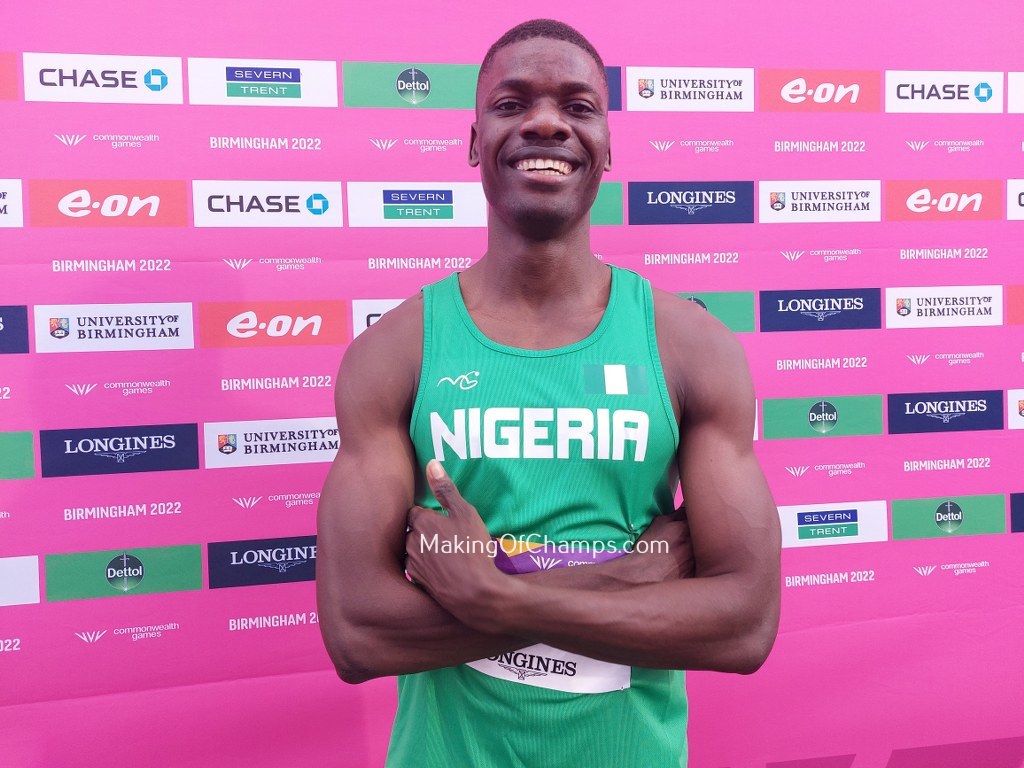 How did a Long Distance runner become so good in 400m Hurdles? Not like athletes don't make transitions to other events from the ones they started off with, but it could take some time for them to master their new events.
Ezekiel Nathaniel had barely raced in the 400m Hurdles for two full seasons, but he is already a National Record (NR) holder in this event. Taking down one of Nigeria's longest standing sprint records that had stood for 35 years, long before he was born.
It is testament to Nathaniel's doggedness and personal drive to succeed. Two of his older siblings had blazed the trail before him, representing Nigeria, but he wasn't going to hang on their coattails; he would rather carve a niche for himself.
Prior to the 2021 National Sports Festival, Nathaniel was cutting his teeth in the 800m. He had stints in the 1500m, ocassionally running that event, but it was in the 800m that he won his first National medal in, winning the Silver medal in Benin after crossing the line in a PB of 1:51.66.
Nigeria does not field a lot of athletes in the Long distance events at major championships, and this could have been one of the thoughts that played on Ezekiel's mind to fully embrace the Hurdles, seeing that in his first competitive race in it, he posted a time of 53.83s
Eight races in the 400m Hurdles in 2021, Nathaniel rapidly progressed and ran under 50s for the first time in his career. He was stunned running 49.89s in Nairobi, and even though he narrowly missed the podium to finish 4th, he was quite contented.
Baylor University snapped up Nathaniel, and moving to the US took his career to the next level, because he now starting running the 400m Hurdles seamlessly. It was now his event, he had owned it and wasn't looking back. He was now consistently running sub 50s in the 400m Hurdles, and between 24th March to 14th May, he ran four sub 50s in five races.
Then on 15th May, 2022, he entered the pantheon of great athletes! A staggering 48.42s to win the Big 12 Conference, he knew he had run an NR, he was bewildered seeing the time he had returned, but he was also delirious. What he didn't know was how long that time had stood.
Nathaniel took down Henry Amike's NR of 48.50s which had been untouched since the latter ran it at the 1987 World Championships at the Stadio Olympico in Rome, Italy.
A new kid on the block had surfaced: Nigeria may have uncovered its own 400m Hurdles gem who could rub shoulders with some of the best in this event. Nathaniel himself, adores Rai Benjamin; he is the one out of the group of elite 400m Hurdlers that he wants to be like.
Nathaniel's season might have had some hiccups, finishing 4th in the NCAA Championships, and then clattering the first barrier in the semifinal at the World Championships, before finishing 6th in the final at the Commonwealth Games, but he has had a fairly good season.
He would go into the 2023 season, no longer a Fresher at Baylor, and whilst the road ahead of him is still a long way to attaining top ranked positions in this event, the big question now is, how well he thinks he could improve on his own NR.