8) Tima Godbless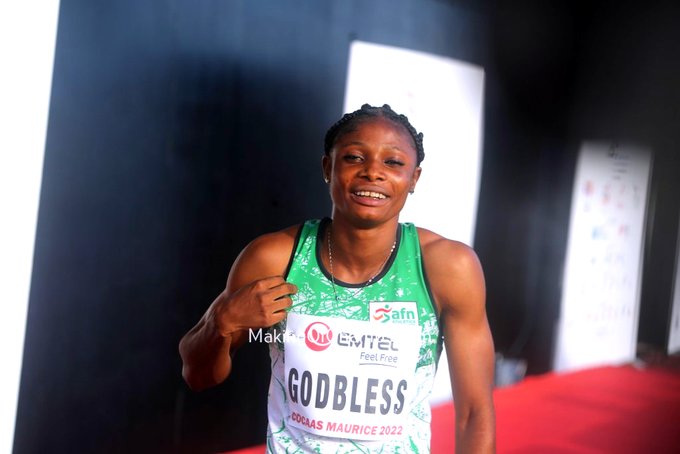 On one hand, Tima Godbless is kitted and ready to join her National teammates for the Opening Ceremony of the 2022 Commonwealth Games and then in a twinkle of an eye, she is transiting through Istanbul en route Cali for the World Junior Championships.
She wasn't meant to be there, or so many thought. She was meant to be in Birmingham; that's what she had prepared for. However, the events that unfolded afterwards showed that in hindsight, it was a mistake not deciding much earlier which championships to send her to. Some kneejerk last minute decision, cost her days in travel arrangements, meaning that she arrived Colombia just a day before her event.
This year has been Godbless' standout season in her four seasons on the Nigerian circuit. It was the season she fought her way into the Top 4 female 100m sprinters in Nigeria, showing she has the traits to compete in the big league.
Before travelling to Port Louis for the African Senior Championships, Godbless had never run faster than 11.48s (her PB at the time), but her face lit up after the semifinals, when she saw 11.25s appended by her name on the board. She expected to run a PB, but she didn't think it would be that fast, maybe a low 11.4s.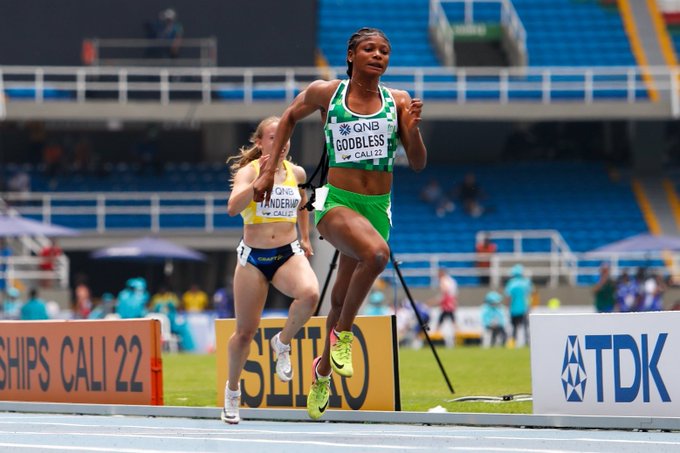 Godbless was the only Nigerian athlete in the 100m final, and up against much stronger opposition in Gina Bass (eventual winner), Aminatou Seyni and Carina Horn, she did give a good account of herself, finishing 4th at her first African Championships, posting a time of 11.27s. That was a template to build on. A run-out in Mauritius ignited an innate strength, which gave her the belief to go heads-on against her Nigerian peers at the National Championships.
Last season at the Nigerian Olympic Trials, she had finished 4th in the Final with a time of 11.39s (+2.7). Although it was enough to get her into the Nigerian Relay team for Tokyo Olympics, she would not compete as she was one of the 10 athletes from Nigeria that were disqualified from the Games.
Godbless upgraded 4th place (in 2021) to 3rd at the 2022 Nigerian Trials, finishing on the podium with a time of 11.38s. There was still some work to be done, but she was making visible progress and now getting regular call-ups to represent her country.
When she got to Cali, Godbless shook off her jetlag and returned a very fast 11.09s, a Nigerian Junior Record, which surpassed the 11.11s Joan Ekah ran in 1999 in Lausanne. That time moved Tima up to 4th this season on the Nigerian Top List, and 12th on the Nigerian all-time list.
Her name had started sticking in the minds of Nigerian track fans, and she was inspiring confidence that Nigeria has a strong pool of talented athletes coming to the fore. A new generation was being unearthed.
Wow… Tima Godbless 🇳🇬 has just broken the National U-20 Record at the World U-20 Championships in Colombia, storming to a massive Personal Best (PB) of 11.08s!!🔥

She broke the record set by Joan Uduak Ekah which stood for 23 years.😳
AMAZING!!! pic.twitter.com/4s3ANAf4RM

— Making of Champions (@MakingOfChamps) August 2, 2022
There's a feeling in some quarters, that Godbless could have made the podium in Cali, if she had properly managed her semifinal race. With the day's schedule delayed by 2hrs because of heavy rains, she won her semifinal heat after exerting so much, when a Top 2 finish was enough to guarantee her a place in the final.
Godbless was inconsolable after finishing 5th in the final much later that day in a time of 11.19s, and although she would have personally wanted to leave Colombia with a medal, she has now won over new fans who will closely follow her exploits as she develops.