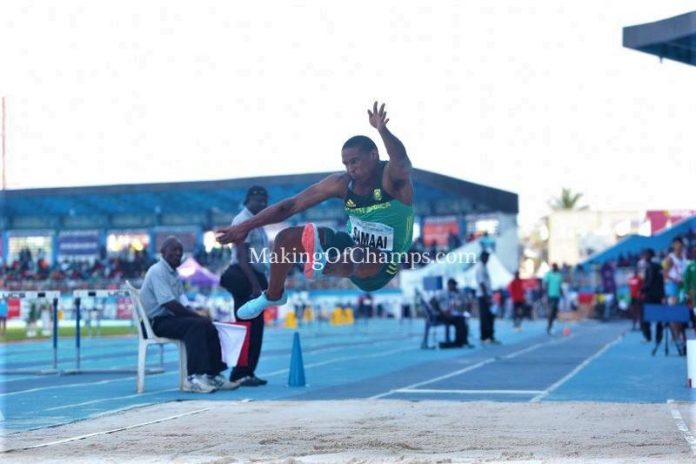 Ruswahl Samaai became the first South African man to claim two successive Long Jump titles at the African Championships after beating teammate Luvo Manyonga to retain the GOLD medal he won in Durban two years ago.
It was an intense competition and predictably so, but Samaai edged out his compatriot by just 2cm, snatching the win with a leap of 8.45m as Manyonga's best jump landed at 8.43m. Yahya Berabah of Morocco took the Bronze medal with his leap of 8.14m.
Meanwhile Nigeria's Chukwuebuka Enekwechi also smashed the Championship Record in the men's Shot put event, striking GOLD with a mark of 21.08m while Mohamed Khalifa of Egypt settled for Silver with his throw of 19.33m, with South Africa's Kyle Blignaut taking the Bronze medal with 19.05m.
It was another 1-2 for South Africa in the men's Discus throw as Victor Hogan took the GOLD medal with a mark of 60.06m to finish ahead of Werner Visser (58.22m) and Morocco's Elbachir Mbarki (54.97m).
Soukaina Zakour of Mauritius won the women's Hammer Throw Final with a best distance of 68.38m, while Temilola Ogunrinde claimed Silver at her maiden outing for Nigeria with a National Record of 67.39m. Jennifer Bawsikita of Congo was 3rd with 66.43m.
It was a 1-3 for Tunisia in the women's Pole vault event, with Dora Mahfoudhi (4.10m) setting the pace for Dina Eltabaa of Egypt (4.05m) and Nesrine Brinis (3.90m).