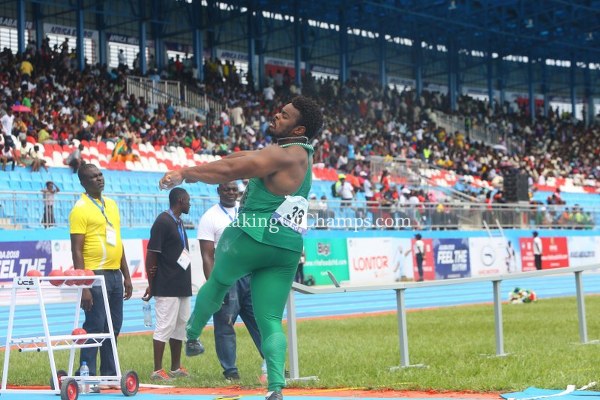 Chukwuebuka Enekwechi clinched Team Nigeria's second GOLD medal by winning the men's Shot Put at the 21st edition of the African Championships taking place in Asaba, Nigeria.
The 2018 Commonwealth Games Silver medallist was a class apart from the rest of the field, clinching the victory with his fifth round effort of 21.08m while also breaking Janus Roberts' Championship Record (CR) of 20.04m, which the South African set 14 years ago in Brazzaville.
To further accentuate the dominance of the power athlete on the day, Enekwechi won every single round of the final with efforts of 19.49m, 19.27m, 19.06m, 19.06m, 21.08m and 20.38m.
Mohamed Khalifa of Egypt placed 2nd with a mark of 19.33m, while Kyle Blignaut of South Africa was 3rd with a best throw of 19.33m.
Furthermore, Nigeria's Temilola Ogunrinde got the crowd roaring in every single round of the women's Hammer Throw final.
However, the throw that got the locals all the more ecstatic was when she registered her fourth round effort of 67.39m, which clinched the Silver medal for her, while also breaking Queen Obisesan's National Record (NR) of 66.86m set in February.