Two days ago, we started a series on the Top 8 Male Sprinters to watch out for in the near future, listing the first four from the pool of young budding athletes we have drawn up.
On that same series today, we would be looking at the remaining four athletes, arguing why we think they possess the requisite talent to thrill us in this sport we so dearly cherish.
In case you missed the Part 1, you can read about it on the link in the first paragraph. So let's delve into the concluding part.
4.) Jereem Richards
Jereem who? That was the resonating theme at the London World Championships when the Trinidad and Tobago athlete ran the fastest time of 20.05s in the first round of the 200m.
Not much was known about Richards prior to that race, and after that, he instantly got elevated to the status of a contender for the 200m title, alongside the likes of Wayde Van Niekerk.
In a race where he had a poor start, Richards still ran a good home straight and was able to finish on the podium, sharing the same time of 20.11s to finish behind Van Niekerk who was 2nd, with Ramil Guliyev taking the victory in 20.09s.
One wonders what would have happened if Richards had bolted out of the blocks with the perfect start. Who knows, he could have been the winner on the day, seeing how close he ran the duo of Van Niekerk and Guliyev.
Interestingly, the 23-year old was previously competing in the 400m and even has a Personal Best (PB) of 45.21s which he ran this year, not until he ran a sub-20s at the NCAA Collegiate meet in Lexington on 27th May, where he clocked 19.97s.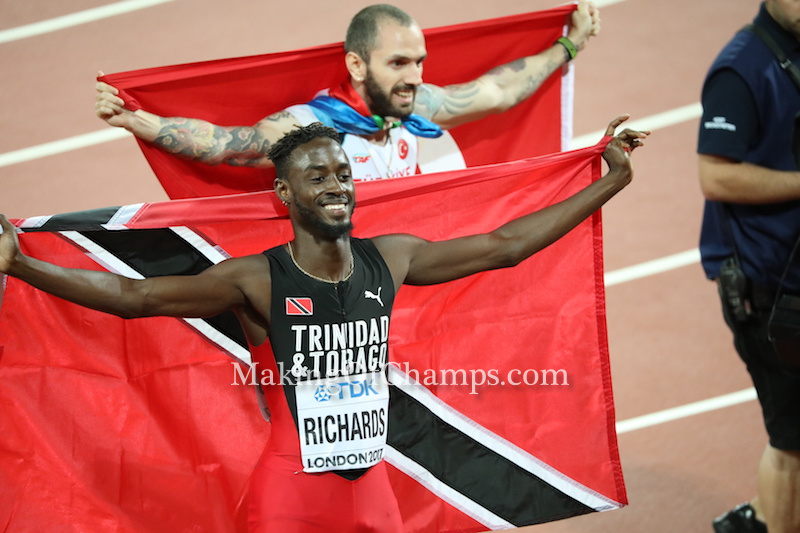 One could have said that the sub-20s was a one-off, but the World Champs in London has proven that Richards is the real deal, and an athlete who could go on to emulate his countryman Ato Boldon.
Many argue that Trinidad and Tobago were able to beat USA and win GOLD in the men's 4x400m because of the monstrous second leg ran by Richards, who when he got the baton in 3rd place, handed it over at the same time as the USA team, before they went on to win in 2:58.12.
Richards is not in any way flattering to deceive and he's definitely one athlete who would go to dominate in many years to come.
Do you know that Richards' Dad used to play Football, and his mother was an athlete? Richards even started out playing Football and Cricket, until he found his calling in Athletics.
3) Noah Lyles.
Right from 2014 when he announced himself on the big stage, winning the GOLD medal in the 200m at the Youth Olympic Games in Nanjing, he has made the steady progression and is well placed as one of the next generation of athletes destined for greatness.
Lyles in 2016 went a step further, competing in just the 100m at the World U-20 Championships in Bydgoszcz where he clinched the title with a time of 10.14s. He didn't compete in the 200m, a strategy many felt he was deploying in order not to exert himself so much on too many races. He did however go on to anchor Team USA to victory in the 4x100m event.
If you thought that Lyles had ditched the 200m, then you'd be wrong as he started 2017 with a bang in this event, racing to a time of 19.90s at the Shanghai Diamond League in May. It's a time that remains the 5th fastest in the world this year.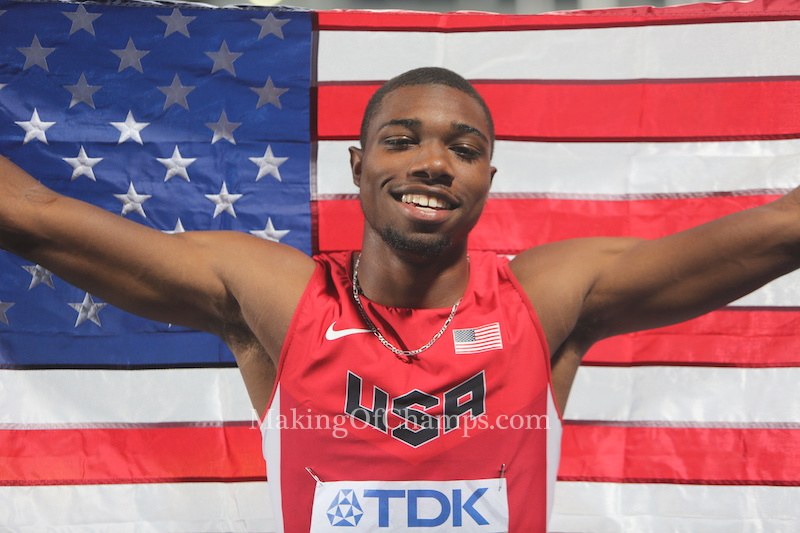 Unfortunately for Lyles, he pulled out of the 200m semi-finals at the American Trials with a hamstring strain, which effectively ruled him out of the World Champs, robbing him of an opportunity to participate in his first senior World Championships.
However, in September after he made a full recovery, Lyles had something to cheer about as he stormed to victory at the Brussels Diamond League in a winner takes all to end the series as champion.
In that race, Lyles defeated World Champion Guliyev, and went on to become the youngest ever 200m Diamond Trophy winner, clocking a time of 20.00s. That time saw him account for two of the 10 fastest times over that distance this year.
On the indoor circuit, Lyles is the 300m World Record holder with a time of 31.87s achieved during the 2017 US Indoor Championships, which was his first senior indoor championships.
Lyles' potential is so huge that he recently signed a professional contract with big sports giants Adidas. If he continues on this path and stays injury free, we foresee Lyles being among the Top 3 athletes in the world.
Do you know that Lyles as a Youth was formerly a gymnast? Being that his parents were former athletes, Lyles only started doing Athletics eight years ago.
2) Christian Coleman
Hands up if you already knew about Christian Coleman prior to this season! You must be an ardent follower of his Collegiate career to have known about him before this year.
It must be said that it was in 2017 that Coleman gained more prominence outside the shores of USA, registering his name on the minds of the Athletics faithful with his feat this year.
Just before the commencement of the World Champs in London, we listed Coleman as one of five young athletes to watch out for, and we are delighted to say that he didn't disappoint.
The 21-year old went into the championships as the world leader in the 100m with a time of 9.82s, so it's safe to say many kept out an eye for him to see if what he did in Eugene was a flash in the pan.
In fact before the World Champs, Coleman was the only athlete to have gone under 10s on six different occasions, running the World Lead of 9.82s in Oregon, 9.93s in Sacremento, 9.96s in Lexington and 9.97s in Columbia, twice running 9.98s in Lexington and Sacremento during the US National trials.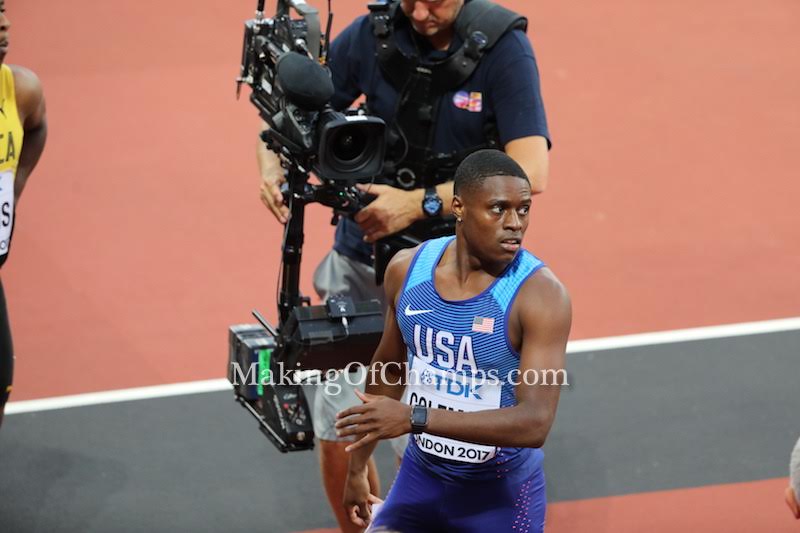 It was the sort of form that made him a huge contender for the 100m title, despite going up against veterans Usain Bolt and Justin Gatlin. All doubts about Coleman's capabilities got dispelled in the semis of the men's 100m when he beat Bolt to take the win in 9.97s.
Running side by side Bolt in the final, it was a true test of his character and a chance to see if he had come of age. Coleman led right from the start to the last 80m, until Gatlin nicked it from the outside lane.
Beating Bolt twice is no easy task, and although the Jamaican had said he was exiting the stage, we witnessed a change of order from the old to the new. Coleman is already an impeccable athlete.
In the men's 4x100m which was won by Great Britain, Bolt tried chasing Coleman in the anchor leg but he pulled up and couldn't finish the race.
Although we have been talking about Coleman's exploits in the 100m, it must be noted that his 200m is also quite remarkable. By the way, Coleman has the third fastest time over that distance this year with a mark of 19.85s. Some weeks before that, he won in Columbia with a time of 19.98s.
With all that he has displayed this year, Coleman would in the nearest future be gunning for Olympic and world titles.
Do you know that Coleman would have been an American football player, and would have even been drafted by the NFL, until he settled for Athletics?
1.) Andre De Grasse
Many view Andre De Grasse as the heir apparent to the Sprinting throne when both Gatlin and Bolt exit the scene, with the latter having since proceeded into the comforts of retirement.
There was every reason to accord De Grasse that status after only turning pro in 2015, and then winning a joint Bronze medal with Trayvon Bromell in his maiden World Championships that same year.
However, it was at the Rio Olympics that De Grasse cemented his place as one of the successors to sprinting stardom, leaving the Games with three medals: Bronze in the 100m, Silver in the 200m and Bronze in the 4x100m.
This year, we expected that he would build on the progress of last year, and we asked here if anyone could pip him to the 200m title. Unfortunately, we didn't get to see that as a hamstring injury ruled him out of the London World Championships.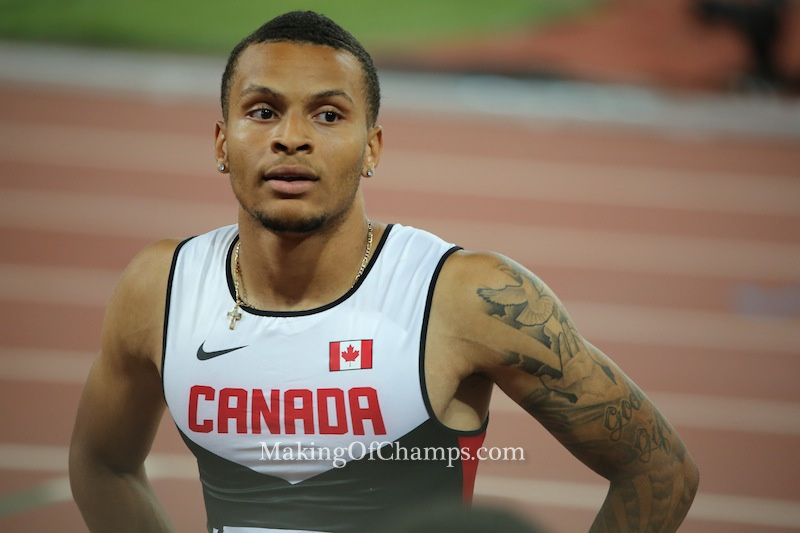 De Grasse was so confident in his ability to beat Bolt, adding that the Jamaican was retiring because he didn't want to be beaten. The trading of words got so serious that De Grasse's camp insinuated he wasn't allowed to run at the Monaco Diamond League because Bolt was running there.
"What bothers me the most when athletes are coming up through the ranks and they get to a certain level, they always want to beat me, I don't know why?" Bolt was quoted to have said at that time.
In all these, one can deduce an athlete brewing with confidence in his ability to become the best.
De Grasse has grown in leaps and bounds since 2015, having impressive Personal Bests of 6.60s in the 60m, 9.91s in the 100m and a National Record (NR) of 19.80s in the 200m.
There's no doubt that De Grasse will bounce back better in 2018 and would be eager to prove to the world that he deserves to be the next Sprint King.
Do you know that De Grasse would have been eligible to represent three countries? His mother, Beverley De Grasse, was a high school sprinter in Trinidad and Tobago before moving to Canada, while his father, Alexander Waithe, moved from Barbados to Canada as a teenager.