After racing to an incredible World Record (WR) of 12.12s during the semis of the women's 100m Hurdles at the 2022 World Athletics Championships in Oregon, Amusan still had some unfinished business to attend to; she still had a final to prepare for.
Having exited the 2017 World Championships in London in the semis, and then finishing fourth in Doha (2019), could she keep her composure to cross this final hurdle approximately two hours later to win the GOLD medal?
Amusan did keep her cool, and brought her 'A Game' to the final. She started strong and half-way into the race, steered clear of her competitors, putting up a strong showing to stop the clock in a mind blowing, though marginally wind-assisted time of 12.06s (+2.5m/s), entering the history books as Nigeria's first ever World Champion in Athletics to create a moment of immortality that could never be taken away from her.
Jamaican Britany Anderson and Olympic GOLD medallist Jasmine Camacho-Quinn both clocked 12.23s to claim Silver and Bronze respectively.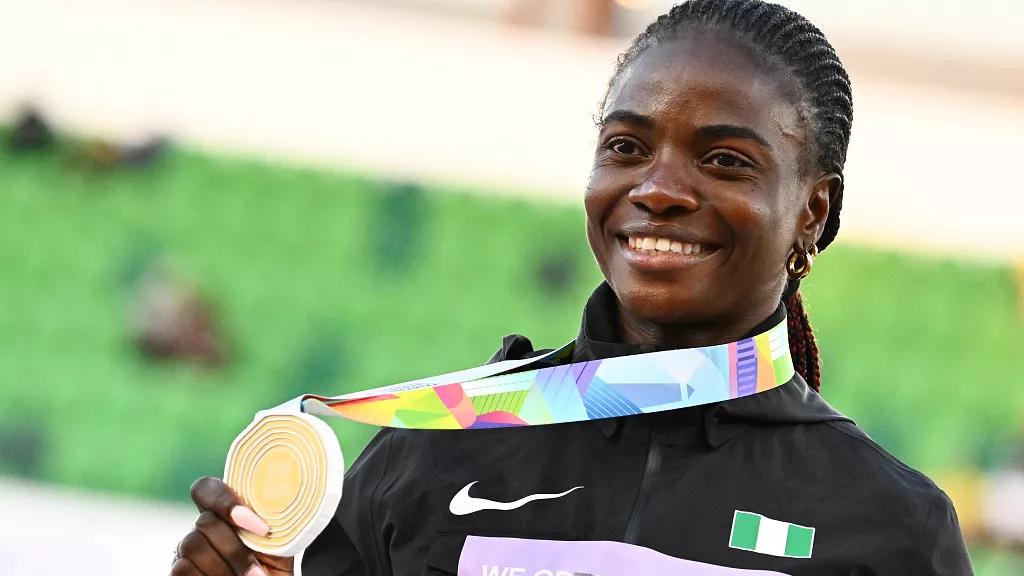 The African Games Champion's incredible feat triggered an electrifying buzz on social media, especially for Nigerians who had long waited for the country's first GOLD medal at the World Championships. Her epochal achievement in Eugene remains the biggest Nigerian sporting moment in 2022!
Encomiums from far and wide were showered on Amusan, including congratulatory messages from Nigeria's then President Muhammadu Buhari, and other top government officials.
I join millions of Nigerians in celebrating Tobi Amusan and her stellar performance, at the World Athletics Championships 2022. Her new World Record and Gold Medal have brought excitement and joy and hope to all of us, and made our national anthem resonate on a global stage. pic.twitter.com/8wO7sF6kEH

— Muhammadu Buhari (@MBuhari) July 25, 2022
Standing on the podium and hearing the Nigerian anthem being played at the World Athletics Championship for the first time ever, was an extremely emotional moment for the athlete who has indeed come a long way.
Amusan's GOLD medal is Africa's 10th medal in the hurdles event at the World Championships, and it came 23 years after her compatriot Glory Alozie won Silver in the same event back in 1999. Her medal was also Nigeria's 11th medal at the World Championships since the biennial showpiece started 40 years ago.
Tobi Amusan tried hard not to cry singing the national anthem. She held the tears, but when that line: " the labour of our 'HEROES' past, shall never be in vain." It hit her…it dawned on her that she is now a HERO herself. The tears flowed😭😭🇳🇬🇳🇬pic.twitter.com/aMVlUhNe9h

— Making of Champions (@MakingOfChamps) July 25, 2022
The hurdler won her first African Championships title in Asaba in 2018, and retained it in Mauritius 2022; she claimed the Commonwealth Games crown for the first time at Gold Coast 2018 and successfully defended it at Birmingham 2022, setting a new Games Record of 12.30s while at it.
Racing into the history books as the first African hurdler to win a Diamond League trophy, a feat she achieved in Zurich in 2021, Amusan returned to the same city in 2022 and set a new Meeting Record (MR) of 12.29s to retain the trophy.
The Nigerian emerged World Champion in Oregon last year in the women's 100m Hurdles, and as she files out for the final of the event tonight, can she do the same and defend her World Title in Budapest?
'Tobi Amusan's Top 5 Track Moments' is a five-part series highlighting the major achievements of Nigeria's only World Champion and World Record holder in Track and Field – Tobi Amusan – even as she gets set to defend her world title at the ongoing World Championships in Budapest, Hungary. Here are Part 1, Part 2, Part 3 and Part 4 of the series.