The stuff champions are made of is revealed by how well they bounce back after facing disappointment.
Having narrowly missed out on winning a medal at the 2019 World Championships in Doha, finishing 4th despite having the fastest time in the semis, was a big blow to the Commonwealth Games 100m hurdles champion.
The coronavirus pandemic struck in 2020, leading to a halt in international competitions and postponement of the Tokyo Olympics to 2021.
At the Olympics, Amusan breezed through the heats and semis, winning both races in 12.72s and 12.62s respectively. However, she fell short in the final once again, placing 4th. This result took a toll on the 2017 NCAA GOLD medallist, but she dusted her spikes and continued with her season.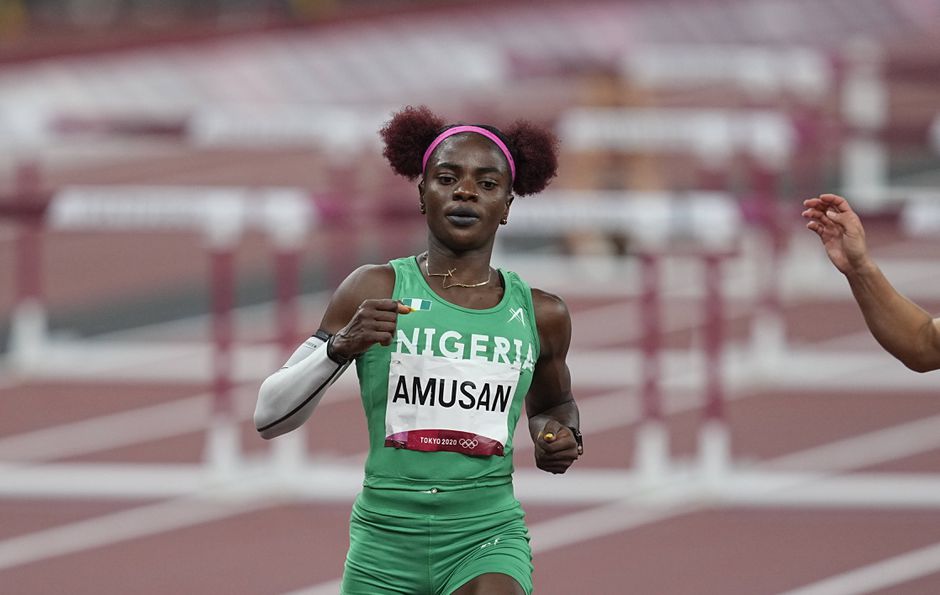 She raced at CITIUS Meeting in Switzerland a couple of weeks later, which she won in 12.80s, and then finished 4th in the Paris Diamond League. Six days later, she was at the Diamond League in Brussels, clocking 12.69s for 2nd place, and then racing to 12.64s at the Silesia Memorial a couple of days later.
Earlier in the season, Amusan had clocked a slightly wind-aided time of 12.44s (+2.2m/s) at the NACAC New Life Invitational, and was looking forward to breaking Glory Alozie's long standing African Record (12.44s) legally.
The stage was set for the final Diamond League race of the season in Zurich. Seeded in Lane 3 and flanked by Gabriele Cunningham and Nadine Visser on either side, the Nigerian ran the race of her life. She took the lead by the fifth hurdle and crossed the line in a stunning 12.42s – a new African Record!
Amusan became the first ever African hurdler to and first Nigerian athlete to win a Diamond League trophy since the World Athletics one-day series was renamed the Diamond League in 2010.
She also followed in the footsteps of Innocent Egbunike, who clocked a then African record of 44.17 in the men's 400m in 1987 (which still stands as the Nigerian record), and Seun Ogunkoya, who won the men's 100m in 1998, as the third Nigerian to win an event at the Lezigrund Stadion.
Tobi #Amusan claims a PB and African record of 12.42 to win the Diamond Trophy in the 100m hurdles!#DiamondLeague #WDLFinal
📸 @matthewquine pic.twitter.com/mWNnXo2gqw

— Wanda Diamond League (@Diamond_League) September 9, 2021
Speaking afterwards to worldathletics.org, Amusan said: "All I was focused on was crossing the line first," she says. "I was not planning to run fast but just wanted to complete my quota of competitions for the year as per contract requirements and to gain points and improve my world ranking, so I wasn't expecting anything special.
"I knew it was a competitive field and it's all about getting out of the blocks because I know that is my weakest part of the race, so my plan was to get out and go. Once I get out, I trust my top end speed and God to carry me through, so my emphasis was just on getting to the line first, no emphasis on breaking records.
"But on getting across the line, and then after my little celebration, I heard the commentator saying: 'That's a new area record.' And I thought: 'Oh, is that me?' Then I looked up and I was like 'okay'. It wasn't that I was overly excited about the record; I was more excited that I won the final, but I'm happy to have also ticked the record off my bucket list."
This was a perfect climax to the 2021 season for the multiple African Champion. She would go on to successfully retain the Diamond League trophy in 2022 with a phenomenal Meeting Record of 12.29s.
'Tobi Amusan's Top 5 Track Moments' is a five-part series highlighting the major achievements of Nigeria's only World Champion and World Record holder in Track and Field – Tobi Amusan – even as she gets set to defend her world title at the ongoing World Championships in Budapest, Hungary. Here is Part 1 of the series.