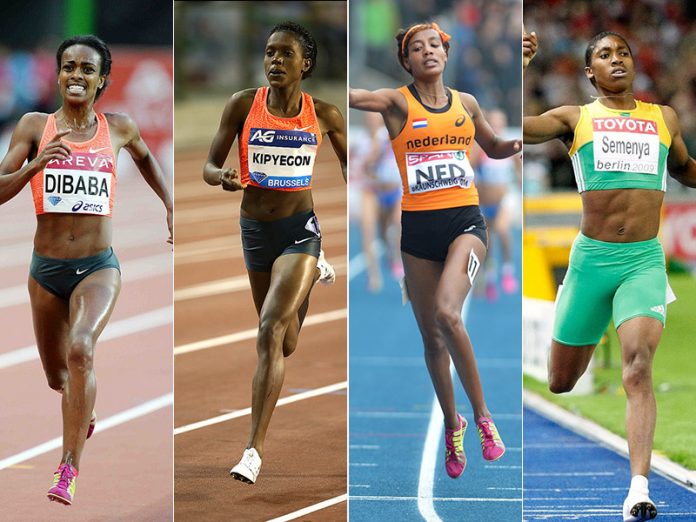 When Genzebe Dibaba broke the 1500m World Record (WR) more than two years ago, we all thought she was destined to surpass the heroics of her great multiple Olympic Champion sister Tirunesh Dibaba.
All that changed when a certain Kenyan- Faith Kipyegon burst into the world scene in 2015, threatening to pip Dibaba to the 1500m title. Nevertheless, the Ethiopian was at the peak of her powers as she held on to win her first world outdoor title.
At the Rio Olympic Games in 2016, it was Dibaba that did the chasing as Kipyegon stormed to victory in 4:08.92.
The 23 year old runner started her 2017 season in the Diamond League and won in Shanghai, posting a time of 3:59.72. It was the second victory in a row for the Kenyan in the Chinese city.
Kipyegon continued her winning streak this season as she stormed to victory in Eugene, defeating her Kenyan counterpart Hellen Obiri. Her winning time however, was 0.03s better than what she finished with in Shanghai.
Her only defeat this season came at the Stade Charléty Stadium in Paris. She lost momentum and was defeated by Dutch lady Sifan Hassan who heads this year's worlds list with 3:56.14. Kipyegon came 2nd in the race as she finished with a time of 3:57.10, which so far is her Season's Best (SB).
It has been a sterling 2017 for Dutch lady Sifan Hassan who currently holds the Top 3 fastest times in the 1500m this year. Since missing out on a medal at last summer's Olympic Games, the 24-year old has rapidly returned to form. Asides leading this year's world list, she has also set three National Records (NR) across different events this year.
Her indoor season earlier in the year saw her win the Wanamaker Mile at the Millrose Games in 4:19.89, before clocking 8:30.76 over the 3000m in Birmingham to break Elly van Hulst's 28-year-old record. Hassan also stopped the clock at a European leading time of 14:41.24 in Eugene to slash 15s from Lornah Kiplagat's long standing mark in the 5000m.
She continued her impressive showing at the Rome Diamond League where she blasted to victory over the 1500m in 3:56.22, setting a new Meeting Record (MR) in the process.
This impeccable form has led observers to believe that she is the favourite heading into this year's World Championships, and having won Bronze in Beijing 2015, she will be hoping to strike GOLD this time around.
Dibaba on her part was able to put behind her injury-laden 2016 as she started her season in emphatic fashion, setting a new Indoor World Record by running a 5:23.75 in Sabadell. The Ethiopian runner also raced to victory in Eugene in the 5000m.
However, she got destroyed by Caster Semenya in the 800m race in Doha as she settled for a 5th place finish. She comes to London as the third fastest in the 1500m (3:57.82), and it remains to be seen if she can surmount the opposition and successfully retain her title from Beijing.
Meanwhile, Semenya's inclusion in the women's 1500m lineup will definitely spice things up a little. The South African who has been undefeated in the 800m since 2015, would be looking to become the first woman since Russian Svetlana Masterkova in 1999 to earn medals in both the 800m and 1500m.
The snag to that ambition however, is the fact that she has raced just once over the distance this year, to retain her national title. She last raced in the event internationally in 2011. Her Personal Best (PB) in the 1500m from 2016 would rank No.15 this year.
That definitely makes her the underdog going against the likes of Kipyegon, Dibaba and Hassan. Nevertheless, this year's race makes for an interesting finale.