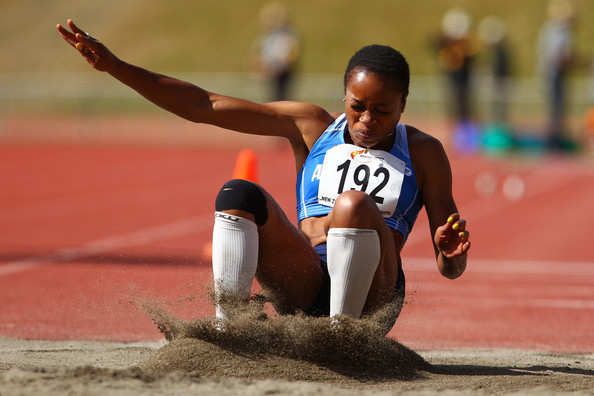 Nneka Okpala has further extended her New Zealand National Record (NR) after winning the women's Triple Jump  at last weekend's IAAF World Challenge in Melbourne, Australia.
Okpala leapt to a new Personal Best (PB) of 13.89m, surpassing the first NR of her career (13.65m) which she did last year in Canberra. In Melbourne, she defeated Ellen Pettitt who was 2nd with a mark of 13.20m, as Russia's Valeriya Zavyalova placed 3rd with a distance of 13.14m.
With the 2016 Rio Olympic Games qualifying distance set at 14.15m, Okpala will be buoyed with confidence as she aims to meet the standard and represent the Kiwi nation in Brazil.
This year, she has been improving and getting better, moving up from her Season's Best (SB) of 13.48m in February, to edge closer to 14m.
Okpala's name links her to the South-Eastern part of the country, being a daughter of Nigerian parents who migrated to New Zealand in 1987, and gave birth to her a year later in Auckland.
An interesting fact about Okpala is that her brother, Ebuka is equally an athlete and even does the same sport with her, the Triple Jump.
Last month, he won both the Long and Triple Jumps at Auckland Track and Field Championships with 7.17m (+3.0) and 14.98m respectively. He recently did 15.85m in the Triple Jump.
Photo Credit: Getty Images