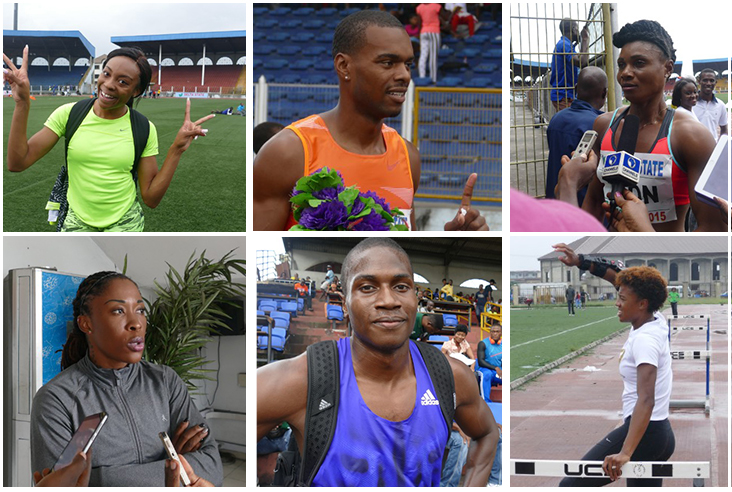 Having competed at last week's Warri Relays, most Nigerian athletes now have their sights set on the two days Nigerian Championships which would only guarantee a passage to the 2015 World Championships.
It wasn't the best of performances from some of these athletes at the meet, but one can understand if they are keeping their best for the real deal, knowing that any little niggle could mar their ambitions of being in China. With the weather not being the best to compete in, some of them just trudged along to the finish line, not really bothered about the times they returned.
This time around, the National trials will be bigger and more athletes will come from abroad to compete in what promises to be a keenly contested encounter across all events.
After their events last week, Making of Champions caught up with some of these athletes, and they affirmed that they will bring their best to the trials as they are very eager to be on the plane to Beijing.
Patience Okon-George:
Though having qualified for the World Champs, Okon-George was left disappointed with her time of 51.78s which won her the women's 400m. She however boasted that the race was more like a practice for this week's event, saying: "This is just the beginning, in five days time we have the All Nigerian championship, so I was taking it easy for the race."
With the women's 400m expected to throw up a stiff contest, Okon-George is adamant that she will pip the likes of Regina George to the title: "I strongly believe that I will win my race at the National Trials, I just took it easy in the race as there was nobody to run against."
Amaka Ogoegbunam:
"I have qualified for the World Champs, my aim is to lower my time. I still want to do a 54s, or 54 low or if I can do better than that.
"I have been working so hard in Europe, competing from one city to the other, trying to make everything right, but due to the weather and circumstances of Europe, sometimes it is cold, sometimes it is hot, sometimes it is windy, I was just dealing with the pressures. I just kept my fingers crossed that something was gonna happen.
"I am back to better my time. "
Tyron Akins:
Akins after winning his race last week said: "I thought I would have been a lot faster, I am trying to get close to the 13.40s mark but I will take the win."
"Hopefully the more races I run the better off I will be. Next week for the Championships I will be ready.
"My goal is to qualify for the Championship. "I didn't get the start that I wanted (at the Warri Relays), but it will come.
Lindsey Wenyime:
"Errmm I fell about three weeks which affected my training mentally, but my coach said don't worry about the time, go out there to get some rhythm and just compete.
"I plan to be ready for the championships and hopefully lower my time.
On what to expect at the national trials she added: "everybody will have to get through the ten barriers, it's just a matter of who crosses the line first… so we shall see!"
Robert Simmons:
"I went out hard in the race and I couldn't finish. To a degree the lane I started in affected my performance. But I will do a whole lot better at the National championship, and I will make the qualification mark for Beijing."
Miles Ukaoma
"I have not run above 49s this year, so today was not a good representation of my race," Ukaoma said after finishing 4th in the 400m hurdles last week.
"I really want to go out there (Nationals) and compete very well, run a 49 low or 48 high.. that's my goal.
Ngozi Onwumere
"I will be running in the 200m which is my specialty, so I should do a lot better, my body should have adjusted and I will come out here and finish a lot stronger.
On if she thinks she will make the team to Beijing: "most definitely I will qualify for the World Championship," she added.
The die is cast, just a matter of time and we will know if these athletes will make good their promise.