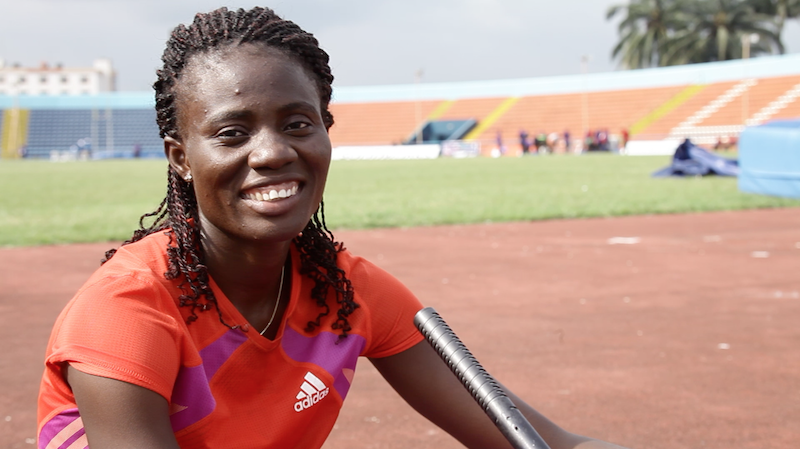 Doreen Amata, Nigeria's sole World-Class High Jumper over the last 7 years, speaks EXCLUSIVELY to MAKING OF CHAMPIONS on why she missed the 2014 National Trials and Commonwealth Games, on breaking her 6-year old National Record of 1.95m, trying out the Triple Jump and on combining family life with her Athletics career! We caught up with her at the 1st TAFCAN Coaches Challenge at the Teslim Balogun Stadium in Lagos on 12th December 2014 – Enjoy!
Let me start by asking where you've been. You weren't really active in the course of the 2014 athletics season. You were absent at the National Trials in Calabar and of course the Commonwealth Games and African Championships subsequently. Was this deliberate?
I was at the CAA Grand Prix in Warri which was sometime in June. I just didn't like the way some things went down in Warri so after that, I felt like staying off. I think that we the athletes need to be appreciated more; we're not being appreciated. I felt like what's the point of giving it all you've got…..? Even when I was injured in 2012, I was in pain but I kept on pushing myself just to make sure that I'm there. I may not have done much but then the little that we do needs to be appreciated.
Since I didn't like the things that happened at the Grand Prix, I decided to stay off, but then I still competed at the coaches Trials that was held in Lagos State. It was actually held at the University of Lagos Sports Complex. This was three weeks after the National Trials. However the landing foam wasn't available at UNILAG so I had to jump at the Teslim Balogun Stadium where I made a leap of 1.91m, but the result wasn't accepted because I wasn't in Calabar. I said "That's fine," but then I got to see athletes who weren't at the National Trials going to the Commonwealth Games and African Championships. It's all good. That was what happened in 2014.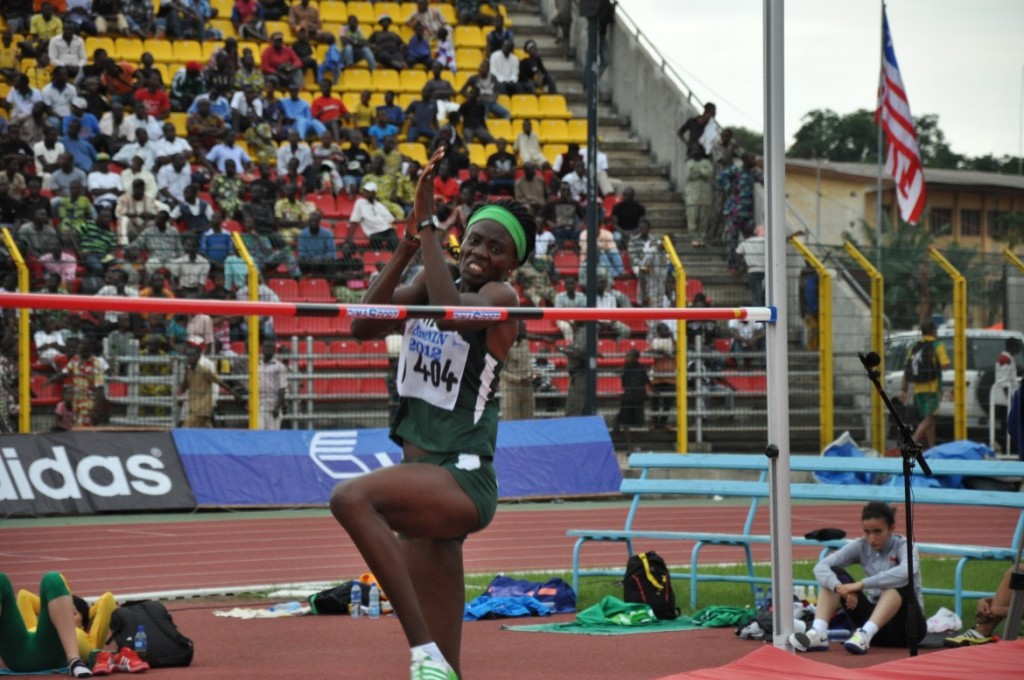 It wasn't that I didn't train or wasn't in shape. At the early part of the season, I was trying to get myself together. I had just started working with a new coach in the US who is more of a sprints/jump coach, while I am more of a power jumper, so learning how to jump with speed was kind of difficult to do. So I was still trying to put it all together, trying to increase my speed and at the same time hold my jump; it's high jump so you can expect all of that. The good part of it is that now I'm faster, stronger and I can hold more, so I'm going to wait and see what God has for me in 2015.
How did you feel missing out of the Commonwealth Games and African Championships?
Well, I will just say that 2014 was not my year. In 2010 I got pregnant so I didn't go for the Commonwealth Games in Delhi, and this year I didn't go to Glasgow, , so I'm yet to compete at the Games. 2014 wasn't my year!
It's good to see that you're back. So what are your plans for 2015?
I hope to be in top shape to go out there and defend my title at the All-African Games. I won the last two editions so this is going to be my third shot at the GOLD medal. I want to win the title as usual and become the first woman to win it three times.
I want to go to the World Championships in China and try and repeat what I did in 2011 and even better and by God's grace, get to the podium. However in order to achieve all of that, I have to make sure that my preparation is solid and I have to compete. I have to do some indoors, to measure my performance and then proceed to the outdoors.
Will you have your buildup here in Nigeria?
Yes I will. Because of what happened last year, I made up my mind that I would do my buildup here, because that's what I usually do. I will be in Nigeria till March, that's if I don't go for the indoors, then by March I go out there and do what I have to do.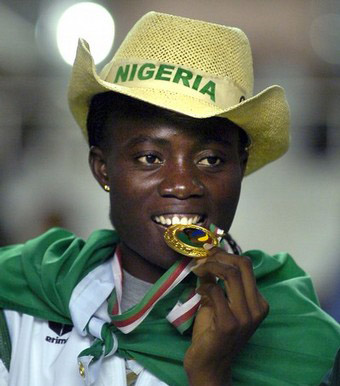 Last year I left Nigeria in November to try and get a good buildup abroad since we don't really have much facilities over here, so I thought I should go and use better facilities over there to try and get into shape, but being who I am, the cold weather didn't really favour me. I learnt my lesson and made up my mind that this time around, I'm going to do my buildup here in Nigeria and take it from here.
Are you working with your US-based coach considering that you're doing your buildup here in Nigeria?
He sends my programmes to me because I don't want to lose the speed, the strength and everything else I have gotten from him. As an athlete, I have learnt that it is not really good to keep changing your programme. You need to be consistent as long as you know that it is working for you. He sends the programme via email and other means while my coach in Nigeria supervises me. His name is Coach Nat Page.
You competed at the TAFCAN Coaches Challenge as part of your buildup. What are your thoughts regarding the competition?
There was a massive turnout; I'm impressed that athletes can actually come out even though the competition was not for their specific events. Some people even came from outside Lagos. We had over distance events. Athletes ran and jumped and the truth is this is what we actually need right now. We need the strength test; as a jumper you need to know what your strength level is. I want to give kudos to the coaches for organizing the event and trying to get sponsors, which we know is not an easy thing in Nigeria. So I want to use this opportunity to call on more sponsors to support us. We need their support to get to the level they desire for us to be.
Now let's talk about records. It's been six years since you set the National Record NR of 1.95m and repeated in 2011. I'm also aware that you've been attempting to go over that mark for some time now. Any plans of breaking your record next year?
I'm trusting God, praying and working hard to get to 2m and beyond. I want to break the 2m barrier. That's my goal right now; it's about time.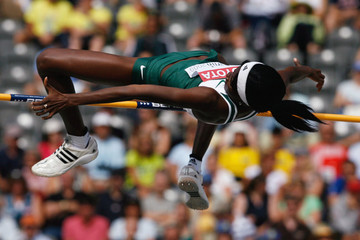 We all know that Doreen is the No. 1 female high jumper in Nigeria. Have you attempted combining either the long or triple jump to your main event?
Well, I started doing the triple jump of recent. I planned on competing in the triple jump at the National Sports Festival (NSF) that was postponed. Maybe one of these days you guys will just see me pop out there doing what I have to do.
How did you get interested in the triple jump?
I love technical events. If it were possible for me to do the 100m hurdles, I will. I felt I could do it. I do it in training and I know what I can do with my five strides, seven strides and all that, and I thought that if I could achieve much with my distance in the high jump, I could also try the triple jump. I love triple jump. There was a year I wanted to do it but I had issues with my knee so I shelved the idea. But once I'm in top shape and without pains in any part of my body, I'm going to do it.
There have been insinuations that competing in Nigeria may be quite inimical to your growth as an athlete, considering that you have dominated the high jump in Nigeria for more than seven years now. What's your view on this?
I won't say that it doesn't help me in the sense that competition is competition. I have to compete as an athlete. Even when I go for national competitions where I'm the only top athlete there, I still have to compete. I might not really have rivals in terms of the level of competition but I still have to push myself and do what I have to do. I can't just stay away because of that.
So when I'm out there competing with people that I am at the same level with, it helps me because when I was jumping alone, I did push myself, so now that I am jumping with people, I still push myself. I just give it my best shot each time I have to jump, either within the country or outside.
How have you been able to combine your athletics career with your role as a wife and mother? How much support are you getting on the home front?
I must say that I'm getting all the support I need and even more. I have a wonderful husband. There are times I get home and I'm so tired that I can't even go into the kitchen to cook, and he says to me, Don't worry, just go and rest, I will do it. It takes someone that cares for you and knows what you're doing to do that. I'm very sure that I won't be where I am today if not for him and God of course.
What about your son Brian? Does he show any promise of becoming an athlete in future?
Well, he runs and jumps. It's up to him to him anyway. If he decides that's what he wants to do when he grows up, why not, though he's been telling me that he wants to become a footballer. That's okay with me, and if he wants to run or jump, it's also fine.
Making of Champions wishes you a successful 2015 and we will be watching out for you.
Thank you very much.