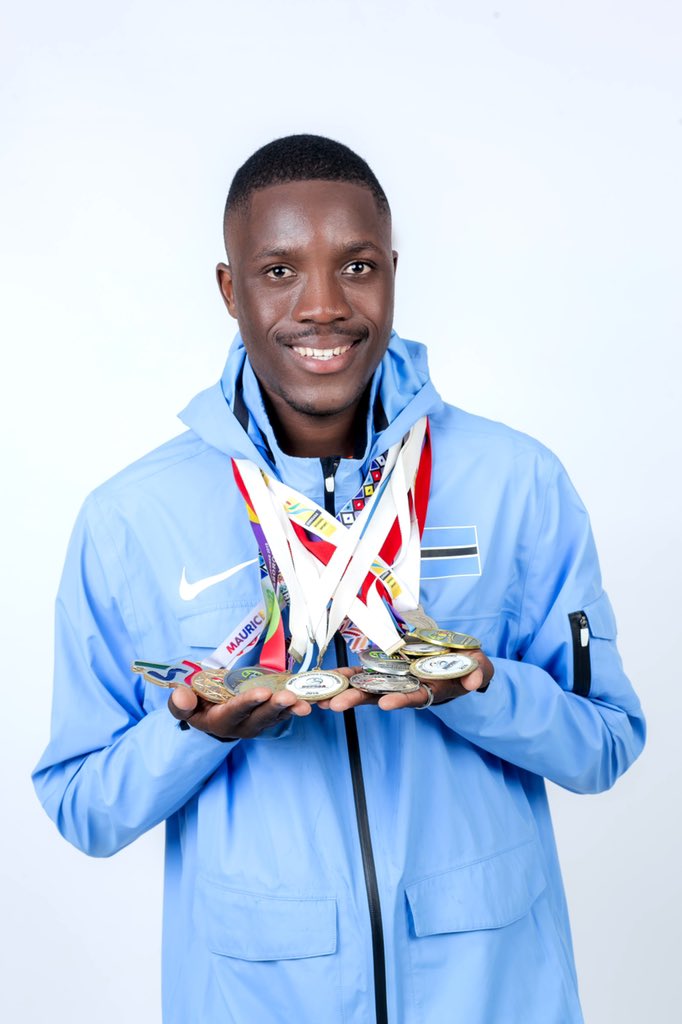 In 2021, when a lanky 17-year-old ran 10.14s over 100m on a bright February morning in Gaborone, Botswana, it was certainly a show of promise, especially for a nation on the rapidly burgeoning side of the sprints. The ripples of excitement that followed a few months after when he clocked a National Junior Record (NJR) of 10.11s, a time that doubled as the fastest ever run by any man from Botswana, earned him the name 'Schoolboy' from his teeming fans.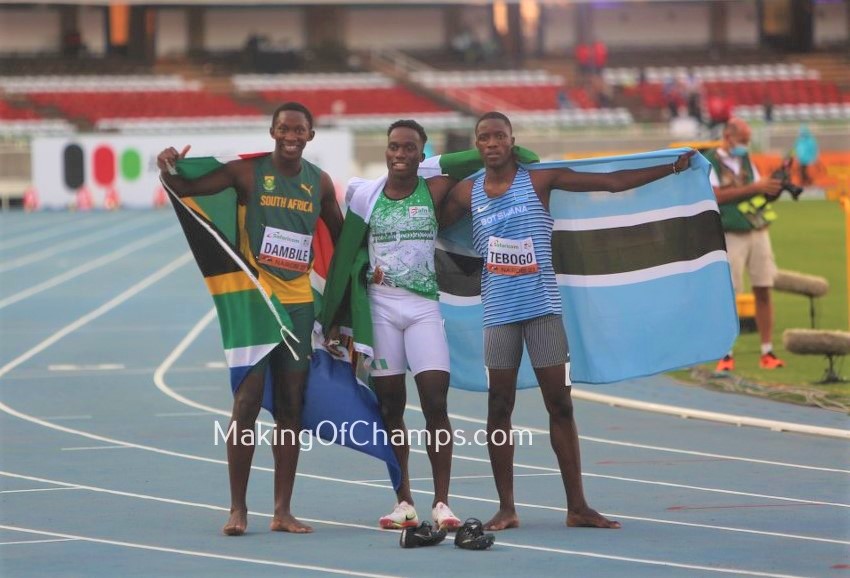 It was evident that he was on the path to greatness, seeing as barely two years fully into sprinting, he already replaced Isaac Makwala as Botswana's fastest man. By so doing, he stamped his name as the fastest U-20 athlete in the world, winning the world junior title in Nairobi against stiff competition and picking a Silver in the 200m at the same outing, more than enough to put him on notice for the world to see.
The following year, while competing on home soil at the Gaborone International Meet (now known as the Botswana Golden Grand Prix), a World Athletics Continental Tour Silver Meet, he turned the heat up a notch by becoming the first man from his country to break 10 seconds over 100m, pulling away from a very experienced field and returning a time of 9.96s at the age of 18!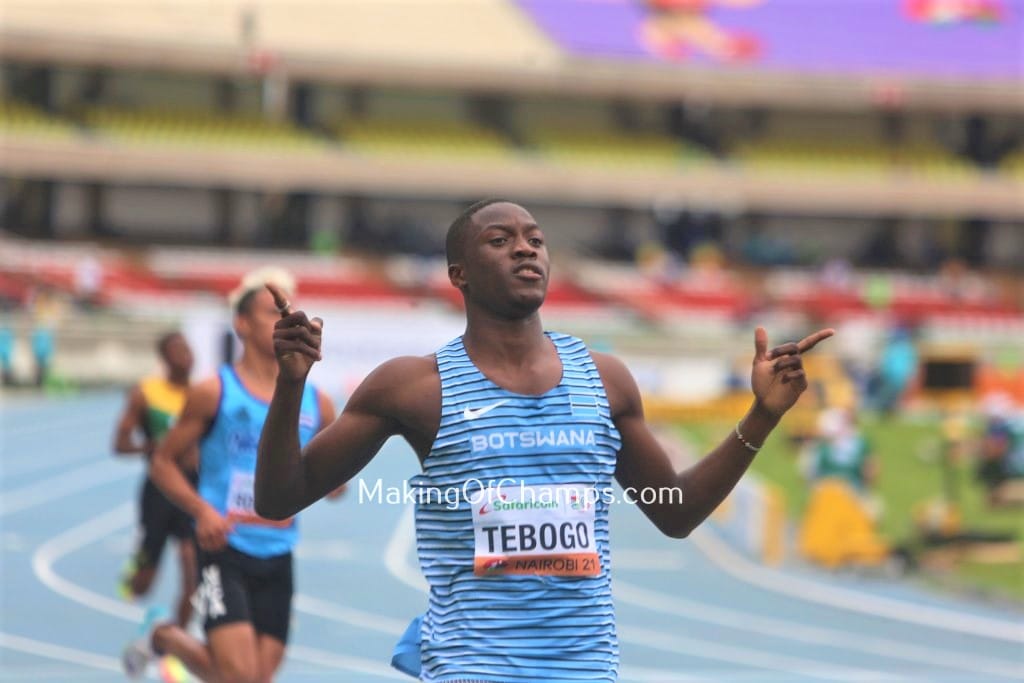 His performance was met with boisterous applause from the Track and Field community as it not only set a new National Record, but also went 0.01s better than the World Junior Record (WJR) of 9.97s set by Trayvon Bromell in 2014. It was however a rather short-lived celebration as it came out a month later that the record would not be ratified as there was no zero gun test for the timing equipment.
As devastating as the news was, it also meant Tebogo would have to prove his mettle again and he carried this on to the African Championships in Mauritius where he won the men's 200m convincingly in windy and wet conditions against Commonwealth finalist Emmanuel Eseme.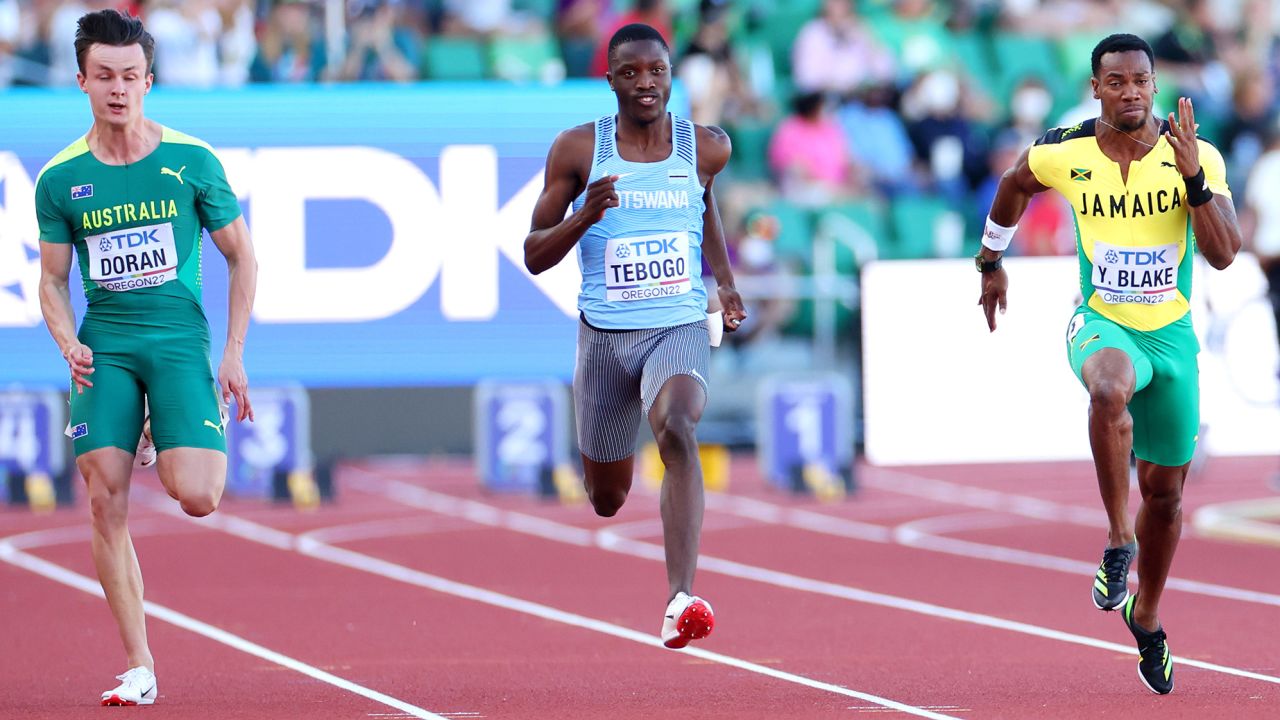 Provided with a chance to run the 100m again at the World Championships, the 18-year-old held nothing back in the heats as he took the scalp of big guns in the event, powering to a new WJR of 9.94s for a thorough win! He beat Yohan Blake, the joint second fastest man in history, Aaron Brown and Akani Simbine and although he didn't make it out of the semifinals, he left with a wealth of experience that could come in handy in the future.
It was a wonder why he would opt to compete at the World Junior Championships again a fortnight after in Cali, being nearly fully accomplished in the category to be called a boss. As predicted, he indeed was in a different league, storming to a new Championship Record (CR) of 10.00s to kick off his campaign and signal an intent for glory.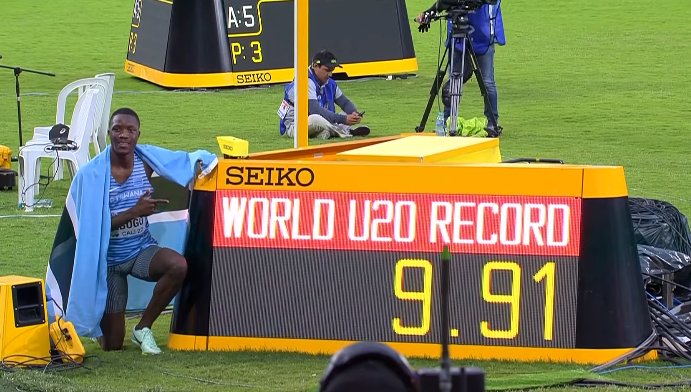 He progressed easily from the semis and reached down deep for the final, producing a truly astounding piece of sprinting as he dashed to a new WJR of 9.91s. The time was great, the greatest ever in fact by an U-20 athlete in the 100m, but the manner in which it was achieved was what was truly stunning. It immediately put him in the conversation to become like one of the all-time greats – Usain Bolt.
Most times, it turns out to be an unfair comparison on both sides, but the similarities were too glaring and perhaps, not really far-fetched, especially going by his mid-race antics. He infact called the great Jamaican his idol and sad he wanted to remind the world of what he did back in the days.
He ran the first 70 metres with intent and celebrated the remaining 30, having done enough – enough to wag a finger at Bouwaghjie Nkrumie who was his closest rival on the day.
Almost a shoo-in for GOLD in the 200m, he came to face a serious challenge in the form of Israeli Blessing Afrifah, both of them toeing the line together pound for pound till they crossed the finish in a CR of 19.96s. It was a very close race and a few minutes after, it came up on board that Afrifah had taken the win by six thousandths of a second. It was so good a race that Tebogo described it as the best race yet of his still very young career.
Now climbing up into the senior ranks, Tebogo, with a seemingly quiet and lurking efficiency that may be distinctive to him amongst these current crop of the world's professional sprinters and may have been seen in one of the all-time greats like Usain Bolt, looks plucked and ready to take on the world.
The 2023 season for him, has started off on a good note with his first two races being at 400m and 300m respectively. Over the longer distance, he ran a time of 46.21s, a few paces off his PB (46.09) and then clocked a time of 31.52s over 300m in South Africa a few weeks after which puts him in 8th on the all-time list.
Pitted against a tough field over 200m in April, he almost won the 200m as he seemed to have had the lead but dipped before the finish, a mistake unallowable against such calibre of athletes, almost recreating the same type of results (against Blessing Afrifah) from the World Juniors the year before. Christian Coleman capitalized on that to win while they were both allocated the same time of 20.00s, a World Lead at the time.
He wouldn't make such a mistake in front of his home crowd at the Golden Grand Prix in Botswana over the same distance, pulling away from the field without a care to win in another PB of 19.87s, after a marginally windy 100m which he completed in 9.91s!
Newly turned 20, he definitely has a big year and career ahead.