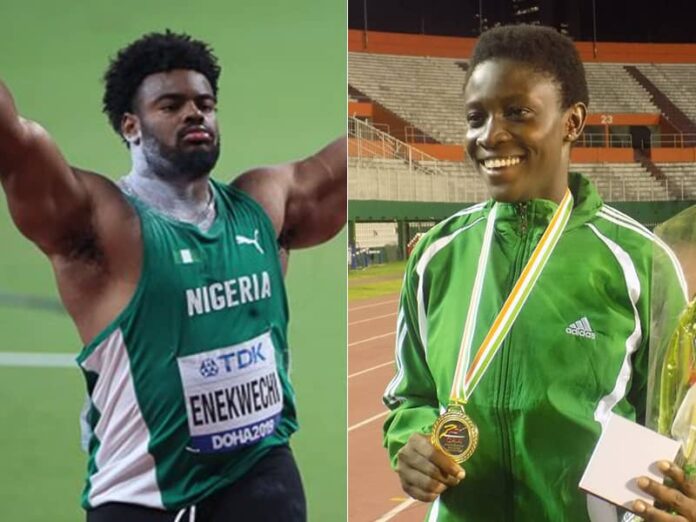 Since the start of the outdoor season, last week had the lowest number of Nigerian athletes competing in the collegiate and international scene in comparison with previous weeks because most of the colleges are prepping for their conferences set to hold later this week.
Chukwuebuka Enekwechi made huge progress in his Season's Best (SB) as he threw an impressive 21.25m to win the men's Shot Put at the Loterias Caixa International tournament in Bragança, Paulista, Brazil. He threw over 21m three consecutive times in his series (21.18m, 21.06m, and 21.25m).
Brazil's Wellington Silva Morais was 2nd in a distant mark of 19.93m, while Arab's Mohammed Daouda finished 3rd in 19.90m.
Chioma Onyekwere placed 6th in the women's Discus Throw with a distance of 56.43m. The Brazilian duo of Izabela Rodrigues da Silva and Andressa Oliveria de Morais went 1-2 with marks of 62.68m and 60.69m respectively.
At the Crossroads League Outdoor Championships, Princess Kara of Indiana Wesleyan University shattered the NAIA Record alongside her School Record with a distance of 55.31m, which doubles as an SB, to win the women's Discus throw. Her teammates Merideth Devries (48.69m) and Taylor Waterway (46.47m) rounded up the podium.
Kara also won the women's Shotput with a distance of 14.14m.
Jerry Jakpa of West Texas A&M competed at the Lone Star Outdoor Championships in the men's 100m, 200m, and 4×100m where he finished 4th in the 100m in 10.38s (+2.6m/s), 5th in the 200m (20.91s), and anchored his school to victory with a time of 39.95s.
Moving to the NJCAA Division, Miracle Thompson won the women's 100m hurdles with a windy time of 13.25s (+4.0m/s) and later returned to win the women's 400m hurdles in 64.00s at the NJCAA Region VI  Conference Championships.