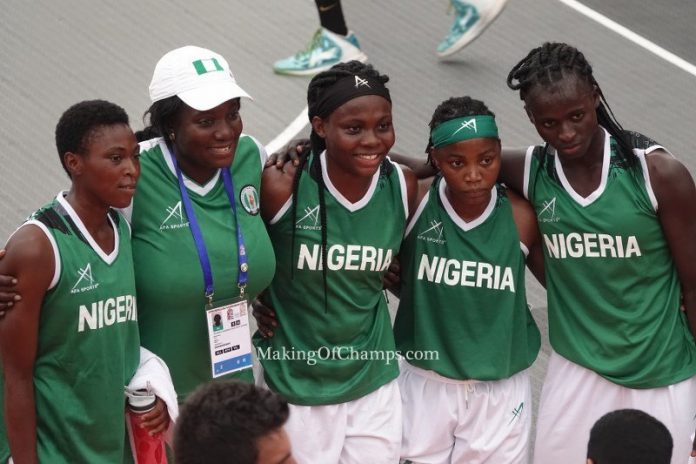 Team Nigeria ended Day 10 of the 12th African Games ongoing in Morocco with fifteen medals, having added six medals (2 GOLD, 2 Silver and 2 Bronze) to the nine previous medals it had won.
After dismantling Egypt 3-0 (2-1, 2-0, 2-0) in the semis of the Mixed Team Event of Badminton, Nigeria proved to be unstoppable on the day as they whitewashed Algeria 3-0 to win GOLD in the final of the event.
In Weightlifting, Stella Peter won Silver in the women's 45kg. Peter lifted a total weight of 138kg to secure the medal, while Augustina Nwaokolo missed out on a Silver medal by 1kg in women's 49kg. Nwaokolo lifted 161kg to settle for Bronze, with Egypt's Heba Ahmed getting Silver with a lift of 162kg.
King Kalu won Silver in the men's 55kg category, lifting a total weight of 218kg. Ola Giwa missed out on a podium placement, finishing 4th with 205kg as Morocco's Issam Harfi got Bronze with 207kg.
There were also medals for Nigeria in the 3×3 Basketball event. After dismantling Senegal in the semis 16-6, the women's team (Fummanya Ijeh, Abel Marvellous, Liman Musa and Ifunanya Okoro) scooped the GOLD medal, defeating Mali 21-19 in what was a pulsating final.
In the wake of losing their semifinal tie to Egypt, the quartet of Peace Godwin, Kanyinsola Odunfuwa, Mustapha Oyebanji and Emmanuel Udumezue all played a part in Nigeria triumphing over Mali 20-19 to win Bronze.
Egypt continued their dominance over Nigeria in Table Tennis, as the duo of Bode Abiodun and Edem Effiong lost 3-1 in the semis of the mixed double to the North Africans.
Meanwhile, there were some mixed fortunes for Nigeria in the Tennis event. In the round of 16 of the men's singles, Emmanuel Sylvester defeated Ivory Coast's Karim Ouattara by two straight sets, while Joseph Ubong retired in the second set of his Round of 16 draw, having lost the first set 6-4.
However, the duo of Sylvester and Ubong combined to beat Namibia's Jean-Michel Erasmus and Gideon Van Dyk in the men's doubles prelims. In the women's double prelims, Mercy Aiyegbusi and Blessing Audu lost out to Ethiopia's Legeba Ali and Adan Shummet.
The men's Handball team shared the spoils with DR Congo 21-21 in their fourth preliminary round group B game, while the female team lost 28-21 to Guinea.
Playing at the Bouazzaoui Indoor Sports hall, Nigeria's men Volleyball team won their second game of Group A when they defeated Cape Verde 3-1 (21-25, 25-19, 25-19, 25-23).