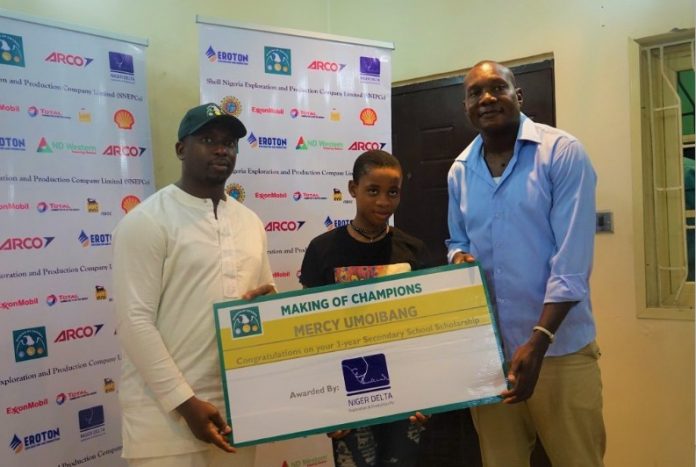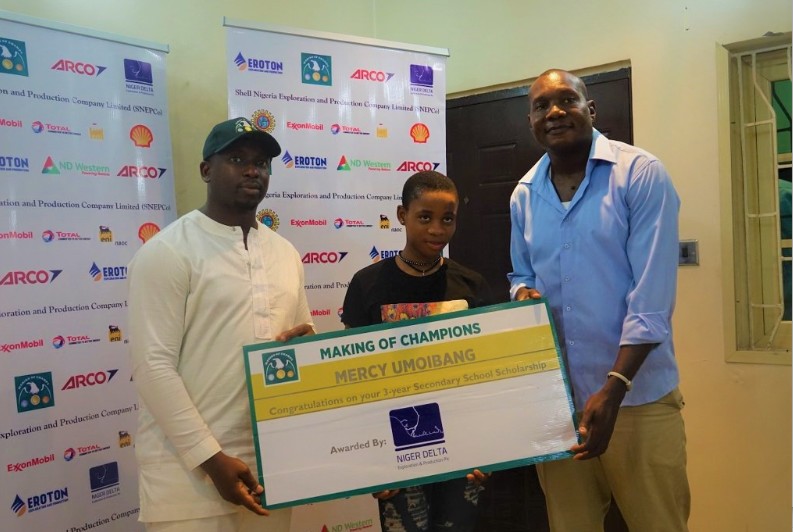 In what was a vivid display of emotion, Mercy Umoibang fought back tears on realizing that she had just been awarded a three-year Student-Athlete Scholarship by Niger Delta Exploration & Production plc (NDEP).
Umoibang became the latest recipient of a scholarship from Making of Champions (MoC), making her only the second athlete in the club to receive a Secondary School Scholarship, and the fifth to receive a Scholarship overall, considering that 3 MoC Athletes also have University Scholarships.
Awarding Umoibang a scholarship was the highlight of MoC's End of Year Party & Awards Night, with the club also rewarding its best top three athletes in both male and female categories for the recently concluded 2017 athletics season.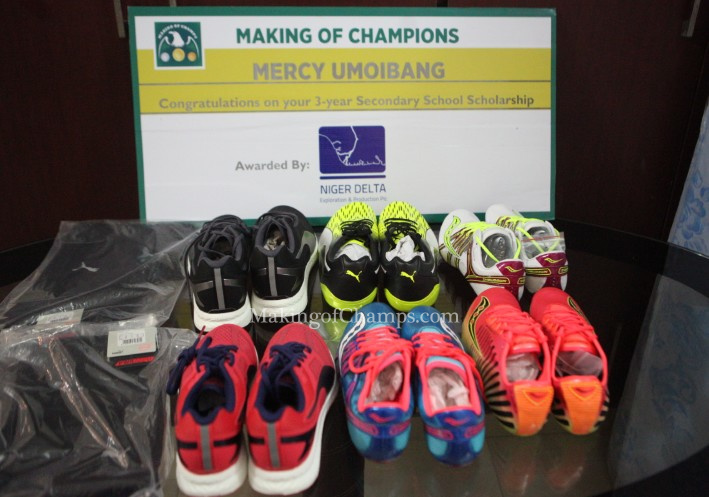 A very emotional Umoibang who struggled for words said: "I don't have much to say, I just want to thank my coach (Deji Aliu) for believing in me, and I also want to thank my school coach."
Umoibang who was recently unveiled by the club as one of its four new recruits for the 2018 season, was first discovered by the club during the 2016 'Skoolimpics' competition held at the Teslim Balogun Stadium. She caught the club's attention then after comfortably winning her 100m heat at the event and has been training with MoC's Lagos head coach, Olympic Medallist Deji Aliu since then.
NDEP's scholarship will see Umoibang's tuition at a top private secondary school in Surulere, as well as her accommodation, feeding, healthcare, training and competition costs all taken care of, to allow her to seamlessly mix her education and her Athletics career.
Before the scholarship award at the End of Year Party, there were eight other MoC athletes who were rewarded for their outstanding performances and character in 2017 across different categories.
In the Top 3 Female MoC Athletes for 2017, Glory Nyenke emerged in 3rd place after running a Personal Best (PB) of 55.60s in the women's 400m, and also meeting the qualifying standards in the 200m for the African Junior (U20) Championships. Nyenke received a pair of running tights from the MoC's 2017 Track Club & Media Sponsor, Eroton Exploration & Production.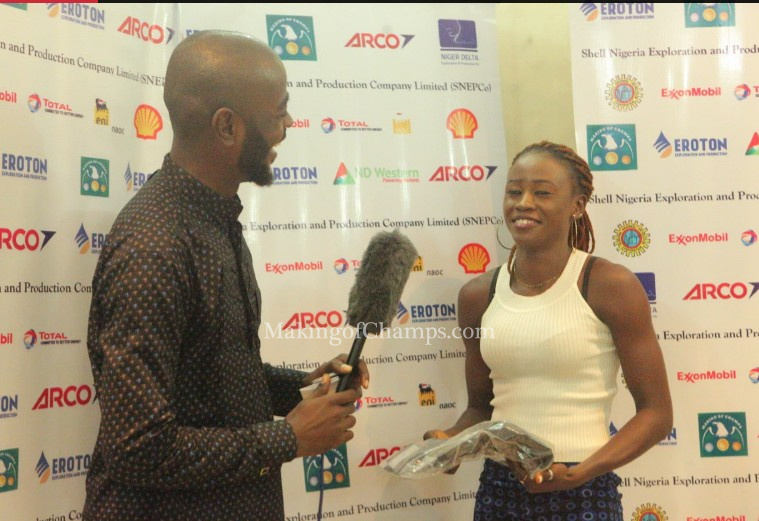 2017 National Youth Games 100m Silver medallist, Chiamaka Egbochinam was the 2nd best MoC female athlete of 2017, receiving a pair of running trainers from Shell Nigeria Exploration & Production Company (SNEPCo).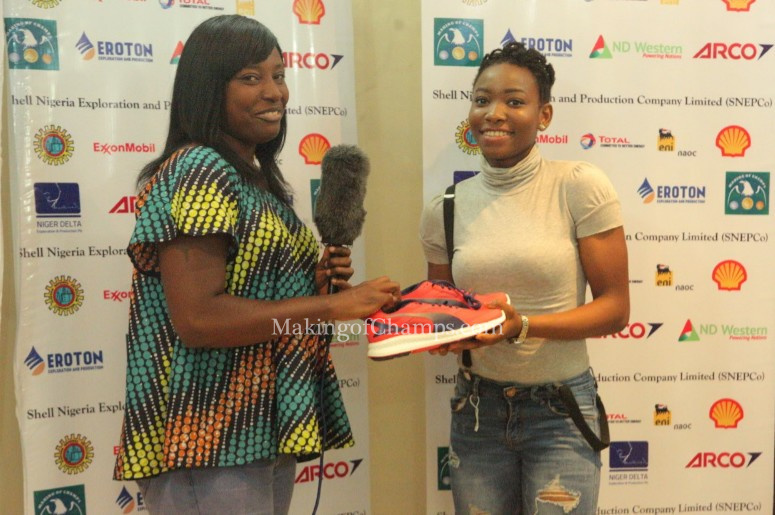 Joy Udo-Gabriel, who in 2017 ran PBs of 11.65s & 24.26s in the 100m & 200m, was named the club's best female athlete of the year. Udo-Gabriel who won Silver at the National U20 Championships in both the 100m & 200m, was rewarded with running spikes provided by ARCO Group.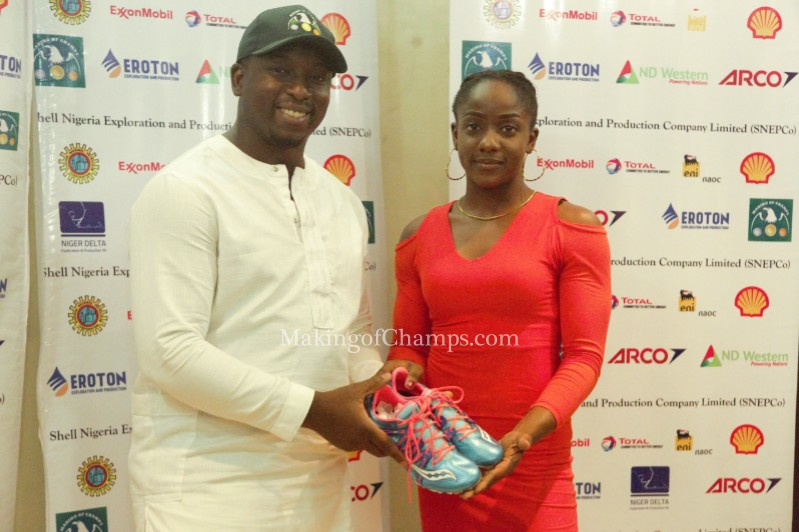 In the male category, Peter Edwin, who made the finals of both the 100m and 200m at the National Senior Championships, finished 3rd and was awarded a pair of running tights courtesy for Eroton.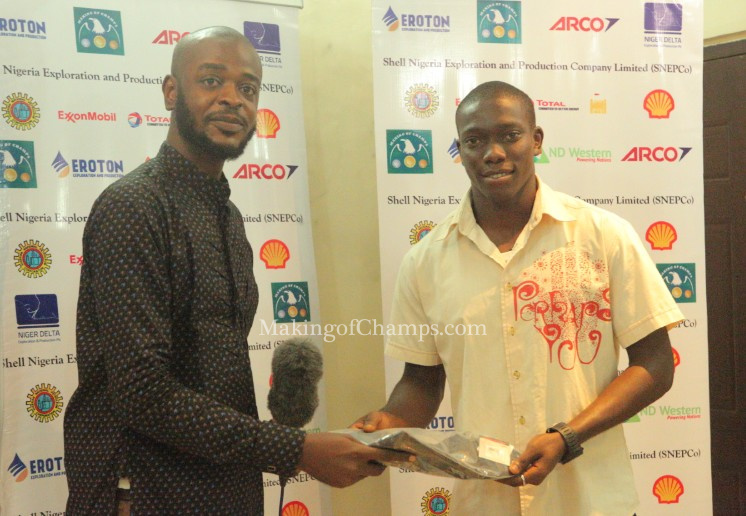 National Youth 100m Bronze Medallist, Bowofoluwa Egbeyemi emerged as the 2nd best MoC male this year athlete, getting a pair of running trainers courtesy of ND Western Limited.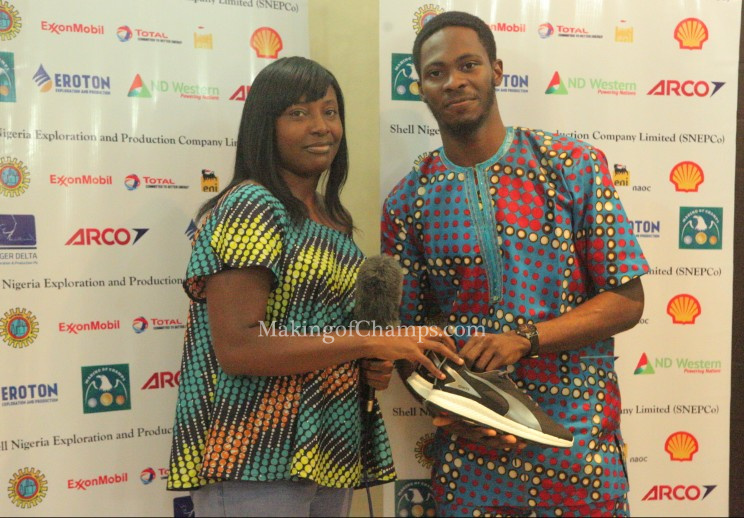 Jerry Jakpa, who in his first National Senior Championships won bronze in the men's 200m with a PB of 21.21s, was named the club's best male athlete for 2017. Jakpa, who recently ran a PB of 10.49s in the men's 100m to kick off the 2018 Season, was rewarded with a pair of running spikes by Arco Group.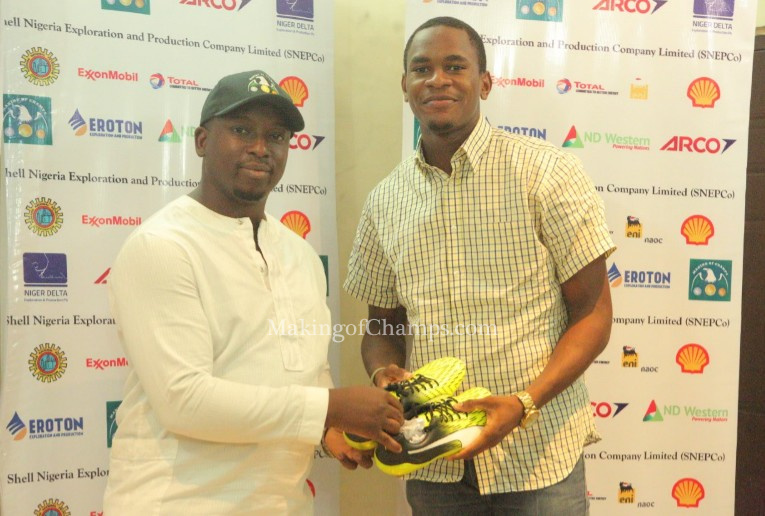 There were other special awards on the night. Blessing Obarierhu received a pair of running spikes for the Best Sponsor Promoter Award, courtesy of Eroton, for always dutifully representing the club sponsor by wearing their apparel at competitions, always with a big smile on her face!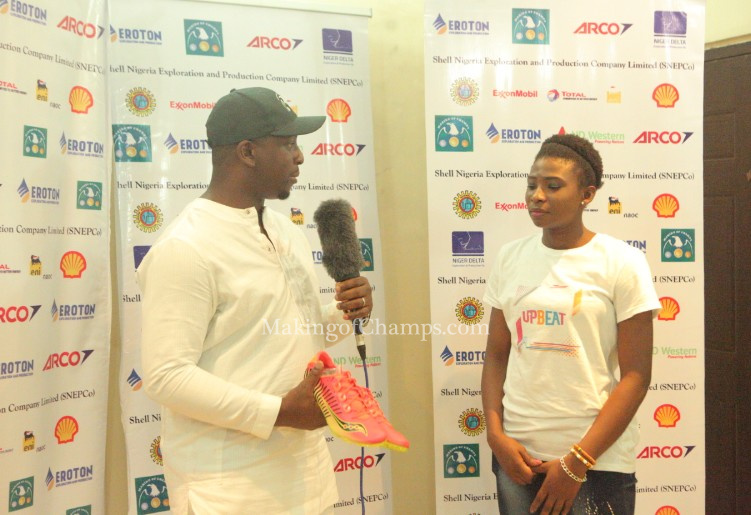 Finally, Ifunanya Muoghalu, who recently ran a PB of 54.50s to win the women's 400m in Kaduna at the AFN Golden League was also awarded a pair of running spikes by Eroton for her remarkable achievement, as she is the 1st Ever MoC Athlete to claim victory at the AFN Golden League!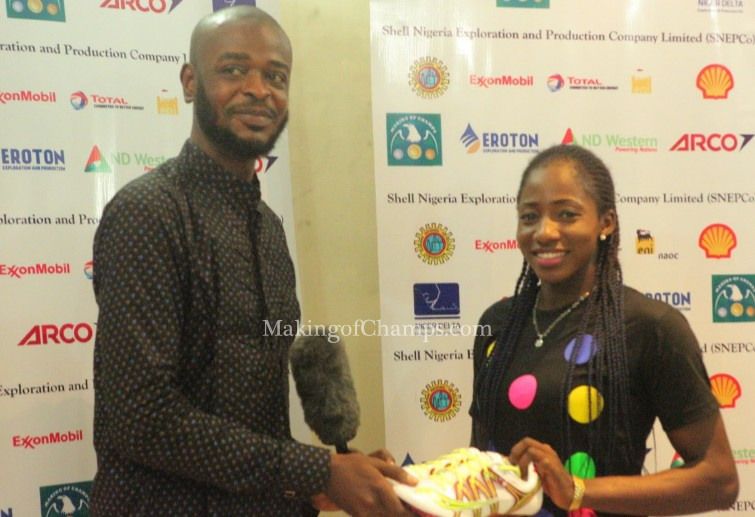 A remarkable night of excitement for MoC Athletes brought a close to an outstanding year for the club, and is hopefully a sign of great things to come.
As the 2018 Season is already underway with 6 MoC Athletes running PBs at the Abuja All-Comers and another strong showing by MoC at the Kaduna Golden League, several MoC Athletes have put themselves in the frame to hopefully represent Nigeria at the 2018 Commonwealth Games, in Gold Coast, Australia in April – do watch this space!