One year ago, Nigeria began her quest for medals at the 2016 Paralympic Games which was held from September 7th to 18th in Rio de Janeiro, Brazil.
Having claimed only one Bronze medal at the Olympics a few weeks before, the country's already battered image was in dire need of redemption after finishing joint 78th on the medals table, and just like previous years, the Paralympians came to the rescue, returning from Rio with a haul of 12 medals comprising of eight GOLD, two Silver and two Bronze medals.
Nigeria's 23-man team to the Rio 2016 Paralympic Games, which competed in Powerlifting, Athletics and Table Tennis, finished 17th overall on the medals table, the best position by an African nation at the Games. It was also the country's best GOLD medal performance at the Paralympics.
Team Nigeria at the Paralympics
Nigeria's Paralympics team has never returned empty-handed since making their debut at the Barcelona Games in 1992 with six athletes, and returning with three GOLD medals.
At the 2016 Games in Rio, the Paralympians didn't only win GOLD medals; at least six World Records (WR) were set by Paul Kehinde (Powerlifting, Men's 65kg); Bose Omolayo (Women's 79kg); Lucy Ejike (Powerlifting, Women's 61kg); Josephine Orji (Powerlifting, +86kg); Lauritta Onye (Para-Athletics, Women's Shot put F40) and Flora Ugwunwa (Para-Athletics, women's Javelin F54), en route the path to victory in their respective events.
Other GOLD medallists in Rio include Roland Ezuruike (Powerlifting, Men's 54kg) and Ndidi Nwosu (Powerlifting, Women's 73kg). Latifat Tijani (Powerlifting, Women's 45kg) and Esther Oyema (Powerlifting, Women's 55kg) won Silver medals, while Nnamdi Innocent (Powerlifting,  Men's 72kg) and Eucharia Iyiazi (Para-Athletics, Women's Discus throw F57) scooped Bronze respectively.
The country has amassed a total of 70 medals: 36 GOLD, 18 Silver and 16 Bronze, from seven outings at the Paralympics, almost tripling the number of medals their able-bodied counterparts have won at the Olympics, a total of 25 medals from their participation in 16 Games.
Team Nigeria's spectacular feat in Rio elicited a lot of celebration home and abroad. Sports officials were overjoyed, showering the team with encomiums. Political office holders were not left out, with some of them pledging support for members of the contingent.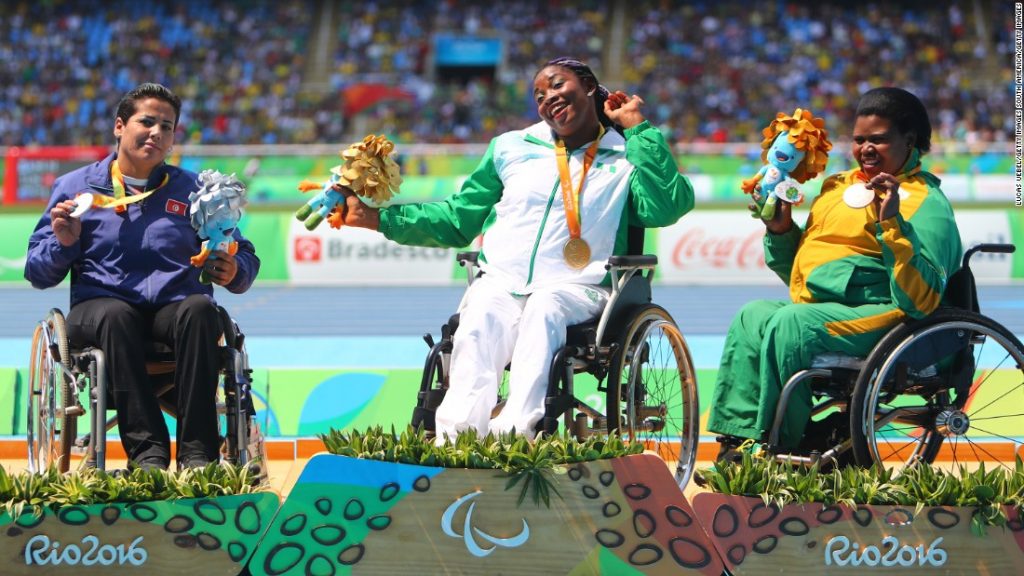 Unfulfilled Promises
At a brief reception held at the Nnamdi Azikwe International Airport, Abuja, for the first batch of athletes that returned from Rio, Mr. Luka Jonathan Mangset who received the athletes on behalf of the Minister of Youth and Sports, Barrister Solomon Dalung, promised that a bigger reception would be held for the team when the other members of the contingent returned to the country.
He said: "On behalf of Mr. President, Vice President and the Honorable Minister of Youth and Sports, the Permanent Secretary and all good people of Nigeria, I welcome you back to Nigeria. We are celebrating you now because you have done this country proud. History was made with your glorious and victorious outing to the Rio 2016 Paralympics.
"We appreciate your individual and collective efforts which placed Nigeria on a very prominent position on the medals table. I am happy that Nigeria topped all the African nations in this outing. I want to congratulate you and pray that when the others come, we will give you a more befitting welcome".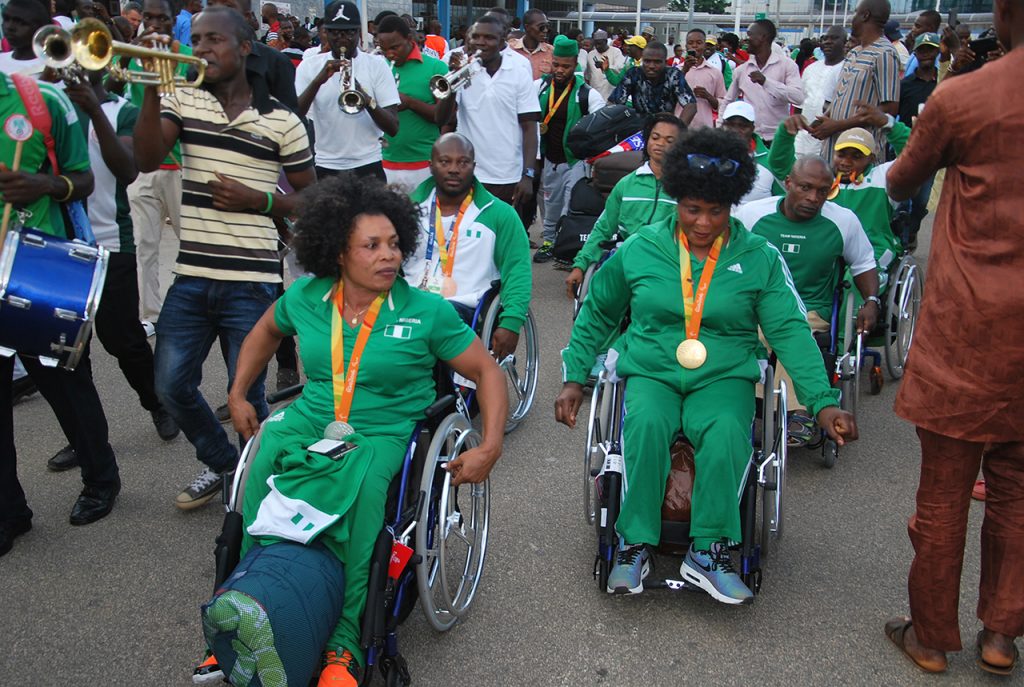 Senate President, Bukola Saraki, also commended the Paralympians, saying, "We are happy they are back. They did very well; we need to encourage them and engage them; that should be our focus for now. We shall engage them and see what we can do and definitely, there must be something for them. They have done well and they deserve that; we are proud of them".
Members of the House of Representatives had also pledged to reward the team with N18million for their efforts in Rio after a former board member of the then Nigeria Football Association (NFA), and now Deputy Chairman House Committee on Sports, Ayo Omidiran, proposed a N50,000 donation from each of the 360 members of the house, which was agreed on. Also, the lawmakers agreed to host members of the team at a special plenary session.
However, these pledges have yet to be fulfilled one year down the line. And nothing has really changed in the lives of these athletes who have defied their physical disabilities and limitations, to give their all for the nation.
Dashed Hopes
A trip to the National Stadium, Lagos, by 7.45am on a typical Wednesday morning, meets the powerlifters at a training session holding under one of the terraces of the stadium, which serves as a make-shift gym, as the main gym is currently undergoing renovation.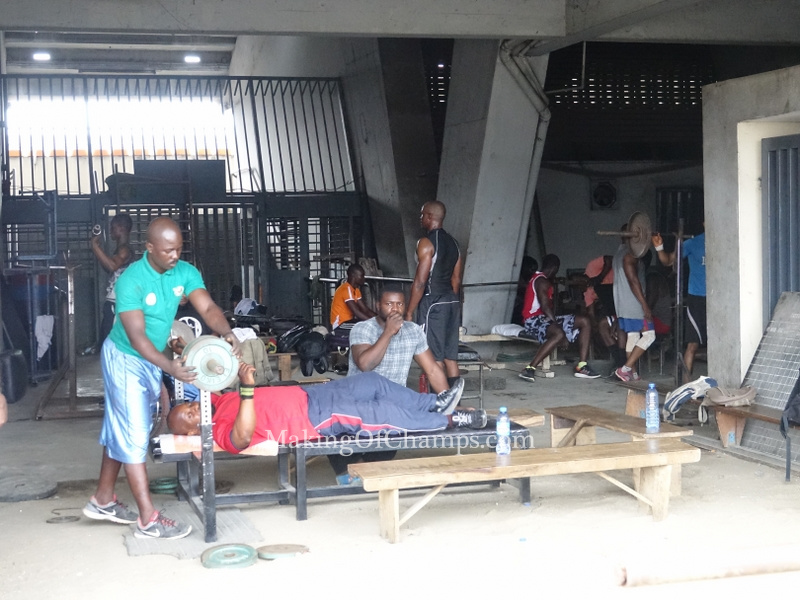 In fact, by this time, the lifters are already within the final stages of the session, which began by 6am. Some of the athletes present at the National Stadium on this day include World Record (WR) holders and Rio 2016 GOLD medalists, Kehinde and Omolayo. Others are London 2012 Silver medalist Folashade Oluwafemiayo, and Bronze medallist Victoria Nneji.
The previous administration of President Goodluck Jonathan rewarded every member of the London 2012 Paralympics contingent, even after paying all medalists winning bonuses at the Games. GOLD medalists were awarded the Member of the Order of the Niger (MON) and a cash reward of N5million each.
The Silver medallists got N3million each, while the Bronze medallists carted away N2million each. Other members of the team who didn't win medals, got N500,000 each, while the team's officials got N2.5million each.
As such, Rio 2016 Paralympics team was expecting a similar gesture on their return, but one year down the line, hope is already waning.
Kehinde, who succumbed to polio as a toddler and started Powerlifting as a secondary school student 10 years ago, says life after the Rio Paralympics hasn't been easy.
"When I lost my mother who was my main sponsor while in Secondary School, I decided to face Powerlifting so as to help train my siblings from whatever I get from the sport. I am the first of four children, so I have a lot of responsibilities. Things have not changed since I became a champion. I'm still struggling just like before", he said.
"It's even more difficult now because no one wants to help you because they believe that you have gone for the Paralympics and earned so much money. No one is thinking about us, and it is really painful. Special athletes need comfort. The only time I eat good food or a balanced diet is when I'm in camp, but outside of that I eat anything I get. Sometimes I don't eat from morning to night, yet I need to come and train.
"A lot of powerlifters haven't improved because their minds are not at rest, since they are thinking about how to survive, and this affects their performance. Some of them even sleep at the stadium. What we need is comfort. People with disability need more money because of our peculiar needs."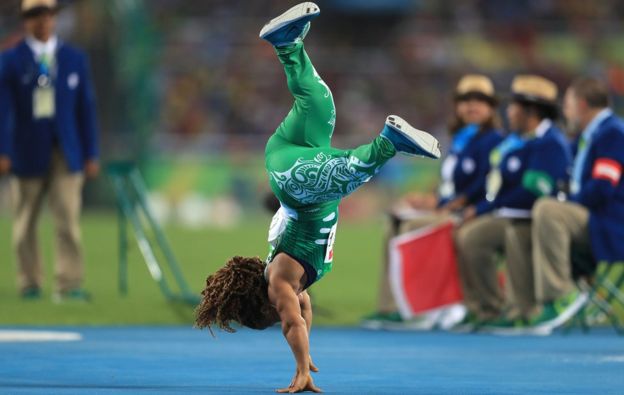 Onye, who stunned the world after breaking the WR twice to win GOLD in Rio with a distance of 8.40m in the women's F40 Shot put, is discouraged by the lack of competitions. The thrower hasn't been to any competition home or abroad since setting the WR at the Paralympics.
"Things haven't been easy for us para-athletes. For instance, I haven't attended any competition since the Rio Games, whether at local or international level. We have been starved of competitions, yet we keep training, because we have to do our part by being ready.
"I'm really discouraged that Nigeria didn't compete at the IPC World Championships in London, so I wasn't able to defend my title as World Champion and WR holder. The winning distance in my event was 7.57m, meanwhile my winning mark in Rio was 8.40m, which means I would have easily won the competition."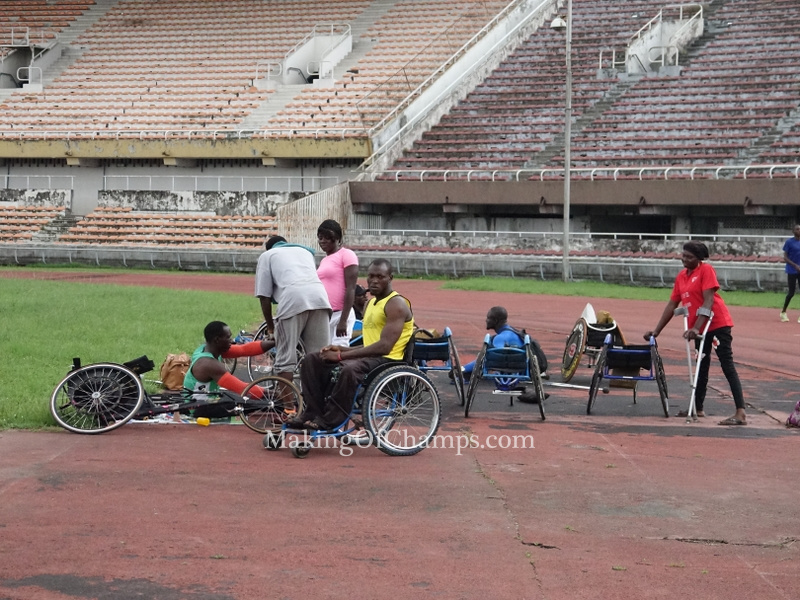 What is Good for the Goose is good for the Gander
The Nigerian female Basketball team, D'Tigress won the Continental trophy in Mali recently, and the team was honoured by the Nigerian President two days after achieving this feat. This development is a sore subject for the special athletes who believe that the country doesn't reckon with them due to their physical challenges.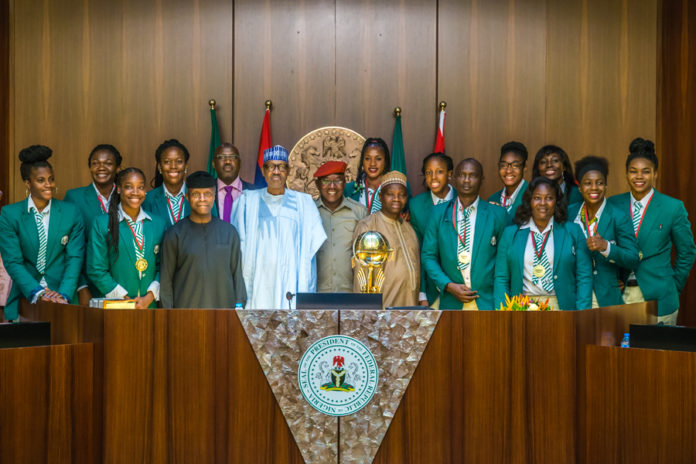 Kehinde who won GOLD at the 2015 African Games said: "The women's Basketball team that won a continental trophy was honoured, and awarded cash prizes, while we who went for the Paralympics, which is the equivalent of the Olympics, the mother of all competitions, have not been recognized.
"We would want the government to award us with cash prizes too, which will go a long way in helping us. I would be able to start a business so that I do not have to complain about lack of money anymore."
A coach who spoke under the condition of anonymity also added: "Is it a crime to be born with physical challenges? Because it seems this country doesn't have a place for us. You can't beat a child and ask him not to cry. Whatever is good for the goose is good for the gander."
Onye won the women's F40 Shot put category of the 2015 International Paralympic Committee (IPC) World Championships in Doha with a WR of 7.72m. She is yet to receive her cash award for the feat two years later.
"I and my coach have not gotten our share of the winning bonus that President Buhari awarded", she said. "We were told that the names of awardees were compiled while I was competing in Doha, so it was omitted. In Rio, they wanted to pay only my winning bonus, excluding that of my coach, and was told that he would get his when we returned to Nigeria, but I couldn't betray my coach; I said the bonuses of myself and my coach had to be paid together.
"When we got back to Nigeria, I was later asked to send my account details which I did. They also said my coach should come to Abuja; this is a man who is physically challenged and uses crutches; why would they want to put him through all this stress? When others got their money, did they have to go to Abuja? This country is full of injustice. Look at my coach who should have a car, still struggling with crutches."
While responding to the issues raised by the special athletes, the Special Assistant, Media to the Minister of Youth and Sports, Nneka Anibeze, confirmed that none of the medalists from the Rio Paralympics has been honoured yet.
She said, "Nobody from Rio has been honoured yet, but a date will be fixed for that. With regards to Lauritta Onye's allegations, what happened was that at the time the budget was made, she had already travelled out for a competition and hadn't qualified for the winning bonus, so it wasn't captured in the initial budget.
"Eventually, she was to be paid at the Paralympics but she refused, saying that her coach must be paid first. She was told that the money on ground wasn't adequate, and that her coach would be paid when the team returned to Nigeria, but she refused to collect it."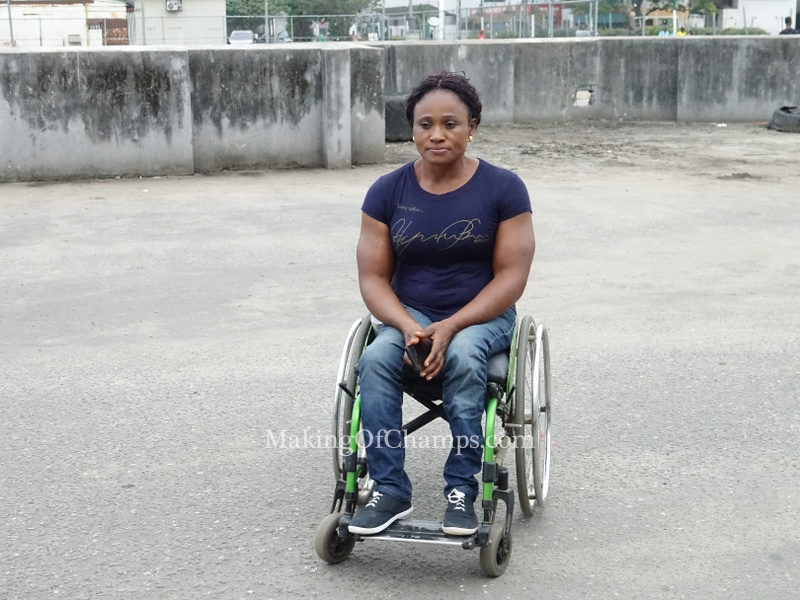 Some people might feel that the special athletes are making unreasonable demands, but London 2012 Bronze medalist Nneji says that people must take into consideration the fact that one can only do sports for a limited number of years:
"Being a Sports person is an expensive venture because you must take care of yourself, eat right, take supplements, and for one to be doing these things for four good years without anyone asking how you are faring isn't good. No one remembers you after the competition. No one pays us any special allowances as physically challenged people.
"Imagine coming all the way from Ikorodu to the National Stadium to train, so sometimes we hit the road as early as 4am, just to make it here. We do not have as many options as the able bodied athletes who can join the Police Force or Military, so Sports is the only means of survival for us, but it is not something you do forever. You have to stop once age sets in. What then do you fall back on after the number of years spent in the sport?", she asked.
Hope Rises
In the midst of these tales of doom and gloom, a glimmer of hope arises for Nigerian powerlifters, through the intervention of corporate sponsor, Peak Milk, which is currently carrying out massive renovation work on the gym being used by the lifters at the National Stadium, Lagos.
The face lift is set to be completed by the end of the month, and the gym is expected to be equipped with world class facilities, which will aid the training of the athletes, and go a long way in boosting their morale. The company also began making a monthly donation of 50 cartons of Peak Milk to the athletes since January 2017, blazing the trail for private individuals and other corporate sponsors to follow suit.