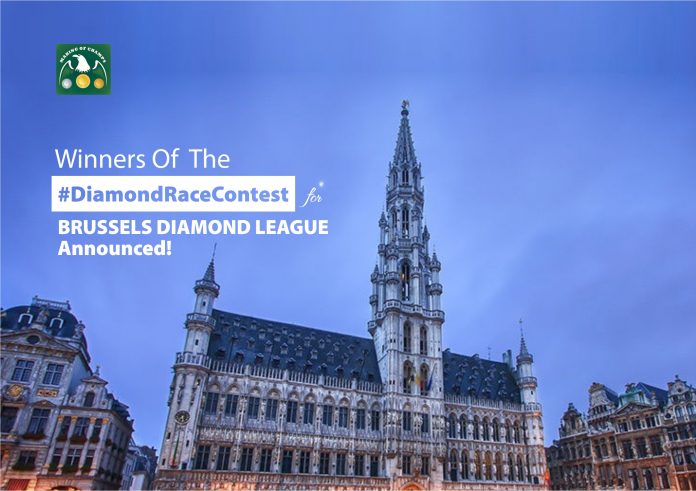 After 14 exciting meets, Brussels Diamond League drew the curtains on our Fantasy Diamond Race contest, with so many winners to reward in the MoC League.
Before giving an overview of the entire season, let's summarize what transpired in Belgium where two teams tied for 1st place, the second time it's happening in the league this season.
TeamTobiAmusan (Michael Vincent) and Kelvin Bliss' team each got 140 points to win Brussels, while WeRun team (Jacob Ikponmwosa), Christian Okafor's team and Oxford Osagie's team all got 137 points as the three tied for 3rd place.
Being the last meet that would decide the fate of most teams, there was an 'air of safety first' while making the final transfers. No team wanted to lose grounds, and weren't too ambitious with their selections.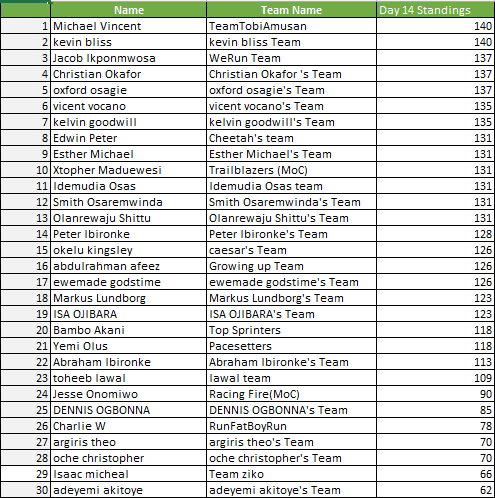 Which explains why Mariya Lasistkene featured prominently as captain for most teams as they were sure she would win the women's High Jump, oh well she did and earned them 30 points.
Suprisingly there was no Meeting Record (MR) from Brussels, so no team made a giant leap that would have shot them up the log, it was a little too late then to make a difference.
This year's edition of the fantasy race competition has to be the most competitive in the three seasons it has been staged, as this is the first time that no MoC staff is making the top three in our league.
MoC staff dominated the first two seasons in 2015 and 2016 underlining their Athletics prowess then, however in 2017 their work was cut out as other non-MoC staff came prepared and wrestled the mantle in an unprecedented victory.
It has to be said that Team Top Sprinters owned by MoC's CEO Bambo Akani, led the way with six consecutive victories in the early stages of the competition.
However despite also being in the top 100 in the world for a long time, just as the team's name implies, they sprinted in the first six laps and faded in the last 8 laps (14 Diamond Leagues) allowing other teams to catch up with them.
In fact Top Sprinters is the highest placed MoC team in 5th with an overall tally of 2005 points, followed by Trailblazers (Xtopher Maduewesi) in 7th with 1980 points and Pacesetters (Yemi Olus) in 8th with 1966 points.
WeRun Team is the overall winner of the MoC league with 2101 points and was even highly placed in the world as he finished in 18th place overall.
TeamTobiAmusan finished in 2nd place with 2078 points and 58th in the world, while Cheetah's team (Edwin Peter) was 3rd with 2039 points.
Going by the placements with two teams from the MoC league making the top 100 in the world, it shows how the teams have improved so well from 2015.
AIRTIME WINNERS for #DiamondRaceContest DAY 14
There will be 3,000 Airtime available to the public each Diamond League Day, although owing to the number of people who tied this time around, they would get rewarded according to their placements.
So who were the Top finishers on Day 14 in the MoC League who are not MoC staff, and how will the Airtime be shared?
1st –TeamTobiAmusan (Michael Vincent) & Kelvin Bliss' team – 140 points
3rd – WeRun team (Jacob Ikponmwosa), Christian Okafor's team & Oxford Osagie's team – 137 points
The prizes for the Top 3 are: 1500, 1000 & 500 Airtime respectively for each positions, to a phone number of choice within Nigeria. If you are a winner and have not won our airtime before, kindly send an email with subject: "Airtime Redemption for #DiamondRaceContest" to [email protected] In the mail, kindly state your name, team name and phone number.
– At the end of the 14 Diamond League Meets in September
**The overall Top 3 players on points in the MoC League will win the following:
3rd – One Top Sprinter branded T-shirt
2nd – Two Top Sprinter branded T-shirts
1st – Three Top Sprinter branded T-shirts
**The overall prizes will be delivered anywhere in Nigeria.