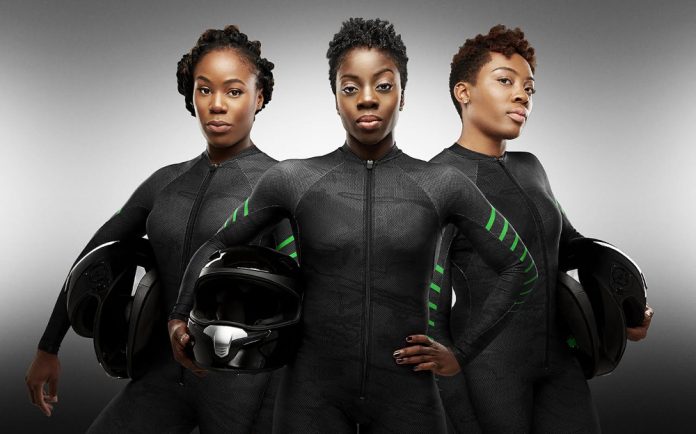 When the 2018 Winter Olympics taking place in Pyeongchang, South Korea commences, Nigeria could have its first ever team at the Games as the trio of Seun Adigun, Ngozi Onwumere and Akuoma Omeoga aim to etch their names in the country's history books.
Nigeria has never had any representation at the Winter Olympics. The country has only participated in the Summer Olympics where they have won medals in five different sporting events: Athletics, Boxing, Football Taekwondo and Weightlifting.
With the Winter Olympics mainly competed in by countries which experience snowy weather conditions, it is not surprising that Nigeria is yet to take part.
However, Adigun who is the pioneer of this aspiration, alongside her two compatriots who are all resident in the United States, is keen to see Nigeria's flag being hoisted alongside that of other nations in two years time.
In a bid to actualize their dreams, the athletes have set up a crowdfunding page to raise funds and also an awareness for it, hoping to secure qualification that will see them compete as the first set of Nigerian athletes at any Winter Olympics.
If they get the funding they need, these athletes will compete in the Bobsled event, a sport that entails timed runs down narrow, twisting iced tracks in a gravity-powered equipment.
You might liken the ambitions of Adigun and her teammates to that of Derice Bannock, a 100m runner who failed to qualify at the Jamaican Olympic Trial in the 1993 hit movie: "Cool Runnings", a comedy sports film directed by Jon Turteltaub.
In the movie, Bannock, having missed the summer Olympic team, was determined to be an Olympian and recruited the services of his friend Sanka Coffie, with two other sprinters: Junior Bevil and Yul Brenner who didn't make the team also.
They sought out a double GOLD medallist, Irv Blitzer to tutor them in what was a difficult task, going on to become the first set of athletes to represent Jamaica at a Winter Olympics.
In reality, Adigun and her compatriots are on a similar quest, resorting to crowdfunding and personal sacrifices, just like Bannock and his compatriots did as they went on to make history.
Adigun specialized in the 100m Hurdles while still actively competing, and represented Nigeria at two World Championships in Berlin 2009 and Daegu 2011, and also competed at the London 2012 Olympics.
So if Adigun makes it to the 2018 Winter Olympics, she will join the elite club of athletes like Eddie Eagan, Christa Luding-Rothenburger and Lolo Jones who have competed at both the Summer and Winter Olympics.
For Onwumere, it will be her third outing for Nigeria since breaking into the national team having competed at the 2015 World Relays in Bahamas, and most notably the African Games in Congo Brazzaville where she won two medals: Silver in the 200m and GOLD in the 4x100m relay.
Onwumere ran a Personal Best of 23.22s in the 200m this year, the second fastest by a Nigerian sprinter over that distance in 2016, behind Blessing Okagbare who had a Season's Best (SB) of 22.58s. It was expected that she would have vied for a spot in the relay team, but surprisingly she didn't compete at the National Championships in Sapele.
"By 2016, I was inspired to start the Nigerian Women's Bobsled team in hopes of being the first ever African representative, men or women, to qualify for the Winter Olympic Games in the sport of Bobsled" Adigun said of her hopes of seeing Nigeria make the Winter Games.
Just like Chierika Ukogu who made history by becoming the first athlete to represent Nigeria in a rowing event at the Olympics, Adigun and her teammates could make Nigerians start googling about Bobsled if they realize their dream of making it to the 2018 Winter Olympics.
Interestingly, a few high profile Olympians in Track and Field have also been trying their hands at bobsledding. They include former World Champion Tyson Gay and 2015 IAAF World Relays GOLD medallist, Ryan Bailey.