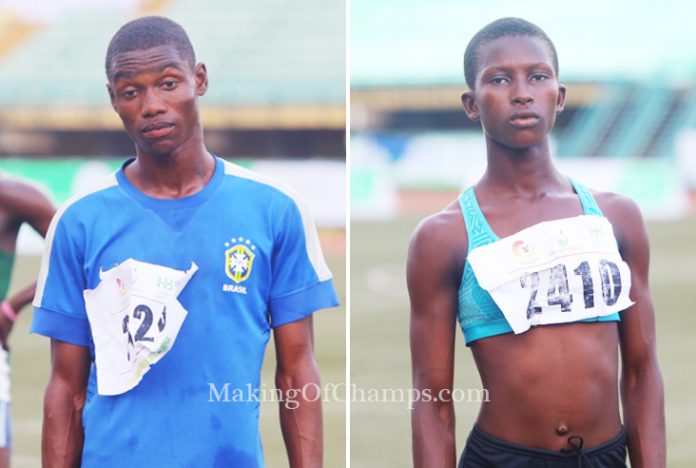 It's been a thrilling Championship so far at the ongoing Heritage Bank Skoolimpics, as action continued at the Teslim Balogun Stadium on Thursday, November 3rd, culminating in the emergence of several new names to watch out for in future.
Top on the list of performers on Day 2 was 19-year old Abdulquadri Kamalrudeen of Ayedire Ajibola Senior School who clinched the Boys' 200m title in an astonishing manner. The event was so competitive that the 16 boys who made the cut for the final, had to be separated into Finals A and B.
Even though Kamalrudeen competed in Final B, and was the only one that ran barefoot, he didn't let this deter him as he stormed to the overall fastest time of 23.45s.
In fact, his heat was so competitive that the four athletes who finished behind him, recorded the top five fastest times, with the winner of Final A, Nnamdi Ohume, just being able to finish 6th overall.
In 2nd position was Segun Adenuga of Homat Secondary School with 23.58s, while Chigozie Nweke of F.C.E.T. Akoka won the Bronze medal, clocking 23.70s.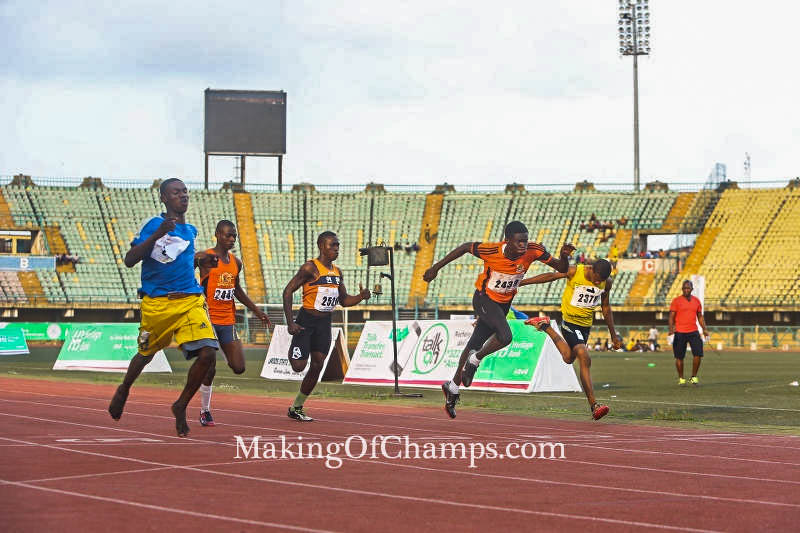 Speaking to Making of Champions (MoC) afterwards, Kamalrudeen said: "I never used to run; I train as a footballer. This is my first time of competing in an Athletics competition, so I'm very happy to have won".
Interestingly, Nweke also toes a similar line of being a first timer in a major Athletics competition: "This is my first time of running on a full track and my first individual medal after running several invitational relays for my school. I'm not happy I placed 3rd because I was expecting to finish higher than that" he said.
Meanwhile in the Girls' category, Anita Taviore left no one in doubt of her victory after running the fastest times in the heats and semis.
The SS3 student from Ipakodo Senior High School Ikorodu, was unstoppable from the start, attacking the curve before running down the home-straight to cross the finish line in 26.81s. Esther Mumalike won the Silver medal clocking 27.81s, while Alimot Alowonle completed the podium in 27.99s.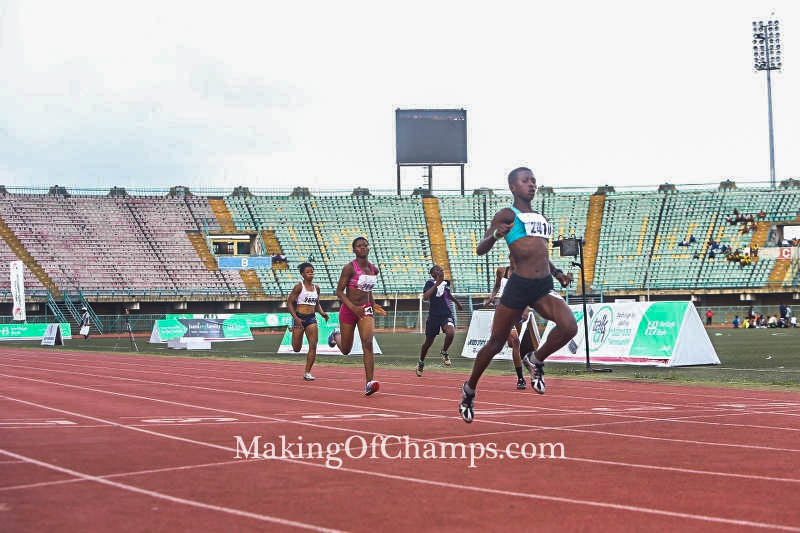 Even though Taviore was the race winner, it was Alowonle that was most talked about among the coaches and scouts around, as her tall, slim figure distinguished her. She was even compared to Nigeria's quartermile legend, Fatima Yusuf.
The JSS3 student of Homat College Ikorodu, had this to say about her performance: "I didn't believe at first that I came 3rd, so it's by the grace of God. I'm very happy to have won my first major medal, because I only started training with my coach in May this year".
Taviore on the other hand, shared a different sentiment: "I knew I would win because I was determined. I don't think anybody I ran with was as determined as I was" she said.
There was no shortage of excitement in the Field events as Sunday Shedrach of Oke-Odo Unity College stole the show in the Boys' High Jump, clearing the height of 1.75m ahead of Jonas Agwu (1.70m) and Zebeddi Edeh (1.70m).
Other events competed in were the 100m heats, 800m heats and Girls' Long Jump qualification. The Championship will come to a climax on Friday, thus bringing a thrilling end to the three-day action-packed competition.