Day 7 of Track and Field at the ongoing Olympic Games in Rio was a historic one by all standards, with World Record (WR) holder in the 100m/200m/4x100m, Usain Bolt storming to victory in the men's 200m, successfully defending his title from Beijing 2008 and London 2012.
Meanwhile USA's Kerron Clement went on to win the men's 400m Hurdles nine years after winning GOLD at the IAAF World Championships in Osaka.
Dalilah Muhammad made history by becoming the first American woman to win the 400m Hurdles title, winning GOLD with an impressive time of 53.13s.
Ashton Eaton became only the third man in Olympics history to retain a title in Decathlon, a feat he achieved by tying the Olympic Record (OR) of 8893 points.
Teammate Ryan Crouser inspired a 1-2 for USA in the men's Shot put, taking GOLD in an OR of 22.52m as Joe Kovacs won Silver in 21.78m.
Crotia's Sara Kolak emerged the surprise winner in the women's Javelin final, upstaging defending champion Barbora Špotakova and African Champion Sunette Viljoen.
The heats of the men and women's 4x100m relay took centre stage on Thursday, with Jamaica and USA advancing to the final in the men's event.
There was however some drama in the women's event as the US team suffered a mishap during the baton exchange after Allyson Felix was bumped by a Brazilian athlete just before the second baton exchange, which sent the baton to the ground.
And though the athletes completed the race, the US Track and Field filed an appeal to the Rio Games' Jury of Appeals, and were granted a reprieve.
A solo re-run was held, the first in Olympics history, and the quartet of Tianna Bartoletta, Allyson Felix, English Gardner, and Morolake Akinosun clocked 41.77s to beat the time set by 8th-placed China to advance to the final.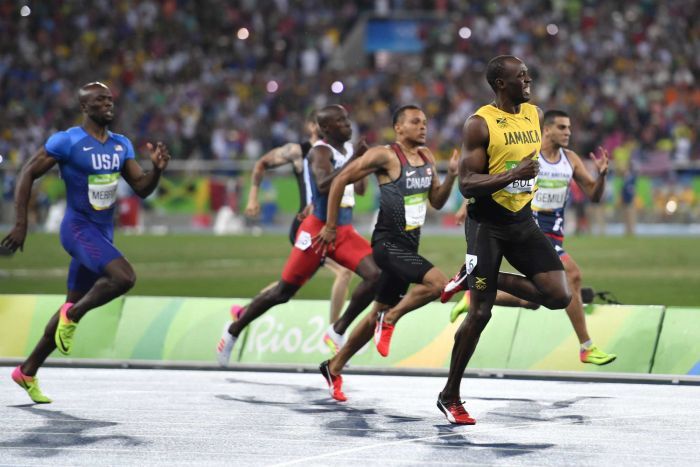 Photo Credit: AP