No fewer than 54 athletes across 20 disciplines, smiled home with prize money awarded them at the end of the 2nd Making of Champions (MoC) Grand Prix, which was held between June 15th and 16th, at the Yaba College of Technology in Lagos State.
A total of N850,000 was up for grabs, courtesy of donations from 13 individuals, thus exceeding the Prize Money of ₦700,000 for individual events at the 1st MoC Grand Prix last year (there was also ₦500K for the Relays last year, which didn't take place this year).
This year, all  six Sprint Events (men's and women's 100m, 200m and 400m) were coined the first ever 'Platinum Events' at the MoC Grand Prix, attracting total Prize Money of ₦60K per Event – ₦30K for the winner, ₦20K for 2nd place, and ₦10K for 3rd place.
Similarly, seven Events – men's and women's 800m and 110/100m and 400m Hurdles were upgraded to 'Gold Events', with ₦45K on offer per Event – ₦20K for 1st, ₦15K for 2nd, and ₦10K for 3rd, as well as the Women's Hammer, which also included ₦5K for 4th.
Meanwhile, three events – the women's Long Jump, men's Javelin and women's High Jump were labeled 'Silver Events', with ₦30k at stake – ₦15k for 1st, ₦10k for 2nd and ₦5k for 3rd.
Finally, four events – the men's Long Jump, women's 1500m, women's Discus and men's High Jump were  tagged 'Bronze Events', with ₦20K per Event – ₦10K for 1st, ₦6K for 2nd, and ₦4K for 3rd.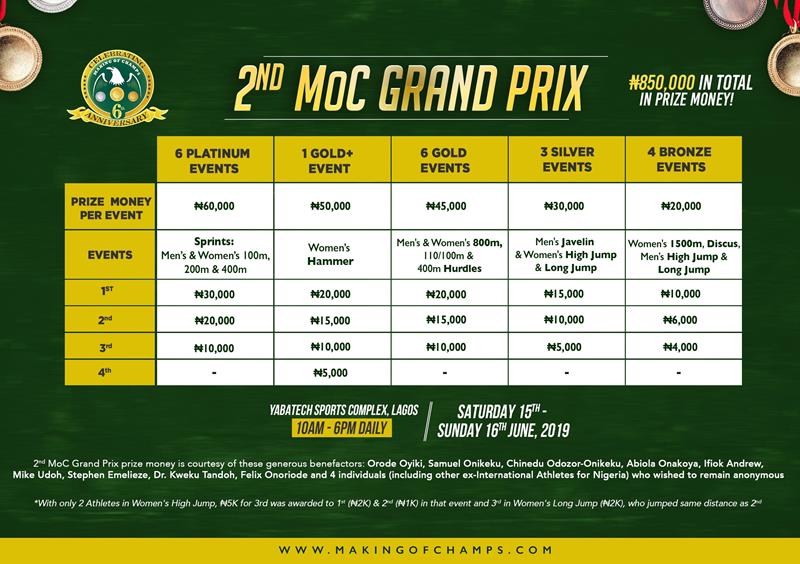 The top earner at the 2nd MoC Grand Prix was none other than Commonwealth Games Bronze medallist Rosemary Chukwuma who got a total of ₦60k for her efforts, having stormed to the sprint double, with both races being Platinum events. This was Chukwuma's maiden outing at the event, and it was certainly worth the while for the sprinter as she set a Meeting Record (MR) of 11.44s in the women's 100m.
Next to Chukwuma on the list of top earners was Emmanuel Arowolo who retained his 200m title, and also finished 3rd in the 100m, earning a total of ₦40k – ₦30k for his win the 200m and ₦10k for his 3rd place finish in the men's 100m. Arowolo claimed the sprint double at the 1st MoC Grand Prix, and still holds the MR in the men's 200m.
Aminat Alabi secured double victories in the women's 800m and 1500m respectively, which were Gold and Bronze events, amassing a total of ₦30k, winning ₦20k in the former and ₦10k in the latter.
Enoch Adegoke, Emmanuel Ojeli and Imaobong Nse Uko each left the 2nd MoC Grand Prix with ₦30k after winning the men's 100m and men's and women's 400m respectively, with all events being listed in the Platinum category. Both Adegoke and Ojeli set new MRs of 10.12s and 46.25s respectively to win their events.
Having missed out on a podium finish in the women's 400m Hurdles after tripping, Oluwakemi Francis still braved all odds to finish 2nd in the women's 100m Hurdles and 3rd in the Long Jump, winning a total of ₦22k – 15k for finishing 2nd in the hurdles and ₦7k for her 3rd place finish in the Long Jump.
Here are the full details of Prize Money won by each Athlete, broken down by event.
The donors of the ₦850,000 include former Nigerian and African 110m Hurdles Champion Orode Oyiki; Secretary General of the Nigeria Customs Service Sports Unit and an avid supporter of Athletics Samuel Onikeku; his wife Chinedu Odozor-Onikeku, a two-time National Champion in the Long Jump and Silver Medallist at the 1998 African Championships, and Abiola Onakoya, a former Nigerian Champion in the men's 400m and African Championships 4x400m GOLD medallist.
Others are Ifiok Andrew who competed as a Student-Athlete for the Middle Tennessee State University, and Mike Udoh, a keen supporter of Athletics and husband to Hammer thrower Feyisayo Udoh who last year, was the only individual who donated Prize Money, then to make the Women's Discus Throw a Gold Event. This time around, he sponsored the women's Hammer throw.
Added to the list are Stephen Emelieze, a former sprinter and renowned Personal Trainer, as well as immediate past Director General of the Lagos State Sports Commission (LSSC) Dr. Kweku Tandoh, Athletics Grassroots coach and P.R.O of the Track and Field Coaches Association of Nigeria – Felix Onoriode, alongside four other individuals (including other ex-International Athletes for Nigeria)who wished to remain anonymous.
We would like to say a very big thanks to the Athletics Federation of Nigeria (AFN) who partnered with MoC to provide technical support and the electronic timing device to ensure that the performances of the athletes are ratified by the IAAF.
Special thanks also go to Nestle Pure Life, the Official Hydration Sponsor of the 2nd MoC Grand Prix, and ensured that all the athletes were well hydrated for the duration of the competition.
Thank you all, Athletes, Coaches, Officials, Staff and Sponsors, for your participation in the 2nd MoC Grand Prix. It can only get better!