As the dust settles on the 1st ever MoC Grand Prix & Relays, a total of 86 Athletes received their winnings from the Total Prize Money of ₦1,205,000 over the weekend, courtesy of their stellar performances across the 22 Individual Events and 5 Relay Events that were contested at the inaugural event!
The 86 Athletes each won Prize Money ranging from ₦47,000 to ₦4,000, from a maximum of 3 individual events and 2 relay events that each Athlete was permitted to participate in (though most athletes only took part in up to 3 events in total – 2 individual & 1 relay).
It will be recalled that the 22 Individual Events were split into 7 Gold (1st – ₦20K, 2nd – ₦15K, 3rd – ₦10K), 9 Silver (1st – ₦15K, 2nd – ₦10K, 3rd – ₦5K) & 6 Bronze (1st – ₦10K, 2nd – ₦6K, 3rd – ₦4K) Events, while the Relays each attracted a total Prize of ₦100,000 (1st – ₦48K, 2nd – ₦32K, 3rd – ₦20K), shared equally between the members of each team!
The top earners from the 1st MoC Grand Prix & Relays were Emmanuel Arowolo and Yinka Ajayi who each earned ₦47,000 in Prize Money from the event, with 3 wins out of 3 in each of their events. Arowolo won the Men's 100m & 200m Sprint Double and the 4x100m with Team Customs, while Ajayi won the Women's 400m & 200m Double and the Mixed 4x400m with Team Blessed.
MoC's Jerry Jakpa (2nd in Men's 100m, 200m & 4x100m, 3rd in Mixed 4x400m) and Onome Nathaniel of Team Blessed (1st in Women's 400mH & Mixed 4x400m, 3rd in 200m) were the 3rd & 4th highest earners with ₦38,000 & ₦37,000 won respectively. Emmanuel Ojeli of MoC Track Club was the 5th highest earner with ₦33,000, after securing 1st, 2nd & 3rd place finishes respectively in the Men's 400m, 4x100m and Mixed 4x400m.
Grace Ayemoba (Defenders – ₦31,000), Mercy Ntia-Obong (Customs – ₦30,000), Kemi Francis (NSCDC – ₦28,000), Joy Udo-Gabriel and Ifunanya Muoghalu (Both MoC – ₦27,000 each) round out the Top 10 of Prize Money winners from the 1st MoC Grand Prix & Relays.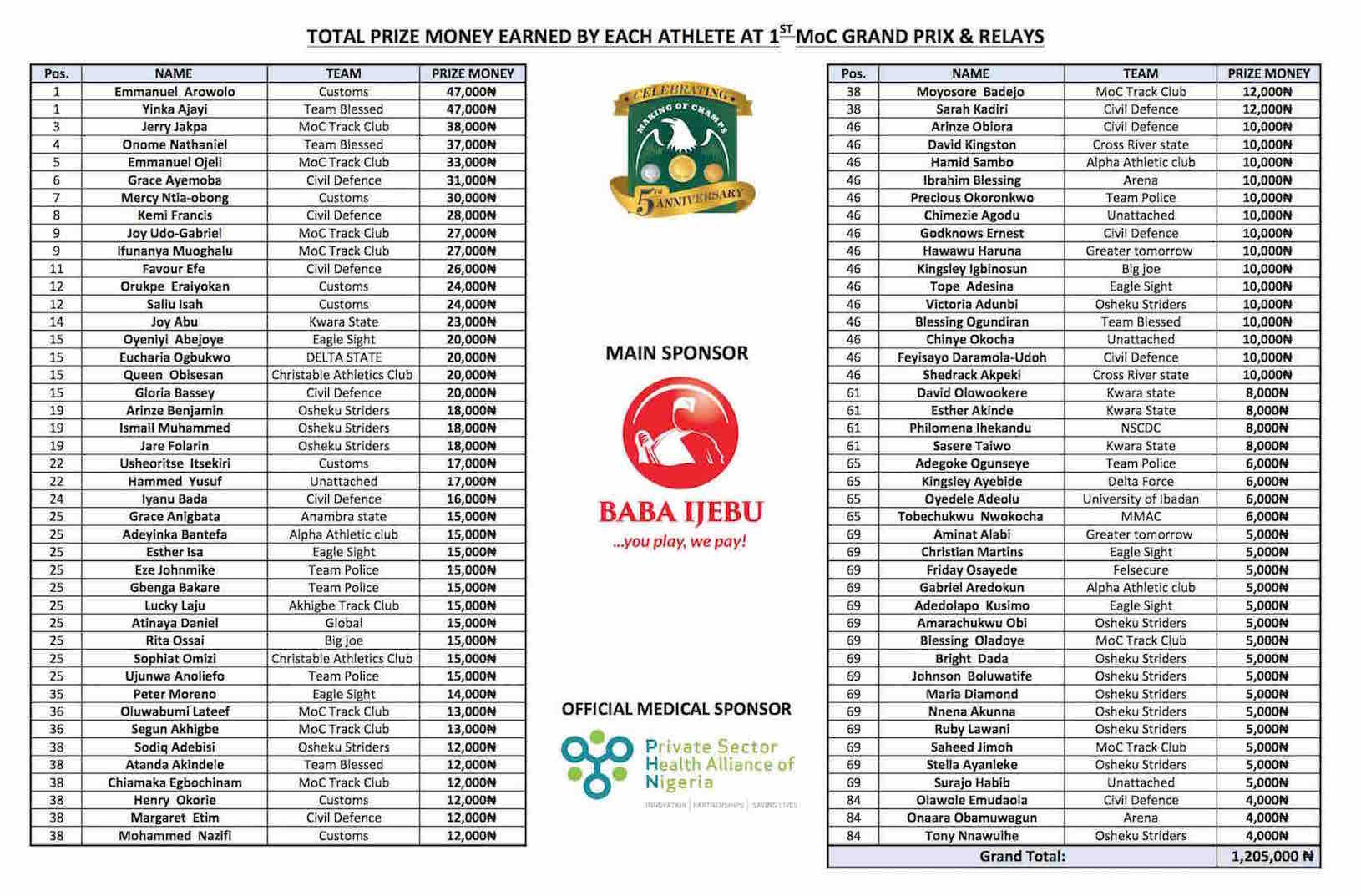 The ₦1.2 million in Total Prize Money doled out at the 1st MoC Grand Prix & Relays is the largest amount of Prize Money given at a single Track & Field event in Nigeria since the ₦1.4M that was distributed in the Sprint & Relay events at MoC's Top Sprinter Championships in 2016! (The only Athletics events with more Prize Money locally are the Access Bank Lagos Marathon and Okpekpe Road Race, but mostly to foreign Athletes).
Here are the full details of Prize Money won by each Athlete, broken down by event. We would like to say a very big thanks for Baba Ijebu for bankrolling the event, ensuring that we could put a smile on the faces of the nearly 300 Athletes who attended the 1st MoC Grand Prix & Relays, and Prize Money in the pockets of 86 of them!
We would also like to thank our Official Medical Sponsor, Private Sector Health Alliance of Nigeria (PSHAN), who ensured that we had full medical team and ambulance on ground on all three days to cater to the healthcare needs of all the Athletes throughout.
Last but certainly, not the least, we'd like to once again pay tribute to Mike Udoh, who took the generous step of sponsoring the Women's Shotput as a Gold Event, when it had initially not been included, and before we had secured Baba Ijebu and PSHAN as sponsors!
Thank you all, Athletes, Coaches, Officials, Staff and Sponsors, for your participation in the 1st MoC Grand Prix & Relays! We hope to make this an annual affair – we'll be in touch with a date and venue for the 2nd MoC Grand Prix & Relays in 2019, when it's all confirmed!