With the annual MoC Grand Prix entering it's 2nd year, the flagship athletics competition from the stable of Making of Champions has quickly become one of the most important fixtures in the Athletics calendar in Nigeria.
Indeed, with the exception of the National Trials, it is already the largest gathering of Athletes nationwide, with 400 registering last year, and 500 confirmed for the 2nd edition at Yabatech in Lagos this weekend! With all the Top Athletes in Nigeria converging in Lagos for the event on 15th & 16th June, it is fast becoming a "National Trials" of sorts of home-based Athletes!
Given the dearth of Elite Athlete competitions in Nigeria, the obvious demand for the event from Athletes, and the incredible media potential (the 1st MoC Grand Prix achieved 9 million impressions on Twitter alone), it was simply unfortunate that we weren't able to secure a lead Sponsor for this year's event.
Not to be deterred, we felt we had to find a way to ensure the 2nd MoC Grand Prix went ahead, so a couple of weeks ago, I reached out to the Nigerian Athletics community on Facebook to sound out whether Athletes across the nation would still travel to Lagos to compete, even if we weren't able to award Prize Money this time around (last year, ₦1.2M in cash was shared between 86 Athletes thanks to Baba Ijebu – ₦700K for Individual & ₦500K for Relay Events).
Overwhelmingly, Athletes responded that they just needed to compete, even if there was no Prize Money on offer – there's only been one Senior Competition in Nigeria so far in 2019, and there isn't likely to be more than one other before the National Trials in July. Athletes in Nigeria are missing out on much needed opportunities to qualify to represent Nigeria at this year's African Games and World Championships, and at the 2020 Olympics.
What's more, new World Rankings launched this year will now be the primary route to qualify for International Competitions from the 2020 Olympics onwards. Athletes are only ranked if they've competed 5 times in any particular race in the last 12 months, and given most of them have only competed once this year, it was expected they would welcome any opportunity to compete.
What wasn't expected was the unbelievably emphatic support from ex-Athletes and other well wishers – one by one, these incredible individuals stepped forward to pledge Prize Money for the various events in the Competition that matter to them. Many of them are Nigeria's former International Athletes who simply want to encourage the current generation of Athletes to excel.
Within a week, these wonderful benefactors have collectively pledged and redeemed ₦700,000, matching the Prize Money for individual events from the 1st MoC Grand Prix! Thanks to their contributions, 15 out of 28 Track & Field Events that will be contested at the 2nd Grand Prix will attract as much as, or more Prize Money than for those same events at the inaugural edition!
All 6 Sprint Events (men's & women's 100m, 200m & 400m) have now been coined the first ever 'Platinum Events' at the MoC Grand Prix, attracting total Prize Money of ₦60K per Event – ₦30K for the winner, ₦20K for 2nd place, and ₦10K for 3rd place.
Similarly, 6 Events – men's & women's 800m and 110/100m & 400m Hurdles – will now be 'Gold Events', with ₦45K on offer per Event – ₦20K for 1st, ₦15K for 2nd, and ₦10K for 3rd, as will the Women's Hammer, which will also include ₦5K for 4th. Meanwhile, the men's & women's Long Jump will be 'Bronze Events', with ₦20K per Event – ₦10K for 1st, ₦6K for 2nd, and ₦4K for 3rd: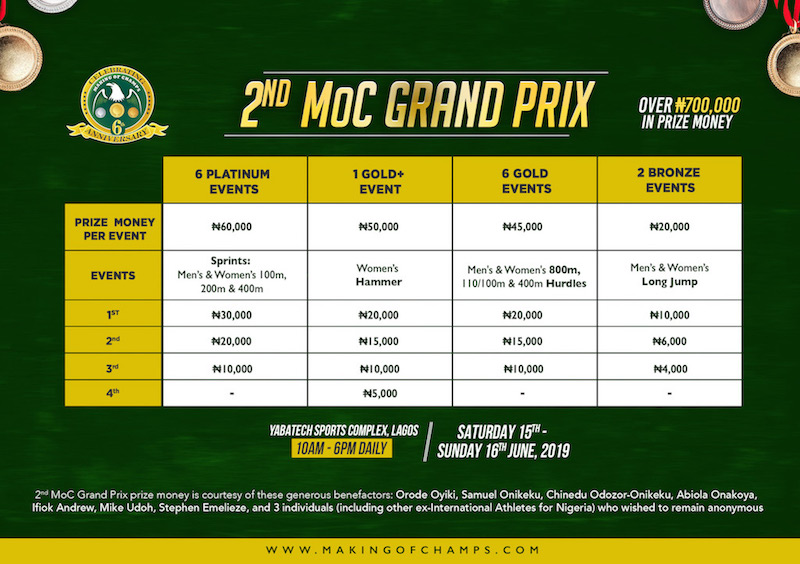 I would like to take this opportunity to publicly thank the 10 great men and women who have come together to make sure the Top Athletes coming to the 2nd MoC Grand Prix are deservedly rewarded for their efforts as Elite Athletes in Nigeria:
Orode Oyiki is a former Nigerian and African Champion who won GOLD at the 1990 edition of the continental championships. He went on to claim Silver at the 1993 and 1996 African Championships, and a Bronze at the 1995 All African Games. He also represented Nigeria at the 1996 Olympic Games in Atlanta. Mr. Oyiki and a fellow ex-Hurdler who wished to remain anonymous ensured all 4 Hurdles races will be Gold Events, up from mostly being Silver Events last year!
Samuel Onikeku is the Secretary General of the Nigeria Customs Service Sports Unit and an avid supporter of Athletics in Nigeria, while his wife, Chinedu Odozor-Onikeku is a two-time National Champion in the Long Jump who won Silver at the 1998 African Championships in Dakar and double Bronze (Long Jump & 100m) at Tunis 2002, and Bronze at the 2003 African Games in Abuja. Mr. & Mrs. Onikeku sponsored the men's & women's 100m & Long Jump, matching the total prize money awarded for those events last year!
Abiola Onakoya is a former Nigerian Champion in the men's 400m. Onakoya represented Nigeria at the 2013 World Championships and 2016 World Indoors and was a member of the men's quartet that won 4x400m GOLD medal at the 2012 African Championships in Port Novo. Mr. Onakoya sponsored the men's & women's 400m prize money, initially making them Gold Events per last year
Ifiok Andrew is a product of the Mobil Schools Athletics Championships in Akwa Ibom State and eventually secured a Track and Field Scholarship to study Business Administration at the Middle Tennessee State University. Mr. Andrew sponsored the men's & women's 800m, to make them Gold Events, an upgrade from Bronze and Silver respectively last year!
Mike Udoh, a keen supporter of Athletics and husband to Hammer thrower Feyisayo Udoh (nee Daramola), last year was the only individual who donated Prize Money, then to make the Women's Discus Throw a Gold Event. This year, Mr. Udoh has selected the Women's Hammer Throw to give Gold-level support!
Stephen Emelieze is a renowned Personal Trainer, and strength and conditioning coach. With over twelve years' experience as a professional 100m sprinter, he is an extremely sought after Personal Trainer with clients including elite athletes. Having trained and competed with different levels of Olympics athletes, his inspiration for coaching grew as a result of him competing in athletics. Mr. Emelieze sponsored the Men's 200m, initially as a Gold Event per last year
An individual who wishes the remain anonymous sponsored the Women's 200m, initially as a Silver Event per last year, in honour of Nigeria's queen of the tracks, Mary Onyali, Nigeria's only 200m Olympic Medallist in history!
Last but certainly not least, an ex-International Sprinter for Nigeria who wishes to remain anonymous made a donation to upgrade all the men's and women's Sprints (100m, 200m & 400m) to PLATINUM Events!
It's been really incredible to see Nigeria's former Athletes rush to support the current generation in such a tangible, heartfelt and emphatic fashion – it has already made the 2nd MoC Grand Prix an event to remember, and makes an interesting subplot for the performances that will inevitably emerge from the competition!