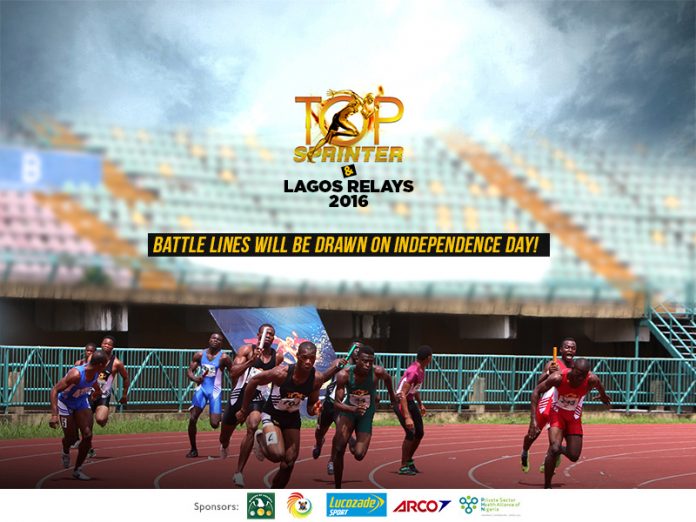 Sponsors have started pouring in to support the exciting 2nd editions of the Top Sprinter and Lagos Relays for 2016, holding at Teslim Balogun Stadium in Lagos from Thursday, September 29th to Saturday, October 1st, now with over 600 athletes registered from all over Nigeria with just less than a week to go to the competition, including the likes of Olympian Divine Oduduru!
Lucozade has joined as the Official Energy Drink Sponsor, and will provide free Lucozade Sport to help keep all the Athletes well hydrated throughout Top Sprinter/Lagos Relays 2016. Lucozade will also be on ground to ensure that fans and spectators will be able to purchase drinks to keep themselves well refreshed while they enjoy all the festivities of the 3-day competition.
Private Sector Health Alliance of Nigeria (PSHAN) has stepped in as the Official Medical Sponsor, to ensure that the hundreds of athletes competing will do so knowing the the organisers will have their utmost safety in mind.
PSHAN is sponsoring a full medical team for the event that will be on ground to administer first aid to any athletes as necessary, as well as an Ambulance which will be on standby throughout the 3-day competition, in case of more serious (God forbid) injuries.
This is coming hot on the heels of the ARCO Group Student-Athlete Scholarships awarded to two athletes from Making of Champions' (MoC) Track Club, Joy Udo-Gabriel and Jeremiah Jakpa.
Top Sprinter 2016 is set to be an intense three-days of excitement and top-notch competition, going by the calibre of athletes that will participate in the event, including Olympians and athletes that have represented Nigeria internationally.
The likes of Orukpe Erayokan, Nicholas Imhoaperamhe, Samson Nathaniel, Praise Idamadudu and Mercy Ntia-Obong have already confirmed their participation in the event. Day 1 will see athletes face off in the men and women's 100m heats and final, while Erayokan and Nathaniel will be engaged in a battle of superiority in the men's 400m Final on Day 2.
There will be no better place to be on Independence Day, October 1, than the Teslim Balogun Stadium where the Lagos Relays will be staged. With MoC putting up ₦1 million in cash & prizes for individual events, and the Lagos State Sports Commission sponsoring the Prize Money of ₦800,000 for the Senior Relays, it promises to be an exciting climax to three days of exhilarating Track and Field Competition not seen for many a year in Lagos!