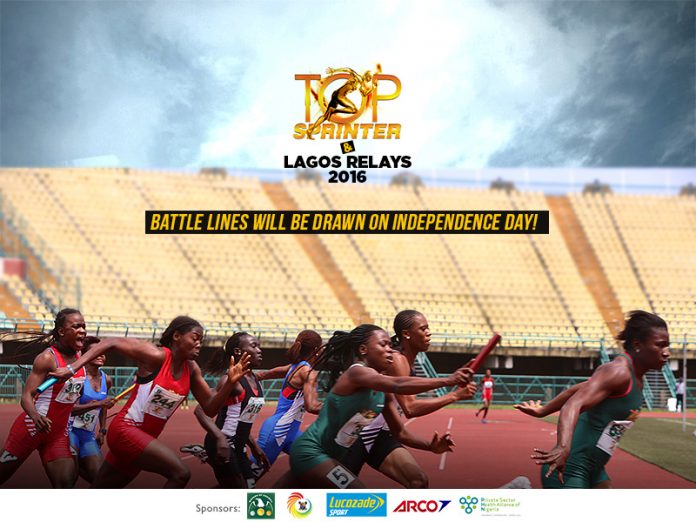 It will be an Independence Day to remember as the tracks of the Teslim Balogun Stadium will be set alight on October 1, following the Lagos State Sports Commission's (LSSC) partnership with Making of Champions (MoC) to combine the 2nd edition of the Lagos Relays with Top Sprinter 2016, which incidentally, is also in its 2nd edition.
The Lagos Relays will take place on Saturday, October 1st, which is the 3rd and final day of Top Sprinter 2016, already scheduled to take place from Thursday September 29th to Saturday October 1st, at Teslim Balogun Stadium in Lagos!
In what promises to be an exciting climax of the Top Sprinter/Lagos Relays 2016 Competition, Lagos State Sports Commission has offered a total Relay prize kitty of ₦800,000 for the Senior Men's and Women's 4x100m and 4x400m Relay on Independence Day!
The Lagos Relay Champions in the Senior Category this year will hence take home ₦100,000 divided amongst the team members, with 2nd place teams winning ₦60,000, while the 3rd placed teams will pocket ₦40,000 for their efforts! For teams that have 5 or 6 members, the sharing formula for dividing the Prize Money will be released before Registration!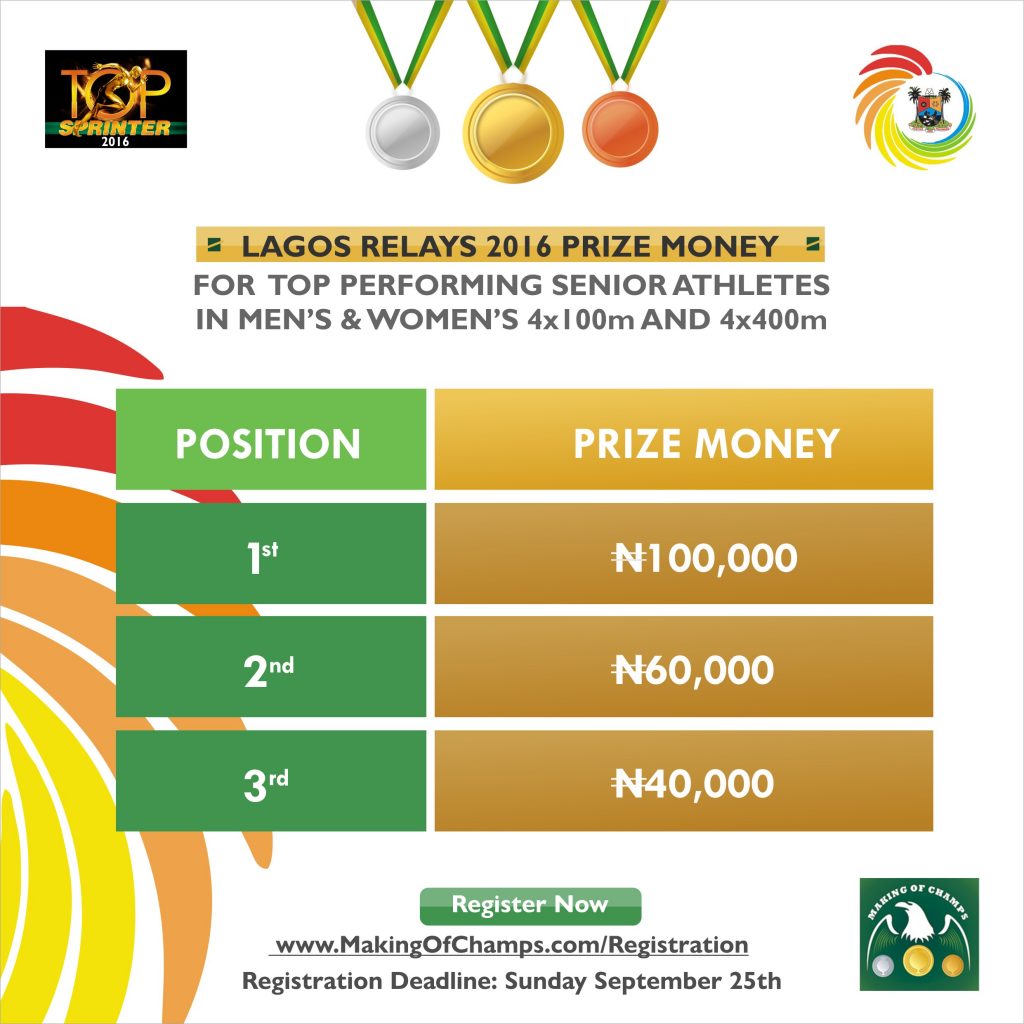 The inaugural edition of the Lagos Relays held last year at the same venue, with over 400 athletes in attendance, competing in the 4x100m, 4x400m, medley relay, Sprint-Medley and the Distance-medley race.
The Nigeria Security and Civil Defence Corps (NSDCDC) and MoC dominated the two-day competition which had several national athletes in action. Incidentally, it was at the Lagos Relays that MoC first presented a team at any competition, eventually winning six medals in total.
Chairman of the Lagos State Sports Commission, Deji Tinubu expressed optimism that the partnership with MoC would raise the standard of Track and Field in the country. He said:
"We're very excited about the partnership with Making of Champions, which gives us the opportunity to continue the Lagos Relays competition that was launched last year – we hope that it will be the first of many partnerships between Top Sprinter & Lagos Relays for years to come."
IMPORTANT INFORMATION FOR ATHLETES
The registration deadline for Top Sprinter/Lagos Relays 2016 is fast approaching on Sunday, September 25th – all athletes interested in competing need to REGISTER ONLINE. Final accreditation of ALL REGISTERED ATHLETES will take place at Teslim Balogun Stadium on Wednesday, September 28th (anytime between 9am and 5pm). ACCREDITATION IS COMPULSORY for all registered athletes to pick up their bibs and to be on the startlist(s) for their chosen event(s).
Registration of Teams for the Lagos Relays on Saturday, October 1st, will take place throughout the day on Wed Sept 28th AND Thurs Sept 29th, closing immediately after the Individual 100m Finals and Award Ceremonies at 6pm on Thursday. All four to six members of any Relay Team must present themselves together at the Registration Desk to confirm their team. Once Relay teams are registered, athletes may NOT be added to any team between the Heats and the Final.
To ensure fairness in team selections and a balanced exciting competition, Each Relay Team in the Senior Category shall have no more than TWO Athletes who have represented Team Nigeria at ANY LEVEL – Senior, Junior or Youth!
The Lagos Relays Prize Money is for the Top 3 Senior Relay Teams only. However the Top 3 Teams in the Junior and Youth Relays will receive fantastic black and white Top Sprinter T-shirts which have become exclusive collector items across Nigeria since the first edition of Top Sprinter last year!
Senior Relay teams are permitted to recruit 1 or 2 talented Juniors or Youths into each of their Senior Relay teams, but those athletes will have to forego their participation in the Junior or Youth Relays for that event (4x100m or 4x400m) to do so!
The battles lines for the Lagos Relays will be drawn on Independence Day – are you ready?!