It was a spectacular display by Team Making of Champions (MoC) at the ongoing Lagos Athletics Relays
hosted at Teslim Balogun Stadium, with all our teams in the different categories putting up good
performances to qualify for the finals of their events on Saturday.
Over 400 athletes competed for their respective teams at the competition, which saw an enthralling
contest in all the relay races on show: 4x100m, 4x400m, medley relay, Sprint-Medley and particularly
the Distance-medley race which Team Civil Defence (NSCDC) dominated.
In Heat 1 of the Boys' 4x100m, Team MoC won their race to qualify for the final, defeating their
opponents in thrilling fashion. The quartet of Chidozie Uwajimogu, Chinedu Akhigbe, James Ubong and
Offiong Ekemini executed the race effortlessly.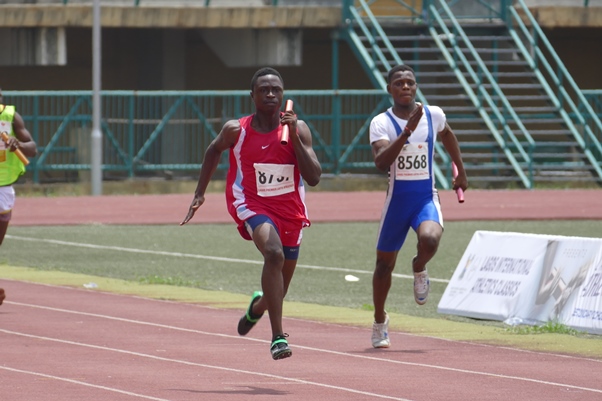 Uwajimogu started perfectly, establishing the early lead that helped Team MoC gain control over the other teams, and Ahigbe maintained the momentum in the second leg. Ubong consolidated in the third leg, and Ekemini didn't break too much sweat as he finished the home-stretch to see them through to the next round.
Two other MoC teams got through to the men's 4x100m final. Team MoC(A) comprising of Emmanuel
Arowolo, Victor Peka, Edwin Peter and Hammed Yusuf finished second in Heat 1 with a time of 41.1s behind Team Police who won the race in 40.7s. Team UNILAG placed third with a time of 41.8s.Team MoC(B) also qualified for the men's 4x100m final, finishing fourth with a time of 43.3s in heat 2. Team Custom won the race in 40.7s, while Team NSCDC came second in 41.1s and Team Lagos finishing third in 43.3s.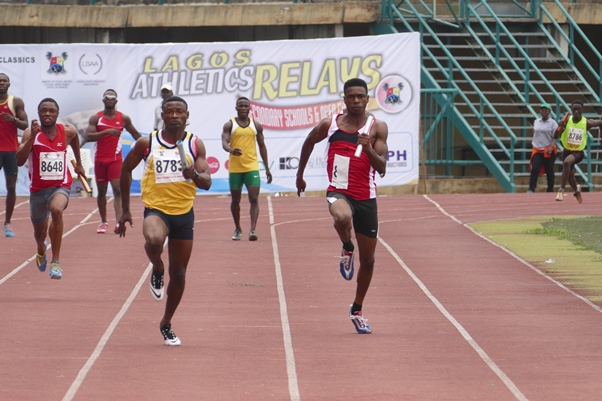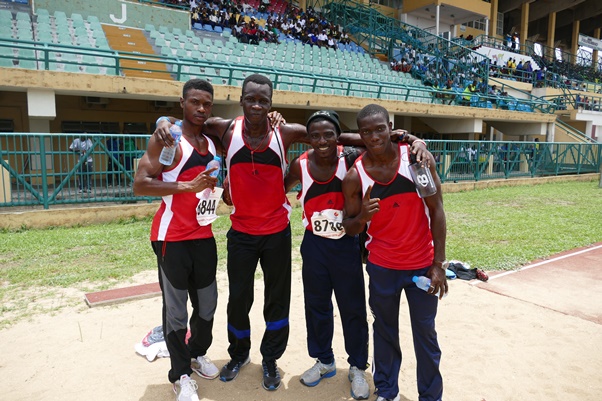 Team MoC showed their strength again in the men's Sprint-Medley relay, winning Heat 1 to qualify for
the final in a time of 3mins 27: 30s. The quartet of Peka, Arowolo, Precious Moses and Afeez Abdulrahman combined to beat Team NSCDC that had national athletes like Tobi Ogunmola and Godday James running for them. Team NSCDC finished 2nd with a time of 3mins 28: 04s, while Team UNILAG came 3rd in a time of 3mins 28: 60s.
But there was no taking away the Distance Medley from Team NSCDC, who won both the men and women's races to make it a 1-2 finish for their organisation. In the Boys Swedish semifinal race, Igbobi College won Heat 1 with a time of 2mins 13:15s, while Maya Junior Grammar school finished 2nd in 2mins 17:26s and Apostolic Church Grammar school placing 3rd in 2mins 19:18s.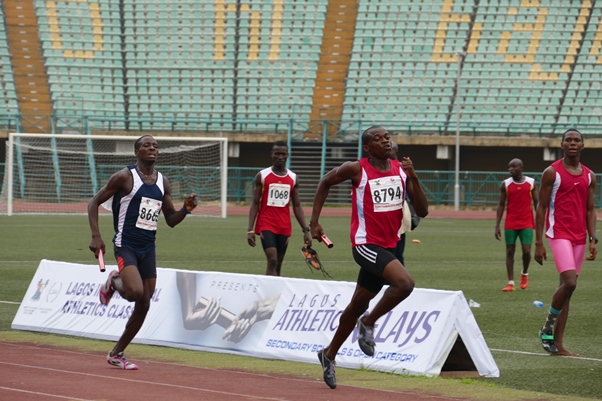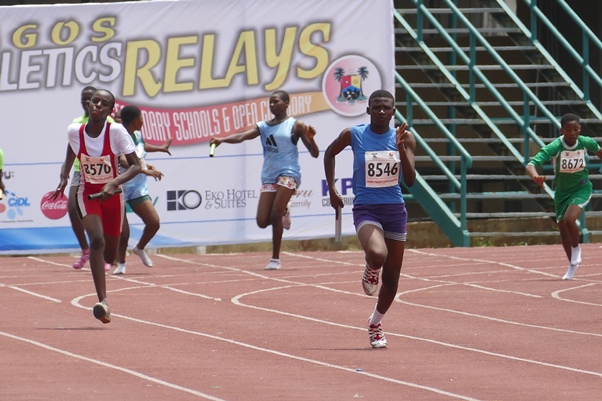 Lolad school won Heat 2 in 2mins: 10:15s, while ISL school came 2nd 2mins 11: 40s and CIFMAN school came 3rd in 2mins 11: 67s. In Heat 3, Somolu Senior High School led in 2mins 10:34s. FGC Ijanikin came 2nd with a time of 2mins 11:51s while Mimac school came 3rd with a time of 2mins 12: 19s.
The different finals in all the categories will take place on Saturday, with Team MoC competing in seven events and there is an optimism that they will secure a podium finish in any of the relays to cart home some of the prize money on offer.