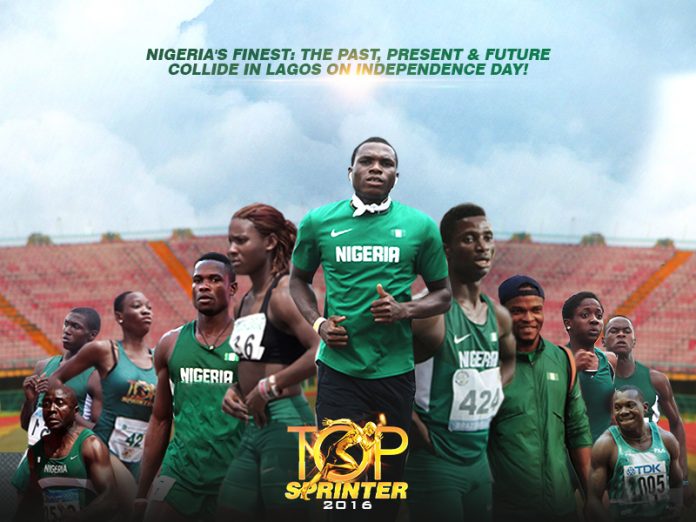 With over 450 athletes from all over Nigeria already confirmed for Top Sprinter 2016, the competition is expected to be the biggest Track & Field fiesta in Nigeria for some years, going by the star studded line up billed to compete in the event holding from September 29th to October 1st at the Teslim Balogun Stadium in Lagos, for which gate entry is absolutely FREE!
Quite excitingly, Olympians Divine Oduduru and Orukpe Erayokan are set to headline the three-day event with several other Athletes who represented Team Nigeria at the African and World Junior Championships this year! Their presence will undoubtedly add a special shine to the event, with thousands of Lagosians expected to flock to Teslim Balogun Stadium to catch a glimpse of Nigeria's finest athletes, battling for supremacy on the track!
The organisers of the event, Making of Champions Ltd, are bringing together the past, present and future stars of Nigerian Athletics to Top Sprinter 2016, which for the first time in Nigeria's history will feature 3 age categories at the same competition – Youth (U17), Junior (U20), Senior (20 & over) will compete on the same track within minutes of each other – there is something for everyone, and comedian SACO will be providing the entertainment and laughs on the 3rd and final day of the fiesta!
Nigeria's Independence Day on October 1st will bring the 3-day event to an exciting climax, which is fitting, given the trials that have faced Nigerian Athletes for some years now, as emphatically highlighted by Divine Oduduru after reclaiming his National 200m Title shortly before the Olympics.
Divine lit up Nigeria's otherwise sombre performance on the Track at Rio 2016 when he electrified the whole nation running against Usain Bolt twice in the heats and semis of the Olympic 200m, after famously declaring that he feared no one and "he didn't care if Usain Bolt was even in the race!"
In what is shaping up to be a tantalizing climax to proceedings, Oduduru will contest the 200m Semis & Final against Erayokan & Nicholas Imhoaperanhe, defending National Sports Festival Champions in 400m & 100m respectively, as well as Samson Nathaniel, who was a World Indoor 4x400m Finalist for Nigeria this year!
The 4x100m and 4x400m Relays will also take place on the final day, and there will even be a Masters' 100m race, which will see Olympic Medallists Deji Aliu and Uchenna Emedolu go head-to-head and re-ignite their rivalry from yesteryears, when they became two of only eight Nigerians who have ever run the 100m in less than 10 seconds!
There is also much to get excited about on the first two days of the event that are also not to be missed! The highlight of Day 1 (Thursday Sept 29th) will undoubtedly be the men's 100m final, where Oduduru and Imhoaperanhe will be engaged in a battle of superiority but will also face stiff competition from the likes of Emmanuel Arowolo and Biola Soyemi, who were consistent in the 2016 Athletics Federation of Nigeria (AFN) Golden League this season, and National Junior Champion Raymond Ekevwo!
The highlight of Day 2 (Friday Sept 30th) will see a power tussle in the men's 400m final between Erayokan and Nathaniel who moved to the US earlier this year. Both athletes represented Nigeria at the 2015 African Games where they posted their personal bests (PBs), with Erayokan becoming the 5th fastest Nigerian ever in the 400m with a blistering time of 44.95s, compared to Nathaniel's PB of 45.80s!
The ladies will not be left out of it, with 2015 National 200m Champion, Praise Idamadudu, and African Championship & World Junior athletes such as Yinka Ajayi, Mercy Ntia-Obong and Blessing Adiakerehwa all confirmed to compete in the various women's sprint events – 100m, 200m & 400m – across the 3 days of Top Sprinter 2016!
With the Junior and Youth athletes also competing across the full range of Track & Field events – the sprints, hurdles, jumps, throws & relays – Top Sprinter 2016 is set to be a massive post-Olympics celebration of Nigerian Athletics that the whole family can be a part of, as we celebrate Nigeria's finest athletes and accelerate the journey to find Nigeria's next generation of Top Sprinters for the Tokyo 2020 Olympics and beyond!