It's been 10 years of redefining the Sporting landscape in Nigeria and Africa, but the journey is just getting started as far as Making of Champions is concerned.
MoC's foray into Sports Media and Management began in late 2012 when the company's Founder, Bambo Akani, began shooting the feature-length documentary, Making of Champions: "The History" after seeing a country as populous as Nigeria, blessed with so many people of natural athletic ability, return from the London 2012 Olympics with a sum total of ZERO medals – the first time Nigeria had failed to medal at the Olympics since Seoul '88. Making of Champions: "The History", is a 75-minute film capturing Nigeria's full Olympic medal history in Athletics (Track & Field) and lays the foundation for how Nigeria can return to reckoning on the world stage.
In 2014, MoC commenced media coverage of Track and Field events, both on the domestic scene and internationally, kicking off with the National Championships in Calabar, African Championships in Marrakech and Commonwealth Games in Glasgow. We have since travelled across several states in Nigeria and countries around the world, covering in the process the Tokyo Olympics, four World Championships, two Commonwealth Games, four editions of the African Athletics Championships, the last two editions of the African Games (2015 & 2019), 2016 and 2021 World U20 Championships and several other competitions.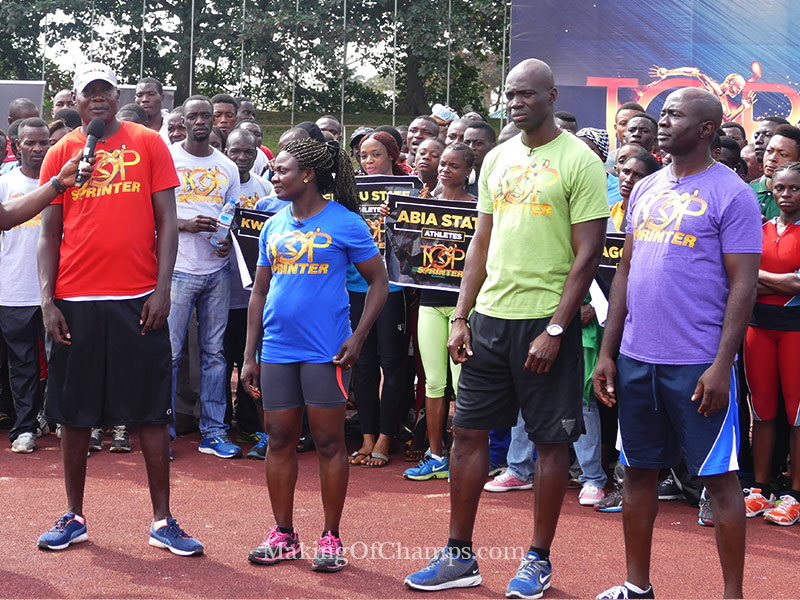 In 2015, the company launched Nigeria's first Athletics Reality TV Show, Top Sprinter, teaming up with Olympic Medallist Judges Deji Aliu, Uchenna Emedolu, Glory Alozie and Francis Obikwelu to find Nigeria's next generation of Olympians. Four nationwide auditions were held, with 1,000 Athletes from over 25 states participating. Several stars like Joy Udo-Gabriel, Jerry Jakpa, Emmanuel Ojeli were unearthed at the auditions, culminating in the establishment of MoC Track Club with six athletes in 2016. The club grew to over 30 athletes who were trained by Olympic Medallists Aliu and Alozie amongst others. Athletes from MoC Track Club have since won 54 National and 20 International medals, with over 15 of them now on US Scholarships!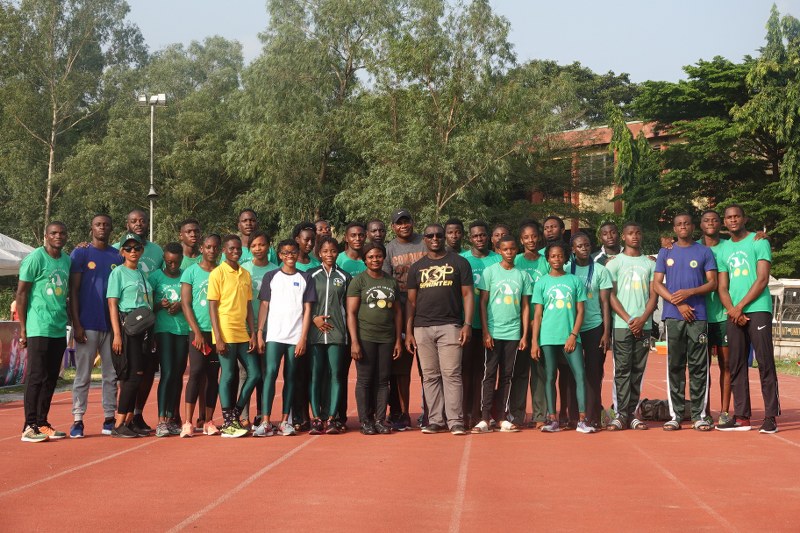 In 2016, MoC launched a Student-Athlete Scholarship, the first of its kind in Nigeria, to take care of the training and University education of the best teenage athletes in Nigeria. The initiative kicked off with Udo-Gabriel and Jakpa who were awarded scholarships by Oil and Gas company, ARCO Group, with the support covering the athletes' tuition, accommodation, nutrition, healthcare, training and competition costs. About 10 athletes from the club benefitted from this initiative as companies like SNEPCo, Niger Delta Exploration and Production (NDEP), Midwestern have also supported MoC's efforts.
In 2017, MoC once again extended its frontiers by sponsoring the National U18 and U20 Championships, partnering with the Athletics Federation of Nigeria (AFN) to successfully host the competition in Abuja in June. In 2018, the company went a step further by unveiling the MoC Grand Prix which has since become a regular fixture in the AFN calendar and the biggest Athletics competition in Nigeria asides the National Trials. MoC has since organised over 20 competitions in the last 10 years, impacting over 10,000 athletes in the process.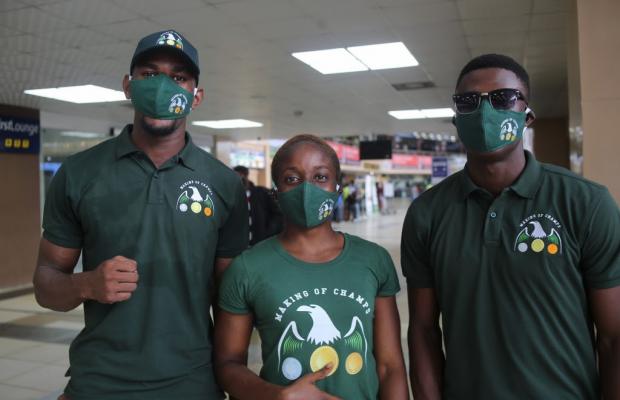 In 2019, MoC exposed some of its top athletes to the professional side of things, flying them to Botswana, South Africa and Europe to compete for laurels for the club, a development that has since become an annual fixture even as they competed at the Kip Keino Classic in Kenya in 2021.
Impressed by the giant strides made by the company, Nigeria's immediate past Minister of Youth and Sports Mr. Sunday Dare paid a visit to MoC Track Club to commend Akani's efforts as well as that of the coaches, whilst also citing the MoC model as one that should be replicated across the country.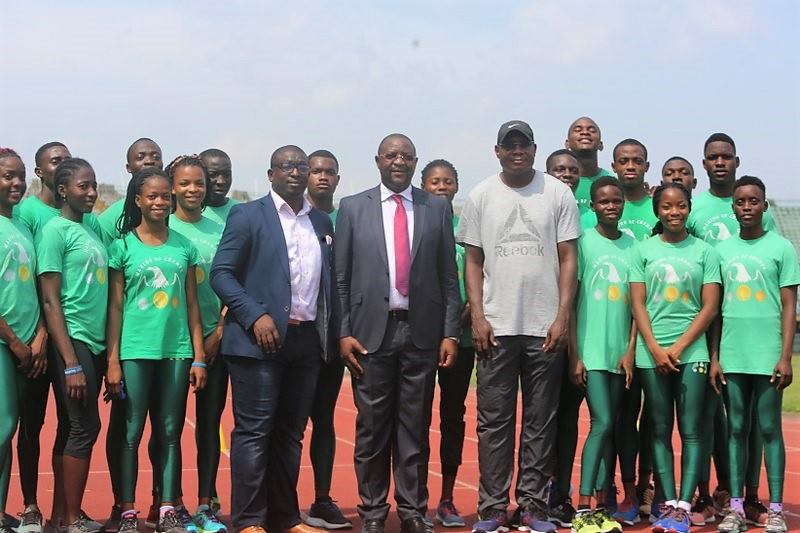 Due to the outbreak of the coronavirus in 2020 and the lockdown and travel restrictions that occurred as a result, there was a suspension of sporting activities home and abroad. In 2021, after a COVID 19 enforced break, MoC returned with 3 competitions in a single year for the first time to provide opportunities for Athletes across Africa to qualify for Tokyo Olympics, namely BetKing/ 3rd MoC Grand Prix, Paga/MoC Relays and AFN/MoC Invitational.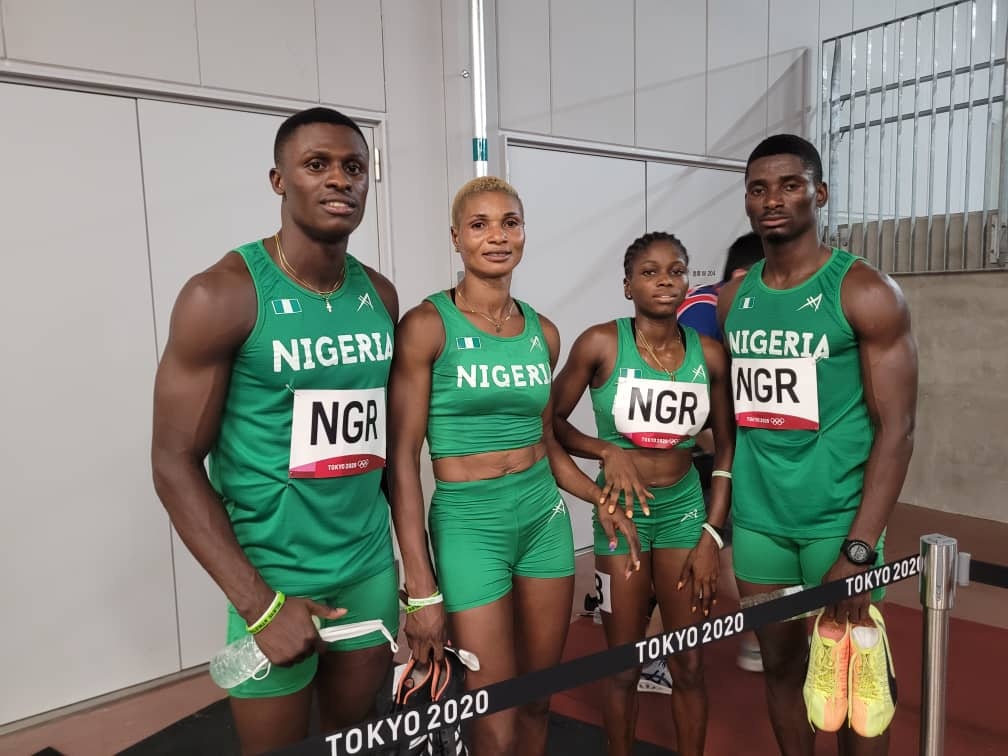 Also, Emmanuel Ojeli became MoC's first Olympian for Nigeria and was a member of the mixed 4x400m team that stormed to an African Record of 3:13.60 alongside Patience Okon-George, Samson Nathaniel and Imaobong Nse Uko at the Tokyo Games.
In 2022, former MoC athlete Favour Ashe emerged Nigeria's fastest man as he stormed to the men's 100m title in 9.99s, becoming only the 12th man in Nigeria's history to go sub-10. Ashe was discovered by MoC and trained for three years before securing a full US Collegiate track and field scholarship. That same year, after a four-year hiatus, the MoC Athletics Trials made a return with the staging of the ND Western/MoC Trials held in Benin to discover new talent!
MoC's sojourn within the sporting terrain of the country, continent and the world at large has been nothing short of inspiring. Cheers to 10 years of making impact, and to many more of transforming the sporting landscape in Nigeria and beyond!