1. Tobi Amusan
Drumroll for Africa's No.1 sprinter in 2022, the one and only Tobi Amusan who redefined Nigeria's Track and Field landscape! Indeed, 2022 was the year that saw everything finally fall into place for Nigerian and African hurdling gem after coming agonizingly close to the podium at the 2019 World Championships and Tokyo 2020 Olympics where she placed 4th in both competitions!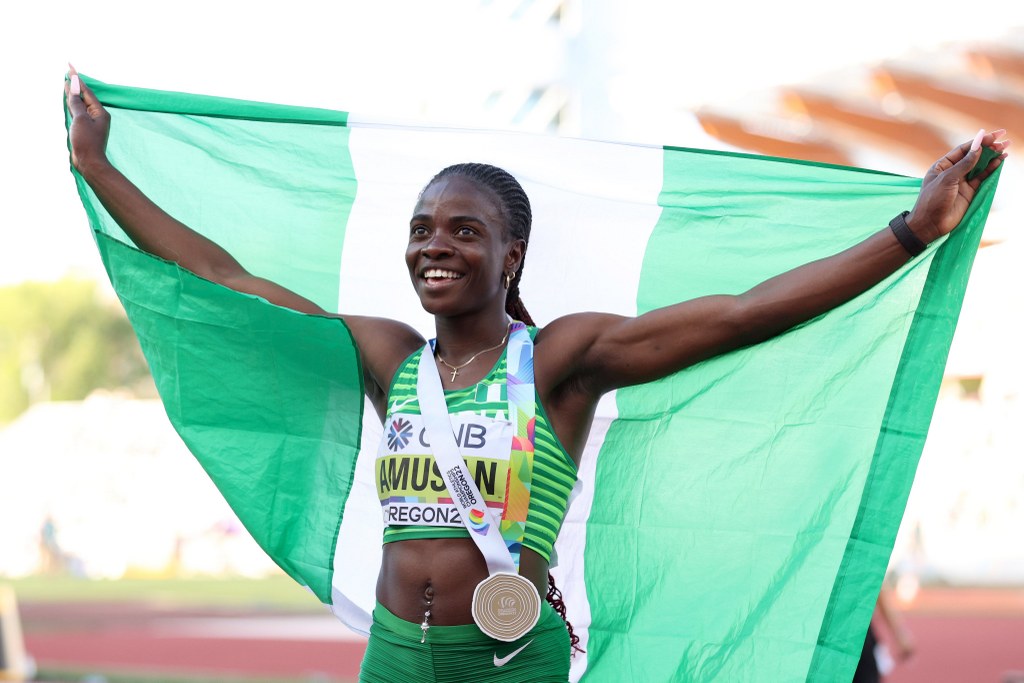 Amusan enjoyed her best start to a season, having already broken Glory Alozie's previous African Record (AR) of 12.44s to win the Diamond League trophy with a new AR of 12.42s and end the 2021 season on a high. And so she built upon that success in 2022 where she competed in her specialist event 25 times, securing 17 victories to cement her No.1 status this year.
13 races into the season, the two-time African champion bettered her own 100m Hurdles African Record (AR) by a hundredth of a second, running a new AR of 12.41s at the Wanda Diamond League in Paris. Prior to her fantastic run in Paris, Amusan had travelled to Mauritius where she successfully defended her title in 12.57s and also anchored Nigeria to GOLD in the women's 4x100m.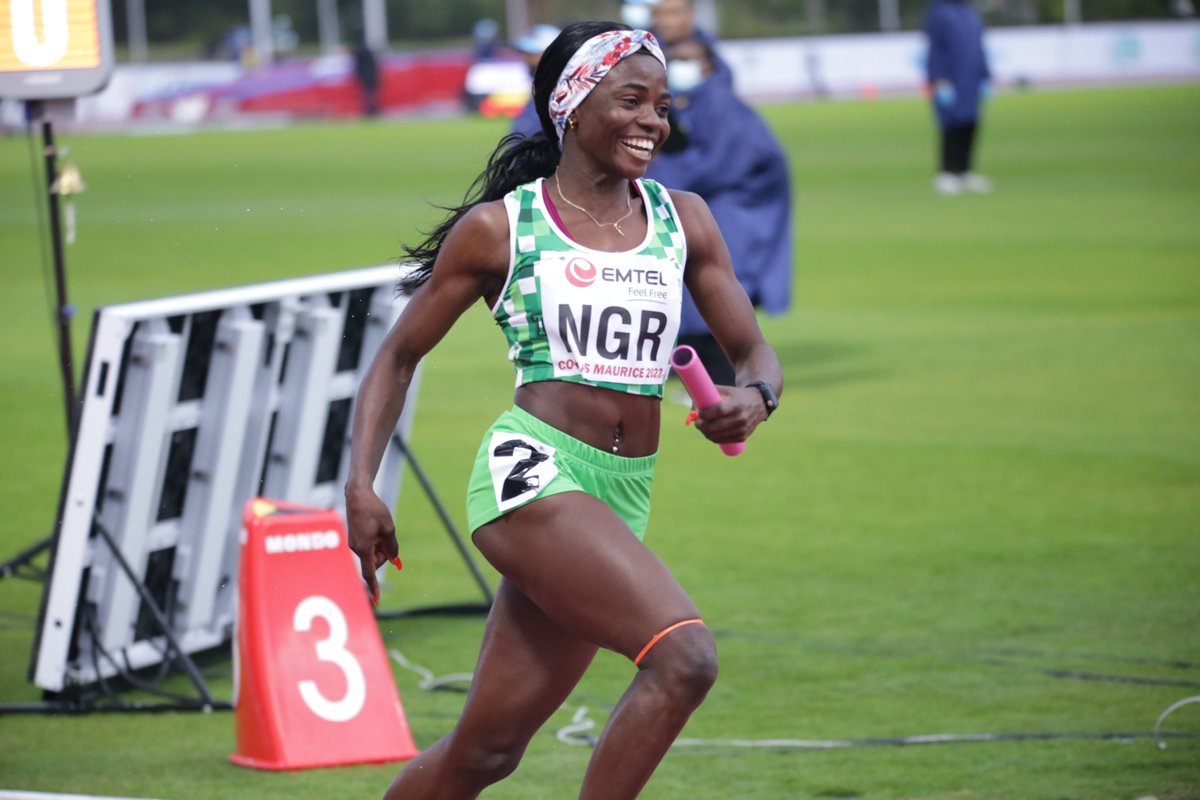 She then returned to Nigeria for the National Championships where she successfully defended her crown with a Championship Record (CR) of 12.54s, then bettered the time to 12.50s at the Diamond League in Stockholm. Moving to the World Championships in Oregon, 'Tobi Express' as she's fondly called by Nigerians, showed she was in the form of her life by running a new AR of 12.40s to cross the line first, the fastest qualifying time across all heats!
No one, not even Amusan could have predicted the slice of history that was to unfold in the semis. She went out at the sound of the gun and took control of the race after five hurdles, swiftly pulling away from the rest of the field to cross the line in a jaw-dropping 12.12s, smashing Kendra Harrison's previous WR of 12.20s set six years ago and sending Nigerians who were awake at the time into a frenzy.
Tobi was incredulous with joy and could hardly contain her emotions as the reality of her historic performance dawned on her. Nevertheless, she needed to compose herself ahead of the final which was to take place in less than two hours. This she did and was unstoppable in the final, storming to another unbelievable time of 12.06s (+2.5) to win Nigeria's first ever World Championships GOLD in addition to her amazing WR, also the first Nigerian to accomplish such a feat.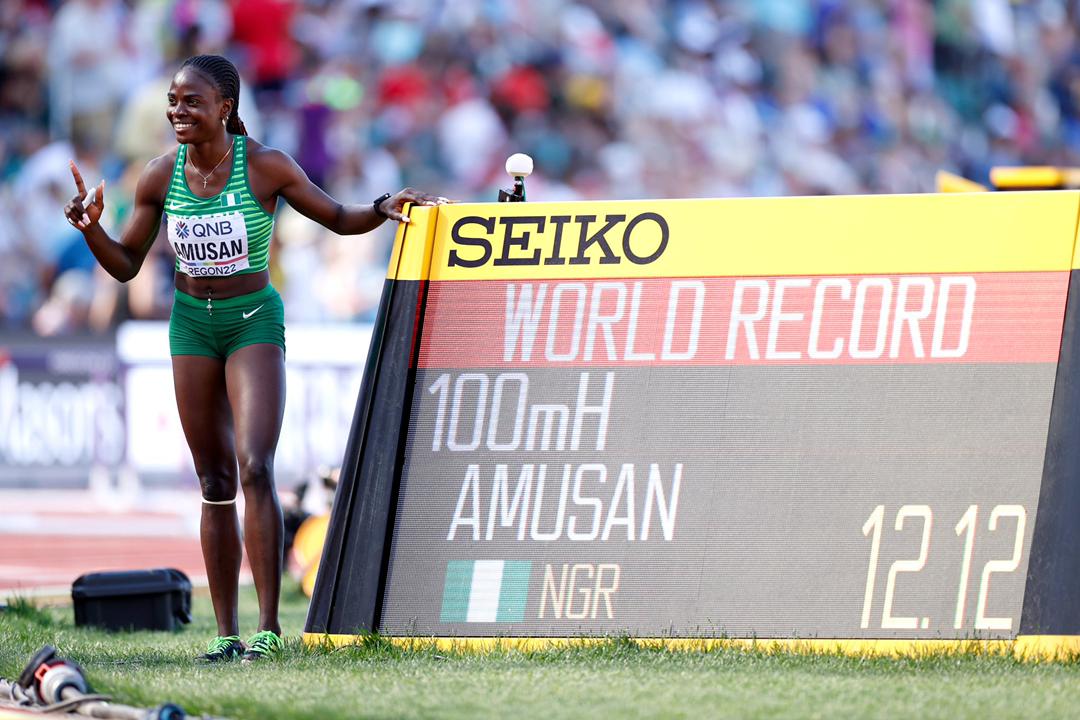 Tobi could not stop the tears of joy that flowed as the Nigerian anthem played during the medals presentation, a first in World Championships history. It was an emotional moment for Nigerians home and abroad and she trended for days non-stop on social media even as her following across various platforms skyrocketed by over one hundred thousand new followers.
The WR holder still composed herself enough to compete at the Commonwealth Games thereafter and would set a Games Record of 12.30s to retain her crown from Gold Coast 2018. Amusan came full circle as she also retained her Diamond League Trophy with a new Meet Record of 12.29s, drawing the curtains on an incredible season that saw her win the Nigerian, African, Commonwealth, World and Diamond League titles. What a year it has been for Tobi Amusan!