In November 2018, four budding athletes embarked on a life-changing journey, commuting on a 300km trip from Ughelli in the oil rich Delta state, and moving to the cosmopolitan glitzy life of Lagos to pursue an unassured future in Athletics. There are so many like them found across the hinterlands in Nigeria, especially in the southern part. Sports is the perfect tool to escape a life that could go awry if not well managed.
These athletes got Athletics scholarships from Making of Champions (MoC) track club, after they were scouted from a regional competition and being relocated to Lagos. Something about Favour Ashe stood out from the rest: he was the youngest, showing courage that transcended his age, and at 16 years old he already knew what he wanted.
In three years that he was evolving in Lagos, he had a compelling desire to succeed and financially liberate his family. This made him fully grasp this pathway to greatness that he was offered, and although a knack for success might have been driving him, he had a personal resolve not to end on the streets. Athletics was make or bust.
It's been almost four years since he took that leap of faith; now he is getting Newspaper features and having his face emblazoned in national dailies after winning the men's 100m title at the 2022 Nigerian Athletics Championships, becoming the 12th Nigerian athlete in history to run a sub 10s in this event.
"When I crossed the line and saw 9.99s, I was happy and grateful to God, but I know that I could still give more. By not celebrating hard and doing a calm-down gesture to the fans, it's just a way of saying that there's more in me. This is not the time to celebrate, the job is not done yet" Ashe said.
After racing to that Personal Best of 9.99s to win his first senior National title, he was assuaged finally going under 10s having toiled hard for it in his first six months competing across NCAA circuits. With that time, he became the third athlete to run sub 10s anywhere in Nigeria, after Deji Aliu (his former coach) and Uchenna Emedolu who both ran 9.95s and 9.97s at the 2003 All African Games in Abuja.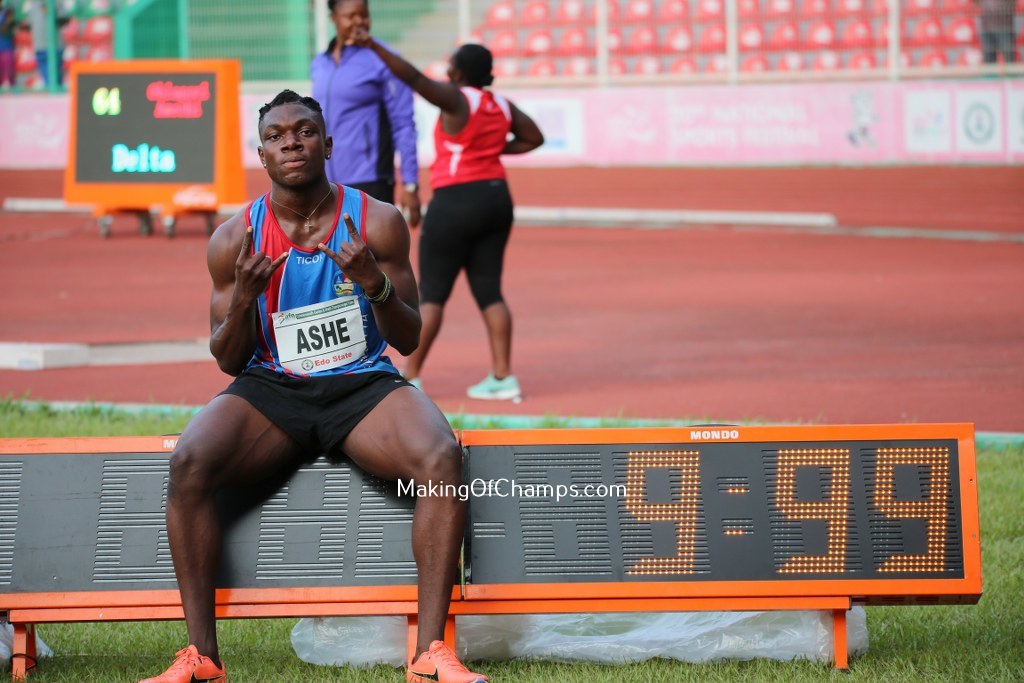 Aliu played a great role in drafting him into MoC Track club, and it was the former Nigerian sprinter who spotted his precocious talent at the MoC Athletics Trials in Ughelli, insisting that he should be brought in even though he was an unrefined athlete at the time. Ashe was not even top 3 in his category.
"Everyone who has seen my progression from Ughelli to Lagos, then America, has been shocked with my progress. They have been asking me: 'how did you run this fast in two years, how did you do this in two years?' And I will be like, it's just God. I am just happy. It has not been an easy journey, anything I do now, I have been working hard for it in the last four to six years" Ashe explained on his progress.
It now seems like yesterday, but Ashe has come a long way, taking up a college scholarship and moving to the US and signed for the University of Tennessee. Going to Tennessee was influenced by a lot of factors; his desire to follow in the paths of some athletes he idolized: Justin Gatlin, but most importantly Christian Coleman.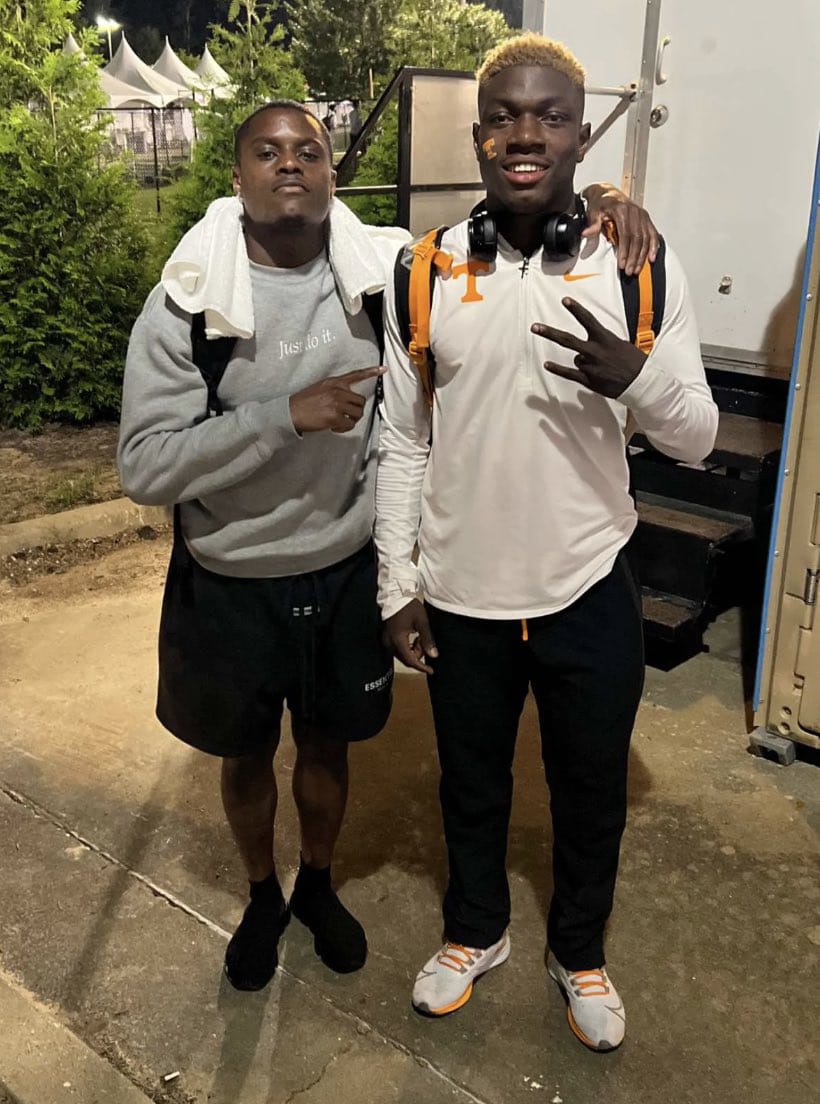 Having a plethora of schools swoon you with scholarship offers is enough to turn anyone's head. Ashe was spoilt for choice, but he chose University of Tennessee because their programme appealed more to him.
Just a month in Tennessee, he hit the ground running, and in his first race in any indoor facility in the world, he ran 6.58s to win his 60m heat in Clemson. That was a pointer of what was to come from Ashe who would go on to win Bronze in the 60m, competing in his first NCAA indoor championships in Birmingham, Alabama.
All his career, Ashe has only ever competed in five 60m races, and they all happened this season when he started competing indoors. In this short time, he has a run a PB of 6.51s, going joint 4th in the Nigeria 60m all-time list alongside Davidson Ezinwa.
His talent has never been in doubt, after all he had shown he could compete on the big stage when at 18 years old, he ran a PB of 10.17s, going on to run a windy 10.07s (+2.7) against an elite field that had African Record holder, Ferdinand Omanyala and Enoch Adegoke.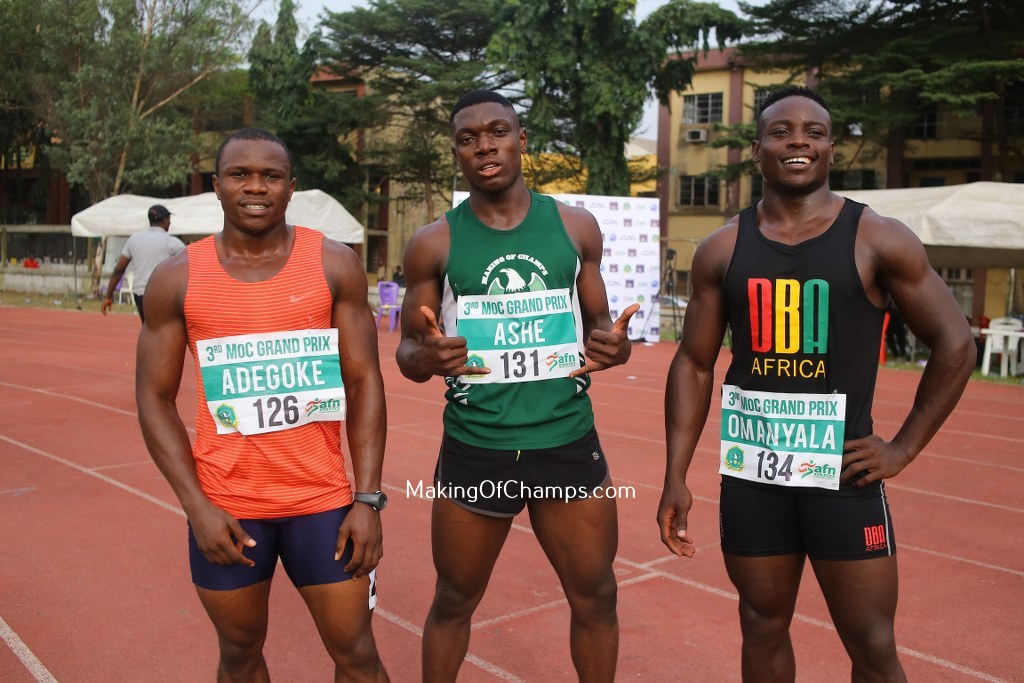 This has been Ashe's breakthrough season. Competing in the NCAA unlocked his next level of greatness, and his growth has been meteoric. Some people might take a while to wed into a new environment, it wasn't the case for Ashe who slotted in like a hand to a glove.
In nine 100m races from April -June, he was the most talked about Freshman in the NCAA, setting tracks alight and shot up to a favourite tag heading to the NCAA championships in Eugene.
One particular race that took the cake, was the 9.79s he ran at the LSU invitational in Baton Rouge. Even though that race had an excessive tailwind of +3.0, it was a confidence boost for him that he had come of age, becoming Nigeria's fastest athlete in any condition.
"When I saw that time (9.79s), I was so happy, but when I heard the wind was +3, I was a little a bit sad. I was still cool with it though, because I knew I was in a good shape, and running that time wind-aided would have also been a very fast time in a legal wind" Ashe reminisced about that race.
A lot of time have passed since then, and he had scaled some other daunting hurdles which did not consume him. In May this season, he had run an automatic World Championships qualifier, clocking 10.04s to win the Southeastern Conference in Missouri. However it was his reaction after the race that hugged most of the headlines. He was so fixated on the clock, and instantly became sullen realizing he had not gone under 10s. Any other athlete would be happy punching their ticket to Oregon, but Ashe has now reached a self-aware point of his capability.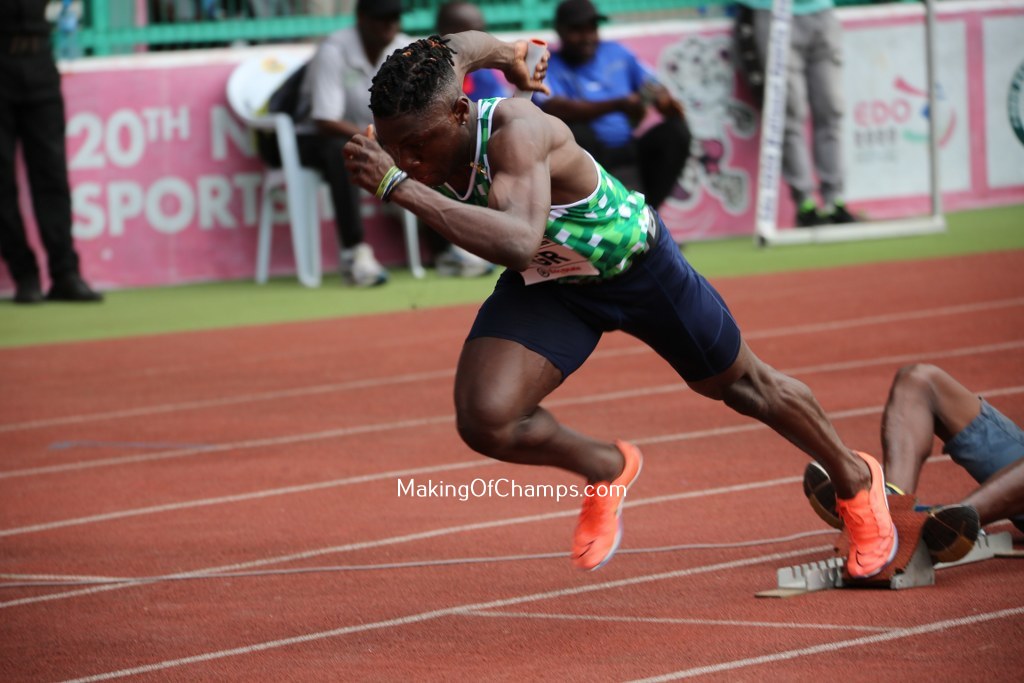 At the 2022 NCAA championships, he led for some part of the 100m final and looked like he would get the win, until Liberia's Joseph Fahnbulleh came barrelling in a late surge to nick the title off him in 10.00s. The Nigerian settled for Silver in 10.08s, and his demeanor after the race left him wondering how he ended up in 2nd place.
Buoyed by his NCAA experience, he returned for the Nigerian trials in a good form, and for the first time having the favourite tag. His achievements in six months of moving to the US had been reverberating, and most athletes back in Nigeria were now seeing him as the poster boy for those dreaming of an American scholarship.
Apart from Ashe, Nigeria for the first time since the late 90s, have now produced a deluge of athletes who are hitting qualification standards in the 100m. A lot rode on the National trials to determine the top 3 who would run the flat in Eugene. It's one thing to have done so well in the US, but could he replicate it in Nigeria with added pressure?
Getting through the semis as fastest qualifier with 10.07s, it was the clearest indication he meant business, and that it would be hard jousting the title off his grip. As expected, he won the title, and had the relief of finally joining pantheon of great athletes who have run a sub 10s.
"Coming to Nigeria for the trials, I came there (Benin) with a motivation. I said to myself, 'I am coming here run fast.' A lot of people were coming to watch, I didn't want to disappoint anyone. I am pretty sure that the support from fans really motivated me, running in front of the home crowd gave me 100% confidence. I was so ready to run, ready to prove my talent in front of the home crowd."
Interestingly, Ashe had always wanted to do track. At 12years old, he was formally inducted into Athletics when he boldly told a local coach in Ughelli to teach him the tenets of the sport. Initially his mother didn't approve of it, but it helped that his father was on his side in his quest to become athlete. If making something out of Athletics would make him not end on the streets, he had his father's blessing.
"My Dad has been like my biggest supporter. Every time I have a race, he will be on his phone checking for updates. He will send me messages before the races and would say: 'Favour don't be under any pressure. God has given you this talent, God has blessed you, just go and show us what God has done for you. My Dad was so happy after I ran a sub 10s in Benin. After I won that National title, and picked up my phone. I saw his missed call, and I called him back, then he said to me: 'Favour you have done it again…you are really the Nigerian nightmare. Your mom, all my friends are all happy for you" Ashe remarked
Now, most Nigerians would stay up very late and adjust their sleeping patterns for a while because of the time-difference in Eugene, so as not to miss the World Championships, and he has had a role to play in that. He has thousands of followers on his Instagram page, and is already amassing an army of 'stans' who judiciously unite under his moniker, latching on to his trendy slang "Zazou zeh" from a Nigerian song, which has become his mantra.
For someone competing at his first ever senior championships for Nigeria, he is not fazed by the occasion. In fact he is pumped for Oregon.
"Going to the World Championships, I am not under any pressure. I just want to come and execute what I've been doing in practice. Right now I still have a lot in me, and coming to the World Championships, I've a feeling I can still lower my PB. The goal coming to the World Championships is: 'survive and advance.' I just want to survive and advance in each race. Run each race very hard, then survive and advance. I think I might lower my personal Best, that's for sure.
I've competed in Eugene, and I remember winning Silver in the NCAA Championships. Going back there is really good, because the NCAA was my first time running in Eugene. Then it was a little bit strange, but going back now, I think I have mastered the track a bit. I just have to do what I have to do: run each race hard, survive and advance through each round."
He might have had an arduous season, but he wants to close it out on high. First, the World Championships, before travelling to Birmingham for the Commonwealth Games. From relative obscurity in 2018, and now touted as the next big star, a lot of things are aligning for Ashe.
It's interesting how upbeat he is about running even much faster than the 9.99s he had run. There's an aura of confidence he exudes which fuels his performances, and if he goes on to make the final of the men's 100m, he would be making history for his country. After all he prides himself as the 'Nigerian Nightmare' and happy to put his country on the sprinting map.
Out of those four athletes who made the journey that fateful day in 2018, Ashe's star has shone the brightest so far, and it was largely because he wanted it the most.