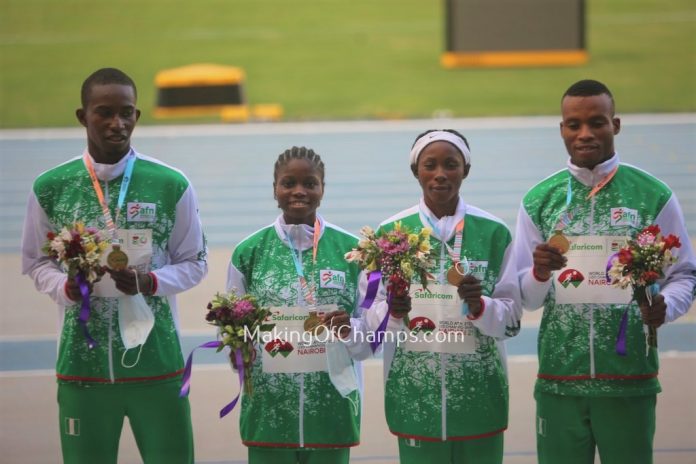 The Nigerian national anthem was heard at the World U20 Championships for the first time in 13 years when the U20 team won GOLD in the mixed 4x400m final with the fastest time in history, clocking 3:19.70 in the penultimate event on Day 1 of the World U20 Championships taking place in Nairobi, Kenya.
With the National Sports Festival women's 400m champion Nse Imaobong teaming up with the trio of Nnamani Johnson, Opeyemi Oke, and Bamidele Ajayi in the final, she made the team stronger, as she had earlier qualified as the fastest 400m runner from the heats in the morning.
Johnson led the team off with a fine opening leg, clocking a split of 47.75 before handing the baton to Nse in sixth. It was a different tale after that as the diminutive runner turned on the afterburners with the fastest split (51.60) of any woman in the field to give Nigeria the lead.
Opeyemi Oke seemed rejuvenated after missing out on a spot in the women's semis and she held on to Nigeria's lead with a fine 3rd leg before handing over to Ajayi in 2nd place.
" I wasn't really disappointed with my heats earlier in the day, and I just wanted to run the race of my life to enable my country to win GOLD".
Ajayi anchored the team with a Polish runner ahead of him, but he found an extra gear on the home straight, bringing home the baton for Nigeria.
The return to winning Gold at the World U20 also mirrors Nigeria's return to winning Track & Field Medals at the Olympics for the first time since 2008.
Poland ran a very good leg for 2nd with a Season's Best of 3:19.80, with India U20 taking home the Bronze in an SB of 3:20.60.