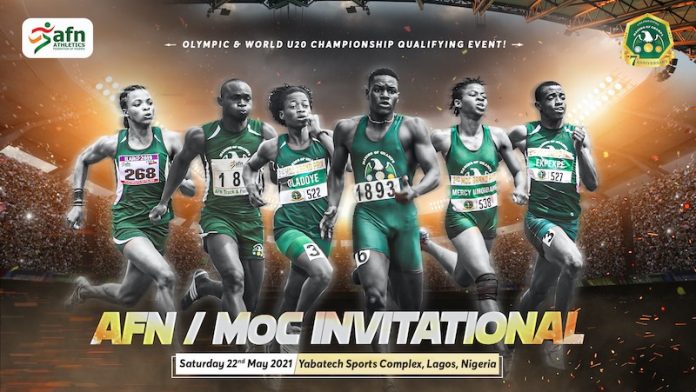 Within just 24 hours of registration opening, over 150 Athletes, including some of Nigeria's top Athletes and several from across Africa, have registered for the inaugural AFN/MoC Invitational billed to hold at the Yaba College of Technology in Lagos State on May 22nd.
MoC on Saturday announced the first ever AFN/MoC Invitational, which is being organized to provide Athletes across Nigeria and Africa hoping to qualify for the Tokyo Olympics, African Championships and World U20 Championships with a much needed opportunity to compete and hit the various qualification standards.
MoC Founder/CEO Bambo Akani said, "Even though some of Nigeria's top athletes are currently on a training and competition tour in the US, there are many other Athletes in Nigeria who are still in contention to break into the Olympic team, and we felt it necessary to ensure that they did not remain idle in May ahead of the National Trials for the Olympics in June.
"Thankfully, the AFN shared this view to maximize the Olympic qualification opportunities for its Athletes and have thrown their full weight behind the Event – we would like to thank them for once again making our continued AFN/MoC partnership for yet another Olympic qualifying Competition a reality."
Some of the top Athletes that have registered include Praise Ofoku, Olayinka Olajide and MoC's Moyosore Badejo in the women's 100m/200m, Nicholas Fakorede, Efe-Sam Agalive and MoC's duo of Gafaru Audu and Gracious Ushie in the men's 100m/200m, Afeez Abdulrahman in the men's 400m, Blessing Ovwighoadjebre and MoC's duo of Blessing Oladoye and Mercy Umoibang in the women's 400m.
In the Hurdles events, Martins Oghierakhi and Samuel Osadolor have registered for the men's 110m Hurdles, Ese Awusa, Adaeze Nwokike and Comfort Ekanem in the women's 100m Hurdles and/or 400m Hurdles, with Prior Ochonogor and Gbenga Bakre in the men's 400m Hurdles. In the Field Events, David Aya will feature in the men's High Jump, Ruth Agadama in the women's Long Jump (and 100m), Zola Nzube in the men's Triple Jump and Utitofon James in the women's Discus.
Furthermore, in the same vein as the BetKing/3rd MoC Grand Prix in March, the AFN/MoC Invitational is already attracting interest from Athletes across Africa, with registrations already coming in from as far away as Kenya, Cote d'Ivoire and Sierra Leone!
As the name suggests, the AFN/MoC Invitational will be based strictly on invitation, to athletes who have met the Entry Standards in the 12 Track and 4 Field events to be featured – The Men's & Women's 100m, 200m, 400m, 800m, 100/110m Hurdles and 400m Hurdles on the Track, while the Field events are Women's Long Jump, Men's Triple Jump, Men's High Jump and Women's Discus Throw: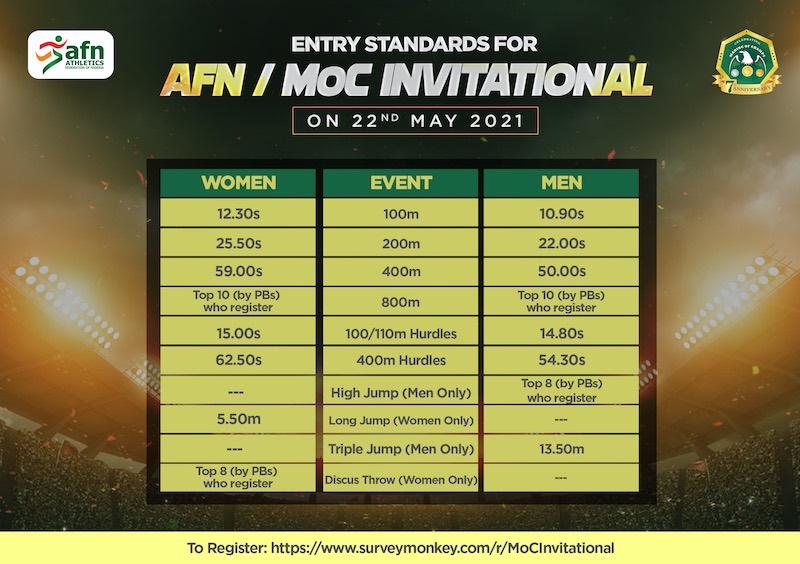 Registration for the AFN/MoC Invitational is ongoing and Qualified Athletes may register online here before the Friday 14th May Registration deadline: https://www.surveymonkey.com/r/MoCInvitational
Athletes across Nigeria and Africa who meet the standards are welcome to register. Athletes may register for up to 3 Events that they have previously achieved the entry standard for, but must ensure that they fill in their Personal Bests (PBs) and Season's Best (SBs) for each of those events when registering online (as well as the link to their World Athletics profile) to be considered for the startlists for each of those events.