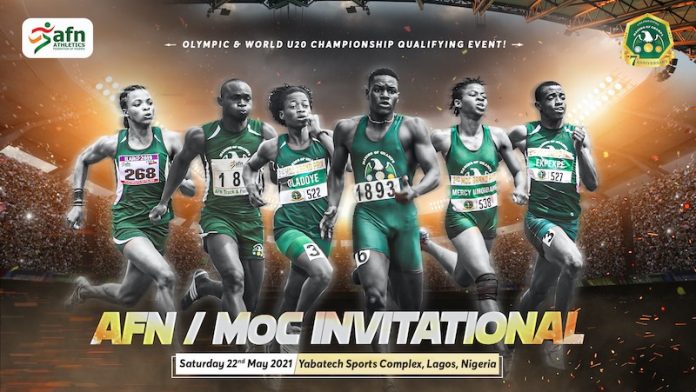 Following the successful hosting of the BetKing/3rd MoC Grand Prix in partnership with the Athletics Federation of Nigeria (AFN) which took place in March, organisers of the event – Making of Champions (MoC) – have partnered with the AFN once again to launch the inaugural AFN/MoC Invitational, which is billed to take place on 22nd May at the Yaba College of Technology, Lagos.
As the major competitions for 2021 including the Tokyo Olympics and World U20 Championships move closer, the AFN/MoC Invitational has been organized to provide Athletes across Nigeria and Africa hoping to qualify for these competitions with a much needed opportunity to compete and hit the various qualification standards.
MoC Founder/CEO Bambo Akani said, "Even though some of Nigeria's top athletes are currently on a training and competition tour in the US, there are many other Athletes in Nigeria who are still in contention to break into the Olympic team, and we felt it necessary to ensure that they did not remain idle in May ahead of the National Trials for the Olympics in June.
"Thankfully, the AFN shared this view to maximize the Olympic qualification opportunities for its Athletes and have thrown their full weight behind the Event – we would like to thank them for once again making our continued AFN/MoC partnership for yet another Olympic qualifying Competition a reality."
Unlike the BetKing/3rd MoC Grand Prix, which was an open competition to all registered Athletes, the Invitational, as the name suggests, will not be an 'All Comers' event and will be based strictly on invitation. As such, only athletes who have met the AFN/MoC Invitational Entry Standards in the 12 Track and 4 Field events to be featured will be invited to compete and added to the startlist for each event.
The Track events include Men's & Women's 100m, 200m, 400m, 800m, 100/110m Hurdles and 400m Hurdles, while the Field events are Women's Long Jump, Men's Triple Jump, Men's High Jump and Women's Discus only: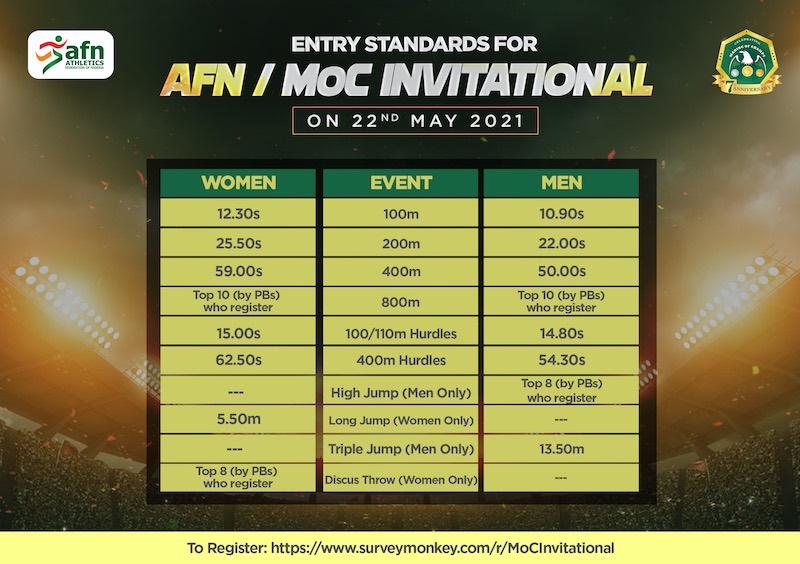 Registration for the AFN/MoC Invitational is now open and Qualified Athletes may do so online here before the Friday 14th May Registration deadline: https://www.surveymonkey.com/r/MoCInvitational
Athletes across Nigeria and Africa who meet the standards are welcome to register. Athletes may register for up to 3 Events that they have previously achieved the entry standard for, but must ensure that they fill in their Personal Bests (PBs) and Season's Best (SBs) for each of those events when registering online (as well as the link to their World Athletics profile) to be considered for the startlists for each of those events.
The final list of invited athletes by events will be published by Monday 17th May (five days before the competition). Athletes with any further enquiries or who might be traveling from outside Nigeria and require further information on travel and accommodation options may contact the organizers of the event at [email protected]
Athletes or clubs who need an invitation to obtain permission to attend the competition may download the Invitation Letter here.