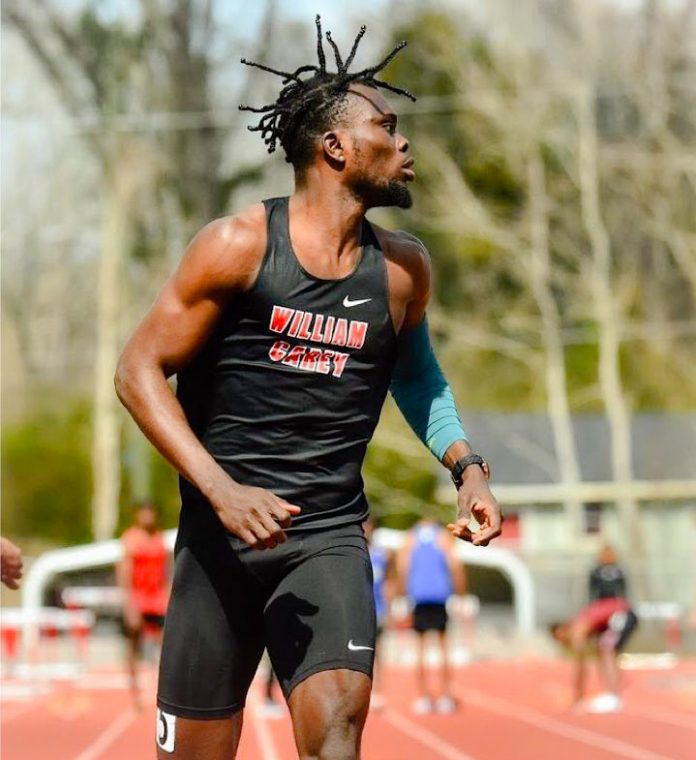 As the 2021 season got more into rhythm, several athletes in the NCAA competed over the weekend at various meets, setting the pace for what will be an interesting season with multiple Personal Records (PR) in their events.
On the pro scene, Blessing Okagbare opting to run the 400m in her opener, raced to a new Personal Best (PB) of 53.21s to finish 2nd in the event at the International "Pro Addition" meet in Miramar, Florida, shading 0.13s off of her previous best set in 2015. The event was won by Italy's Gia Trevisan in 52.88s, while 3rd place went to Victoria Ohuruogu in 53.53s.
Ruth Usoro kicked off her outdoor campaign on a high note, breaking sand at an outdoor PB and School Record (SR) mark of 6.76m to finish 2nd in the women's Long Jump at the Texas Relays. She was very consistent in her series as she further reached marks of 6.73m, 6.72m and 6.70m.
On the back of her record-breaking performance indoors, Tara Davis delivered a bombshell, in the form of her winning mark of 7.14m, the longest ever jumped in the NCAA, breaking Jackie Joyner-Kersee's NCAA Record of 6.99m from 1985. Shakeela Saunders was 3rd with 6.70m.
In that same contest, Mercy Abire reached a Season's Best (SB) of 6.39m to finish 5th.
Another Nigerian athlete who impressed this past weekend was Meyiwa Ineh who made big improvements in his outdoor debut at the Al Schmidt Bulldog Relays, going out to a massive Personal Best (PB) of 8.07m (+0.1) to win the men's Long Jump. He improved his previous outdoor best by 47cm and moved up to 5th on the 2021 Global Toplist.
The William Carey University Sophomore wasn't done as he won the Triple Jump with a Season's Best of 16.08m (+1.2) ahead of Keshaun Byrd at 15.58m as Kevin Campbell claimed 3rd with 15.19m. He also ran in the 100m as well, clocking a fast 10.39s to finish 3rd, and just missing out on a PB due to the marginally excessive wind reading of 2.1m/s.
Ohio State senior, Sade Olatoye opened up at the Maryland Invite, hurling a Season's Best (SB) & Facility Record (FR) of 68.52m for a domineering win in the women's Hammer Throw. She finished ahead of Alice Barnsdale who threw 61.68m and Angel Nkwonta at 61.02m.
Olatoye further finished 2nd in the Discus Throw with a mark of 50.76m and 3rd in the Shot Put with 16.49m.
Princess Kara also won the women's Shot Put at the Paradise Valley Community College meet, throwing a PB of 13.30m. She finished 2nd in the women's Discus Throw.
On track, Aniekeme Etim competed at the Al Schmidt Bulldog Relays in Starkville, running 11.45s to win the women's 100m (+0.3) ahead of Madison Fuller in 2nd with 11.54s, while Talaya Davis placed 3rd in 11.75s.
At the Weems Baskin Invitational in South Carolina, Knowledge Omovoh clocked a time of 23.72s to finish 3rd in the women's 200m, won by Wadeline Jonathas in 22.91s (PB) and followed by Celera Barnes in 23.36s.
Bashiru Abdullahi (UTSA) kicked off his outdoor season on a high note, running a time of 13.84s to win the men's 110mH Invitational at the Texas Relays, just with the win marginally over the legal limit at 2.3m/s. He finished ahead University of Houston's Dayo Akindele who returned 13.93s.