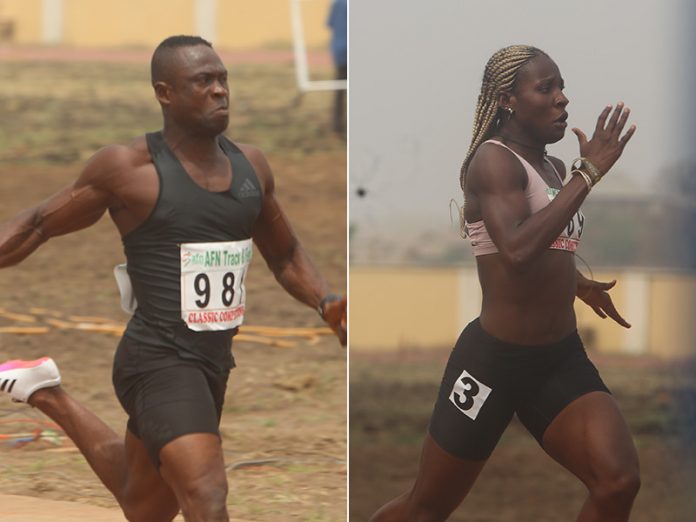 Some athletes stood a class apart in their events on Day 1 of the Athletics Federation of Nigeria (AFN) Classics held at the Oluyemi Kayode Stadium in Ado-Ekiti, Ekiti State, and topping that list is veteran sprinter Ogho-Oghene Egwero who has shown no signs of slowing down.
The 2015 African Games Medallist clocked the overall fastest time of 10.30s across all 13 heats in the men's 100m, while Godson Brume followed by racing to a Personal Best (PB) of 10.49s to finish ahead of Favour Ashe (10.58s) in Heat 1, with Oghale Okoro setting the third overall fastest time of 10.52s to win Heat 2.
Moving to the semis, Egwero was once again the man to beat as he won the first heat in a Season's Best (SB) of 10.26s to finish ahead of Brume (10.60s) and Fakorede Adekalu (10.65s), setting up a scintillating final clash on Sunday where he will meet the likes of Enoch Adegoke, Idjesa Uruemu, Jerry jakpa and Emmanuel Arowolo.
The second semifinal race was taken by Emmanuel Ojeli who returned a time of 10.43s – just 0.02s off his PB, as Okoro and Ashe followed in 2nd and 3rd respectively with 10.50s and 10.52s.
Having dominated the 100m, Egwero was the overall fastest man in the 200m when he won Heat 3 with 20.79s to finish ahead of Jerry Jakpa.
Anita Taviore and Praise Ofoku both set identical PBs of 11.68s to win Heats 5 and 7 respectively, while Jasper Adekunle stormed to victory in Heat 6 with 11.75s, and Blessing Ogundiran 11.78s to dominate Heat 4.
Ogundiran lowered her time to an SB of 11.67s to set the fastest times across the two heats in the semifinals, with Adekunle winning the second race, equalling her SB of 11.75s in the process as Esther Okon (11.79s) and Balikis Yakubu (11.96s) followed.
Samson Nathaniel got his 2020 season off to a good start, posting the fastest time across the nine heats in the men's 400m with an SB of 46.33s. Niyi Ogunleye finished 2nd in 49.08s and Segun Akhigbe 3rd in 49.62s. Daniel Atinaya was the second fastest qualifier for men's 400m final tomorrow, winning Heat 1 in 47.21s. In Heat 8, Atanda Akindele finished third fastest overall in 47.45s, with Segun Sewakan fourth fastest in 47.82s winning Heat 2.
Praise Idamadudu was very impressive in the women's 400m as she returned to action in the event by running the fastest time in the heats. Idamadudu ran an SB of 52.77s to win Heat 2 – the fastest time by a Nigerian this season, with Ada Bright 2nd in 55.26s and Amarachukwu Obi 3rd in 55.74s.
Competing in her first 400m this season, Favour Ofili hardly came under pressure in the race, winning by over a second to clock an SB of 53.69s. Deborah Adewunmi finished 2nd in 54.87s and Sarah Ochigbo 3rd in 55.16s. In Heat 1, Blessing Ovwighonadjebere opened up a gap to claim victory, clocking an SB of 54.69s in the race. MoC's Mercy Umoibang finished 2nd in 56.63s, with Feyishara Edun taking 3rd place in 56.76s.
Having dominated the Delta State Trials for the forthcoming National Sports Festival (NSF), Timothy Emoghene extended his winning streak in the men's 400m Hurdles as he ran a solo race, comfortably racing to victory in an SB of 50.92s. Saheed Yussuff came in 2nd in 54.44s, with Adams Lawal finishing 3rd in 54.61s.
Henry Okorie was the man to beat in Heat 2 as he did enough to win the race with an SB of 53.09s. Sodiq Adebisi, competing in his second ever Hurdles event, ran a PB of 53.34s to finish 2nd as Ndiponke Okure settled for 3rd in 54.47s.
Oluwakemi Francis cleanly took the barriers in the women's 100m Hurdles, shaking off the challenge of Hope Idhe to win the race with an SB of 14.17s (0.1). Idhe finished 2nd in 14.39s and Sekinat Alawode 3rd in 14.65s.
The Top 3 finishers in the women's 5000m were Shitu Adijat (20:12.77), Mary Ajayi (20:27.16) and Adeyemi Adeleye (24:37.61).
In the men's Discus, Austin Nwoye fouled three times, but he was never under threat as he easily won this event with a mark of 52.65m. Ebubechukwu Ugwoke finished 2nd with a throw of 41.91m and Samuel Osadolor 3rd with 38.42m.