Last week, we brought you the first part of our Top 10 Nigerian female athletes in 2019. Let's bring the concluding part as we unveil those who are the highest ranked in our list for this past season.
The feature photo for this story might have already given out who these top five Nigerian female athletes are, but before delving into the story, do you think you can actually call what placements the athletes are on?
Well, we do hope that you agree with our rankings. However, do chip in with your comments and let us know who deserves what position.
  5) Favour Ofili
What a precocious talent Nigeria has on its hands, and going by her outstanding 2019, Favour Ofili has proven that she could be the country's jewel on the world stage when other nations present their athletes in a contest on whose ornament would shine the brightest.
For all the talents Nigeria has lost to other nations, seeing the likes of Ofili break through only reinforces the fact that there's an enormous pool of bludgeoning athletes in the country; just ensure there's good management and they will flourish.
In a season that has seen Ofili move from the African Junior Championships in Ivory Coast to the World Championships in Doha, the youngster effortlessly transited both stages and remained unfazed.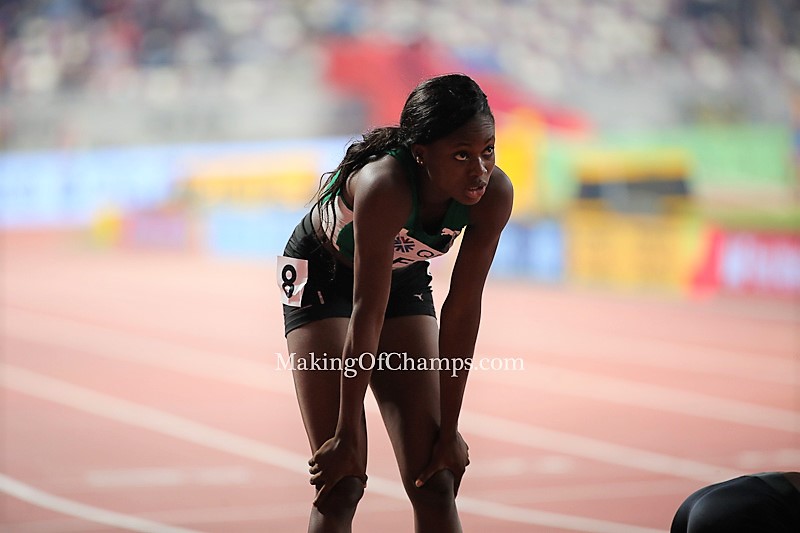 The sign that showed Ofili was primed for a great 2019 was when she stunned everyone to win the West African University Games (WAUG) title, beating the favourite Praise Idamadudu to win the 400m last November in a time of 53.64s.
Competing in Abidjan, a dominant Ofili was the outstanding athlete at the Championships, winning double titles in the 200m and 400m, coming through the rounds with victories to emerge champion in both events clocking 23.38s and 52.28s respectively.
It's a tough call deciding what event Ofili seems better in as she looks very adept in both the 200m and 400m. Out of the seven 200m races that Ofili competed in this year, she won all of them and ran three new Personal Bests (PB) in the process. The University of Port Harcourt undergraduate is no doubt on the cusp of a sub 23s, running a PB of 23.24s back in June in Abuja.
If the 200m was good, the 400m was even better as she ran six PBs in this event this year. It was as if she calculated when to lower the times, and she dropped them at the biggest stages.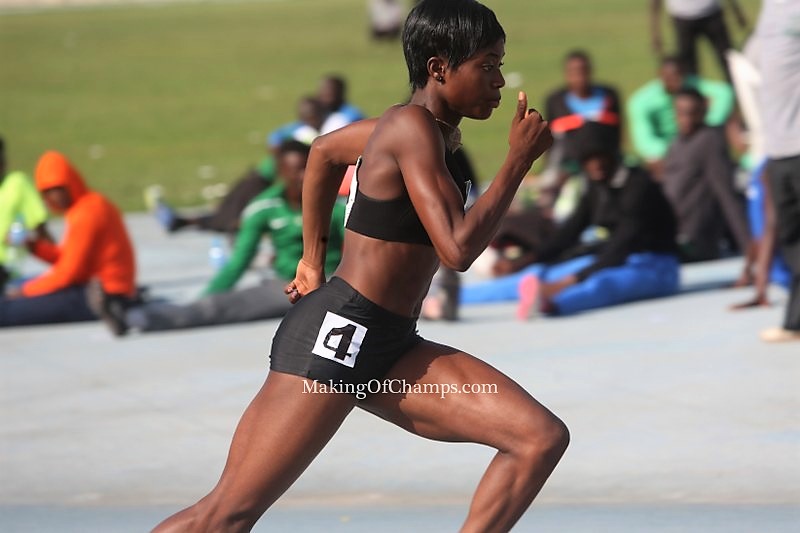 Running against Patience Okon-George at the National Trials in Kaduna, she was tipped to cause an upset, and although the former retained her title, Ofili wasn't run out of the park, settling for 2nd place in 51.90s to go under 52s for the first time in her career. She came back to win her first National senior title, winning the 200m in 23.32s.
Off to Rabat, she started off the rounds in 52.20s, going on to run 51.94s in the semis, but it was in the final that she produced her best performance. Not only did she finish on the podium with a Silver medal, she posted a very fast 51.68s (a then PB) to secure qualification to Doha.
With Galefele Moroko hot on her tail chasing Ofili in the anchor leg of the women's 4x400m at the African Games, Ofili showed no trepidation holding on to cross the line first and getting one over the Botswana athlete to help Nigeria to GOLD.
It's been a great year for Ofili who was also part of Nigeria's team that competed at the World Relays in Yokohama, running both the 4x100m and the 4x400m.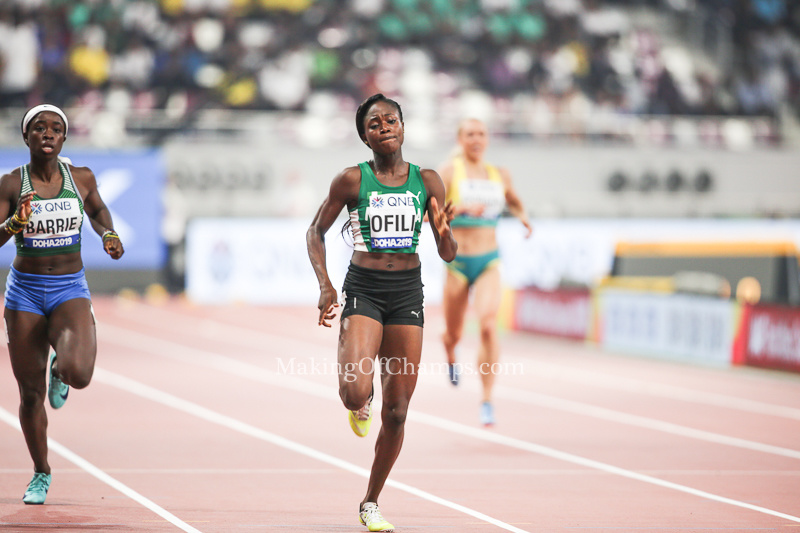 To get a clear picture of Ofili's mindset when she met Shaunae Miller-Uibo, this is what she said: "I was very happy seeing her here (in Doha), she motivates me a lot because I am tapping the grace that she has and I will use it to run my race. It's a big thing for me because I want to be better than her," she said.
There might be so much hue and cry over the big loss of Salwa Eid Naser to Bahrain, but if Ofili continues in these giant strides, Nigeria may have uncovered another gem who could match or even surpass the great Falilat Ogunkoya who remains the Nigerian and African record holder in the women's 400m.
MoC Ranking: 5th
IAAF Ranking: 4th
                                        4) Blessing Okagbare
Would Blessing Okagbare be able to challenge some of the world's best in 2019? This question might have crossed the minds of people at the start of the season, and if you were one of those who marinated over those thoughts, well it has to be a consensus that she had a good season.
Before you come up with an argument of how Okagbare's season ended, how about we set the tone on how the season started?
Last year when Okagbare ran a 200m African Record of 22.04s, and clocking 10.72s (+2.7) in the 100m, many thought that would have been a marker to build on for the African Championships on homesoil. However, blighted by injuries, she couldn't replicate that early season form, which inadvertently led to doubts as to whether she still had the cojones for the big stage.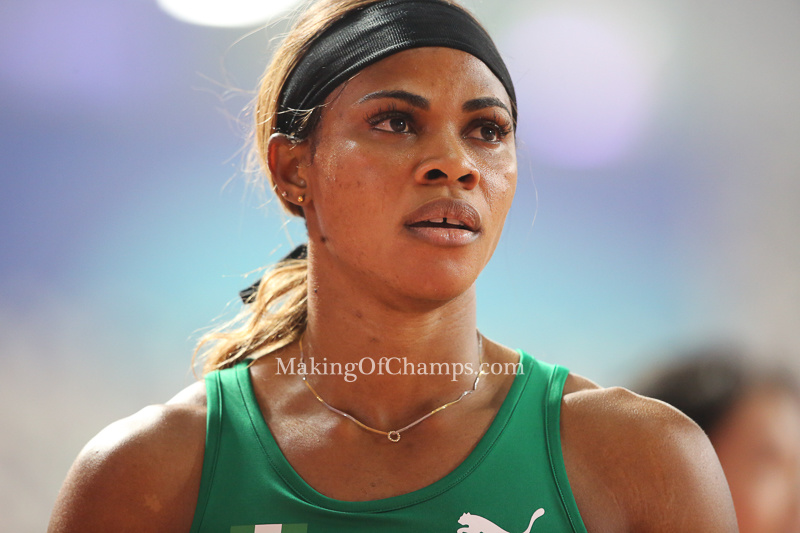 Running her first 100m of 2019 in Shanghai against a stacked field, Okagbare came through with a Season's Best (SB) of 11.07s to finish in 2nd place. That time earned her two qualifications for two Championships: first for the 2019 World Champs in Doha and also the Tokyo 2020 Olympics. Certainly not how a finished athlete performs.
Okagbare then picked up victories at the Rabat Diamond League in 11.05s, beating Marie Josee Ta Lou. The Nigerian Record Holder then bettered her SB, finishing 3rd at the London Diamond League in 11.04s.
Of all Okagbare's races in 2019, the 200m at the Eugene DL stands out, particularly because of the quality of field she raced against. Running from Lane 8, she came out of the bend way before the likes of Dina Asher-Smith, Dafne Schippers and Elaine Thompson, motoring all the way to the finish and narrowly missing out on her AR by one-tenth of a second, winning the race in 22.05s.
This season, Okagbare is ranked at No.4 in the world in the women's 200m, and for someone who shuttles between three events, it looks as though the 200m is really her most comfortable habitat.
At the African Games in Morocco, the Beijing 2008 Long Jump Silver Medallist suffered a shock disqualification after false-starting in the semifinals of the women's 100m. "I know my fans are disappointed and if you know me, you know I don't just show up. I show up and I am also there," Okagbare said afterwards.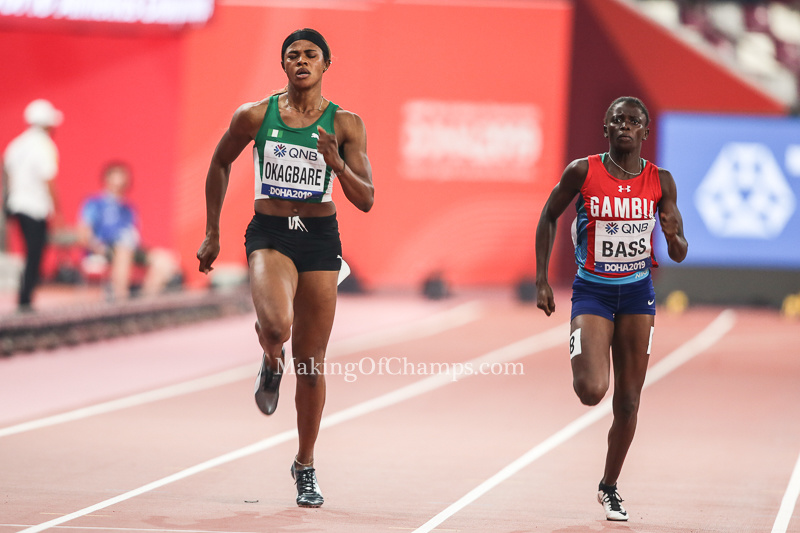 Okagbare helped Nigeria win its 4x100m heat in Rabat before jetting off to Zurich for the Diamond League final, finishing 6th in 22.62s in the women's 200m. Some days later she also competed in the 100m final in Brussels, posting 11.24s to finish 5th.
The World Championships is one for all to collectively forget following the administrative mix-ups that marred Nigeria's entries. Undoubtedly, the distractions played a big role in Okagbare's solitary race in Doha.
"You don't expect me to stay up two nights in a row crying, even getting into the race (200m), a DQ was the least I expected…there's a lot of things I try not to question. This year was one of the Champs there's nothing you tell me that I'm not getting a medal," said Okagbare while explaining how the off-track problems marred her chances of finishing on the podium.
Considering the field, you do agree that Okagbare has a point with regard to her expectations in the 200m in Doha. Bar an in-form Asher-Smith who deservedly won with a British Record of 21.88s, Okagbare would have at least gotten a Silver if we are to factor in her 200m SB of 22.05s. Brittany Brown who won Silver, finished 2nd in 22.22s and Mujinga Kambundji who got the Bronze crossed in 22.51s.
The 2019 season may have come and gone, but come 2020, Okagbare will still rub shoulders with the world's top athletes. By the way, do you know that she's the only Nigerian female sprinter (except Tobi Amusan) to have qualified for the Tokyo 2020 Olympics?
MoC Ranking: 4th
IAAF Ranking: 2nd
                           3) Chioma Onyekwere
In the three years that Chioma Onyekwere has represented Nigeria, she has at least a medal to show for each continental outing: such have been her contributions over this short period of time.
Born in the US and working for one of the biggest car companies in the world, Ford, the off-field commitments haven't impeded the dedication Onyekwere exudes while competing for Nigeria.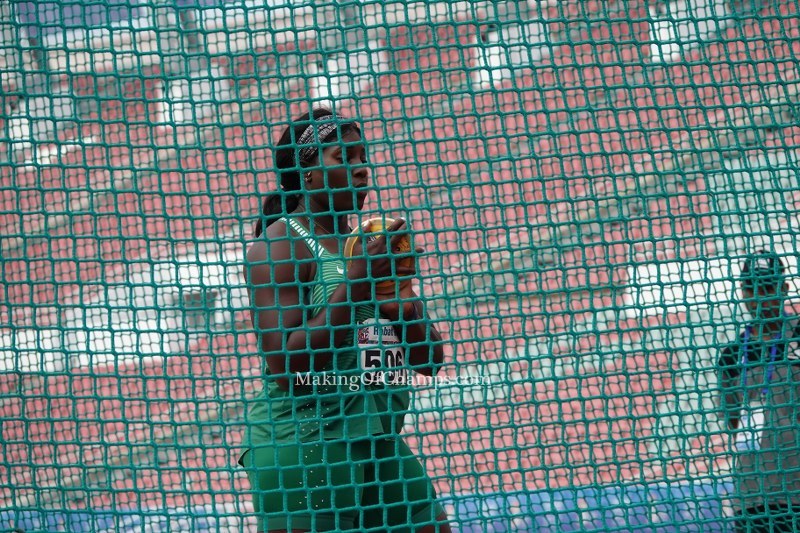 If season openers are parameters to measure how well an athlete would perform in the coming season, then Onyekwere may not have stood a chance with her 48.93m in Los Angeles earlier in March. Onyekwere knew she had work to do as she powered out to victory three weeks later in Indianapolis, throwing 57.46m to win the Discus event at the Polar Bear Invitational meet.
She improved further a month later, throwing a new Personal Best (PB) of 58.35m to win the Al Owens Classic. In 11 outings this season, Onyekwere won six of those competitions, throwing five new PBs in the process.
Onyekwere occasionally competes in the Shot Put as well, but this year she opted to focus on just the Discus. When she made her bow for Nigeria in Durban in 2016, she won two Bronze medals in the Shot Put and Discus respectively. Combining work and Athletics is not easy, and it is quite understandable if she's not clogging her schedule with too many Athletics programmes.
Even before she made the trip to Rabat, she was already the installed favourite to win the Discus, throwing her second mark ever to go over the 60m mark, finishing 2nd in California with a distance of 60.33m.
At the African Games, she underlined why she has been the best on the continent in the last two years, winning her second consecutive continental title with a mark of 59.91m. Even when she might not be at her best, there's hardly any other Discus thrower in Africa who can match her at the moment.
Qualifying for the 2019 World Championships as the Area Champion, Onyekwere was out to make it count, squaring up against some of the best in the world. The occasion did not engulf her and she just narrowly missed out on a place in the final, finishing 13th overall in the qualifying rounds.
Although she may not have made the final, she had a lot to cheer about as she threw yet another PB, this time improving by almost a meter, landing a big 61.38m to leave the Champs with something to build on for 2020.
The women's Discus Olympic qualifying mark for Tokyo 2020 is 63.50m, and it's over 2m from Onyekwere's PB. However, she is one athlete you can confidently back to make those standards next season.
Nigeria is lucky to have an athlete of Onyekwere's calibre in its ranks, an A-grade athlete who in the near future could be a world beater; surely her time will come on the biggest occasion. In this off-season, she can have all the cake she can get from the bakery because she has surely earned it.
MoC Ranking: 3rd
IAAF Ranking: 6th
    2) Oluwatobi Amusan
The aim of most Sporting Federations is to have as many elite stars as possible, so as to have iconic figures who would garner support from existing and emerging fans, thereby drawing more people to the sport. Although this argument is subjective, Tobi Amusan is already cementing her place as the face of Athletics in Nigeria, with her results backing her up.
From being a home-based Hurdler in 2015 and evolving into a World Class athlete in a space of four years is testament to how far she has climbed up the Athletics ladder, and quite rapidly too!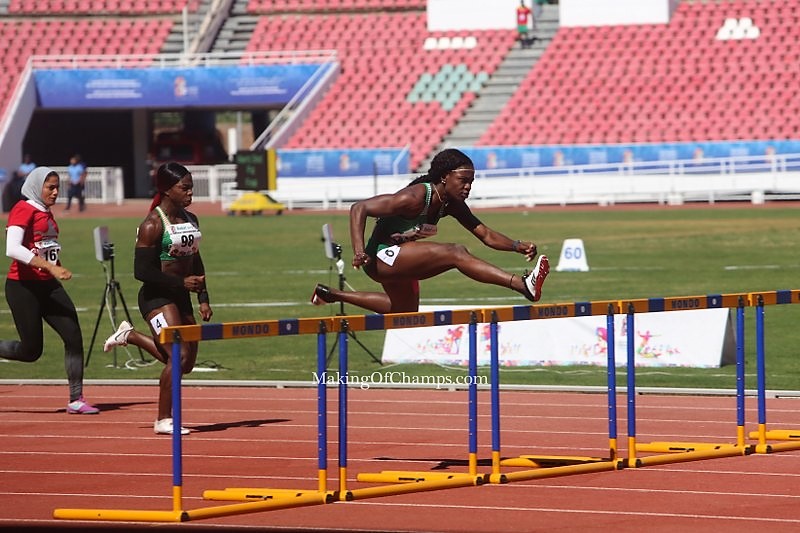 When Amusan finished outside the medals placement in 2016 at the World Junior Championships in Poland, you may be forgiven if you thought afterwards that she might not get to the top. However, her triumph at the Commonwealth Games in 2018 erased any doubts over her potential.
This season could be said to be the year Amusan finally got a seat at the table as one of the Top 8 Hurdlers in the world. Regularly competing across top meets in Europe and the Diamond League, she steadily registered her name as a major contender to watch out for.
Starting her season at the Drake Relays in April, Amusan opened up with 12.96s (+3.3) to place 4th. Less than a week later, she was off to Doha where she ran an impressive 12.73s to finish 2nd against a decent field.
In June and July, Amusan won a couple of meets in Europe, winning in both Luzern in 12.71s, and Prague, clocking 12.89s. With the victories came the confidence that she indeed stood a chance aganist the biggest names in the event.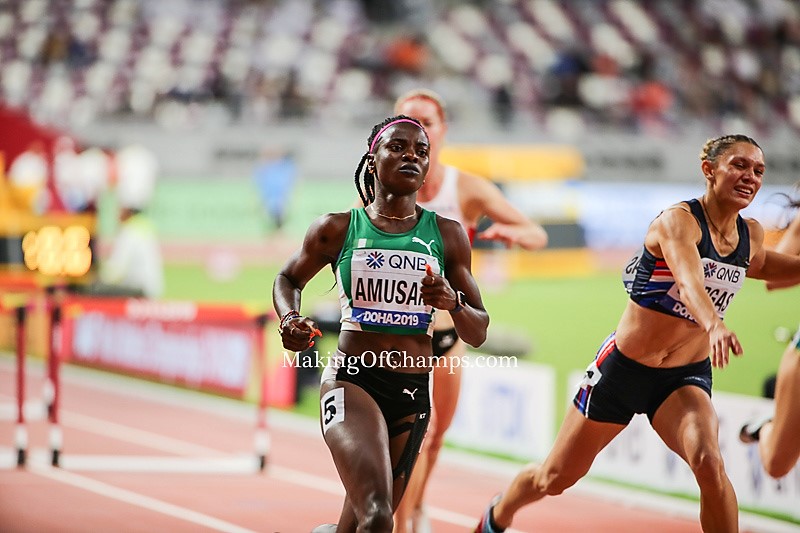 Competing in Sotteville, Amusan ran the fastest she has ever run in her career, improving on her then Personal Best (PB) of 12.53s to go under 12.50s for the first time in her career, clocking a very fast 12.49s, a time that's surely good enough to challenge for medals.
At the London and Birmingham Diamond Leagues respectively, she ran four races, finishing 5th in the final in London in 12.73s and 3rd in Birmingham in 12.71s. It's not the placements from these meets that was paramount at the time, but the fact that she was frequently getting lanes to run against the likes of Danielle Williams and Kendra Harrison helped her status as one of the best.
Amusan traveled to Rabat for the African Games in August. Not only did she retain her title, she also won the crown surpassing Glory Alozie's long standing Games Record and setting a new one of 12.68s. Three days later, she was in Germany competing again. With no signs of fatigue or burnout, Amusan stormed to victory, winning with a time of 12.51s.
Then came the 2019 World Championships in Doha. Eight days had passed and Nigeria faced the prospect of finishing the World Championships without winning a medal, and the Nation hoped Amusan could redeem the country from this ignominy as her event was slated for the last two days.
Amusan embraced the challenge by running an identical 12.48s (new PB) to comfortably win her heat in the first round and the semifinal as well. She became the first Nigerian to make the final of the women's 100m Hurdles in 20 years, giving many fans a lot to dream about.
Probably still haunted by the ghosts of the Brussels Diamond League final where she was disqualified for a False Start, Amusan was the last to leave the blocks in the final, and although she ran an astronomical last 60m, it was a little too late as she finished 4th in 12.49s.
One wonders what would have been if she had a bullet start like others, because Williams who was 3rd finished in 12.47s, while Harrison was 2nd in 12.46s. Who knows what position Amusan could have finished in if that start was perfect.
A shattered Amusan said after the race: "4th place is the worst position you can be in….I'll come back stronger."
If you want to know whether Amusan's performance is really igniting a passion for Athletics, just peep through some of the comments in this post after she qualified for the final in Doha.
Job done! Oluwatobiloba Amusan has become the first Nigerian athlete in 20yrs to qualify for the final of the women's 100m Hurdles at the #WorldAthleticsChamps, and she did it matching her PB of 12.48s! Janeek Brown was 2nd in 12.62s. Tobi is making all of us to dream!!! pic.twitter.com/MAAcvFgq6L

— Making of Champions (@MakingOfChamps) October 6, 2019
In 17 races this season in the 100m Hurdles, Amusan had one disqualification, finished 5th in one, and placed higher than 5th in the other 15 races. In fact she finished 1st in ten of those races in 2019.
MoC Ranking: 2nd
IAAF Ranking: 1st
1) Ese Brume
Not since the hey days of Chioma Ajunwa, have we had a Long Jumper whose name resonates amongst Nigerians like Ese Brume's is doing at the moment. Thanks to her prowess on the field and charming smile to back up the performances, she has etched her way into the hearts of many Nigerian supporters who have come to adore her.
Brume is undoubtedly Nigeria's best performer in the world this year, rising up when the chips were down, when all hopes were gone, to salvage a very dour World Championships for the country.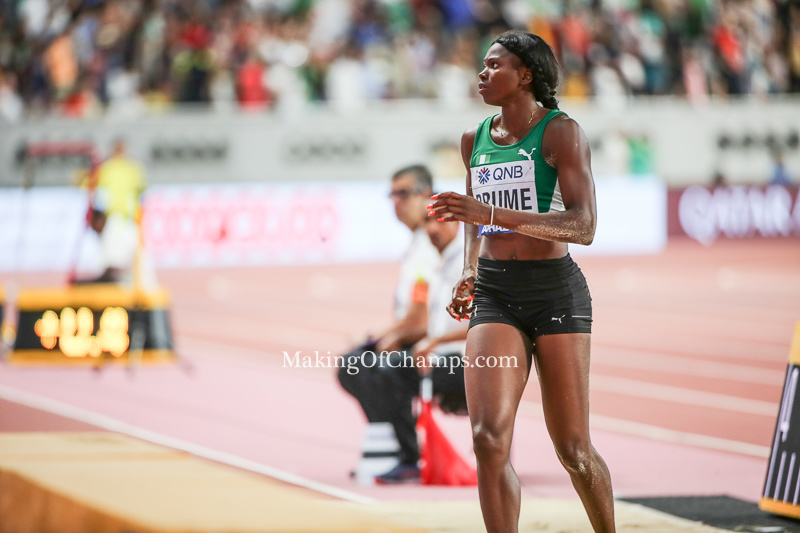 Although most of her competitions this season have been in Turkey, this was largely because she was unable secure visas to compete in the Diamond League circuit which restricted her from making appearances in some of the meets she was lined up for.
She didn't jump so much this season, but the few competitions she had, she made sure she produced good leaps. Brume jumped 6.76m to win the Turkish University Championships in May, then had to wait two months to compete, winning with a new Personal Best of 6.96m (-2.1) in Erzurum.
The big break came in August in Bursaspor when she became the third Nigerian in history to hit the 7m mark, winning with a new PB of 7.05m. That mark saw her jump the second farthest ever, with Ajunwa being the only one to jump farther than her with an African Record of 7.14m. Blessing Okagbare is the only other Nigerian to jump 7m, with a PB of 7.00m, so Brume is in good company.
Brume has won three consecutive African Championships titles, but surprisingly was yet to claim the African Games title, so it was some sort of mission for her going to Rabat, knowing that she really needed to land that elusive continental crown.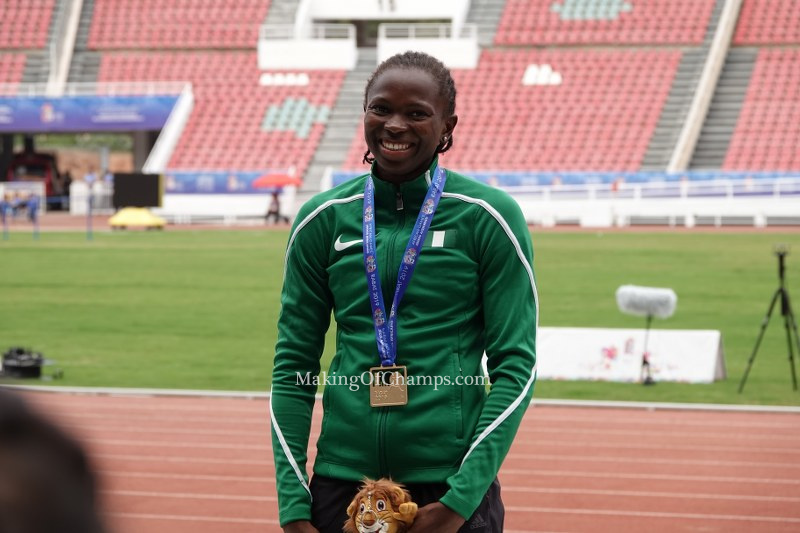 She wasn't even troubled and didn't face any stiff competition as she easily won the 2019 African Games title, not necessarily being at her best but still jumping 6.69m to claim the GOLD medal.
The World Championships had always been the target, and despite being the second best in the world coming into Doha, it was going to be a test to see if Brume could play in the big league or be drowned by the big occasion of competing against some of the world's best jumpers.
Brume showed what she could do when in the qualification rounds, she needed just one attempt of 6.89m to qualify for the final. Coming up against the World Leader, Germany's Malaika Mihambo for the first time, Brume didn't waste any time to prove her mettle.
It was the Nigerian who laid down the gauntlet, going straight into the lead with a jump of 6.91m on her first attempt. Mihambo struggled with her first two attempts and faced elimination, but she had an extraordinary leap on her third attempt, jumping a massive 7.31m which no one else matched.
Although Brume had to settle for Bronze, it was the significance of the medal that spoke volumes. It meant that Nigeria's wait for a World Champs medal wouldn't stretch till 2021, ending the country's 6-year wait for one.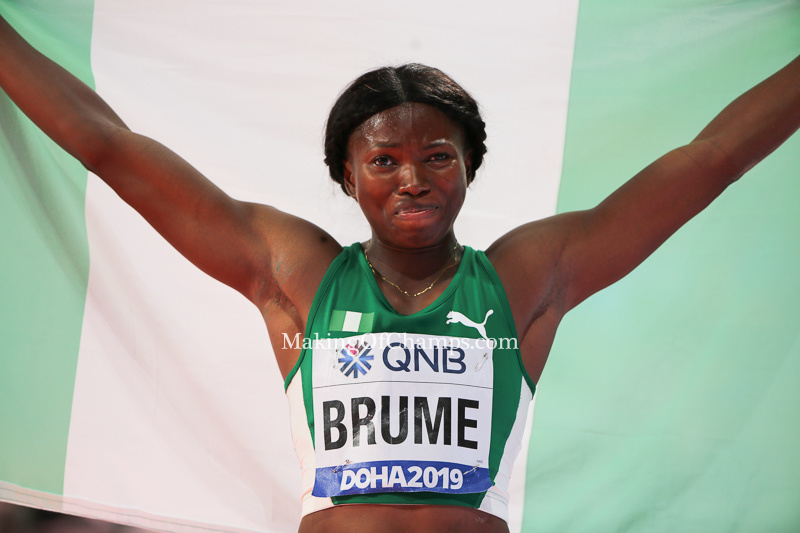 "God has put a smile on my face," an excited Brume said after winning Bronze. Although one would think she deservedly should take some rest, she has already set her sights on next year's Olympics. "This has improved my confidence and I know that by the Grace of God I will do well next season."
Only Mihambo (World Champion) jumped farther than Brume in the world this year, and if Brume improves in 2020, Nigerians could dare to dream of the prospects of seeing another Olympic triumph, 14 years since Ajunwa took the country to lofty heights.
MoC Ranking: 1st
IAAF Ranking: 3rd