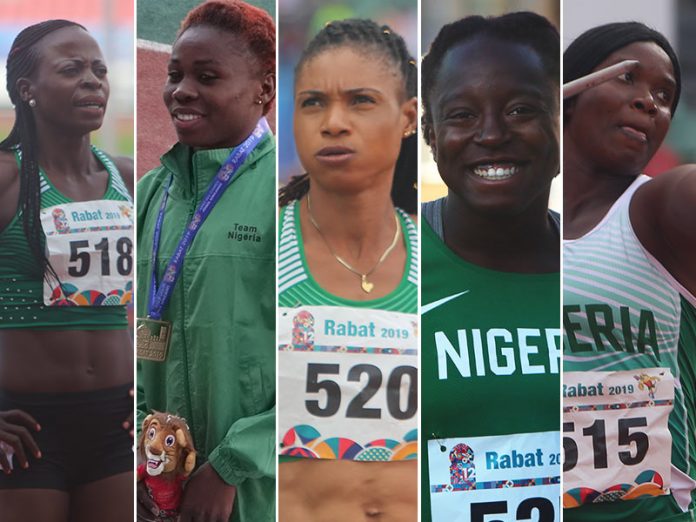 With the 2019 season being over, it's that time of the year when we bring you our Top 10 Nigerian Female athletes in 2019, outlining why they are our picks from a vast pool of enterprising athletes to select from.
A lot of factors were considered by our panel in the order of rankings, and it was by no means a cakewalk choosing who deserves what spot, before reaching an agreement on these 10 athletes.
When you're done reading, we would like to know if you agree with our rankings, and if there's anyone you think merits a place in the Top 10 who is not on our list.
Here's Part 1 of our Top 10 Nigerian Female athletes in 2019.
10) Kemi Francis
What a season Oluwakemi Francis has had, which culminated in her amassing a new Personal Best of 5683 points in the Heptathlon. For an athlete who has been an active Heptathlete since 2011, she has had to wait eight years to really put down her foot in this event.
Being Nigeria's sole representative in this event at the 2019 African Games in Rabat, Francis surely did not disappoint as she ensured she got to the podium, winning Silver to upgrade from the her 4th place finish four years ago in Congo Brazzaville.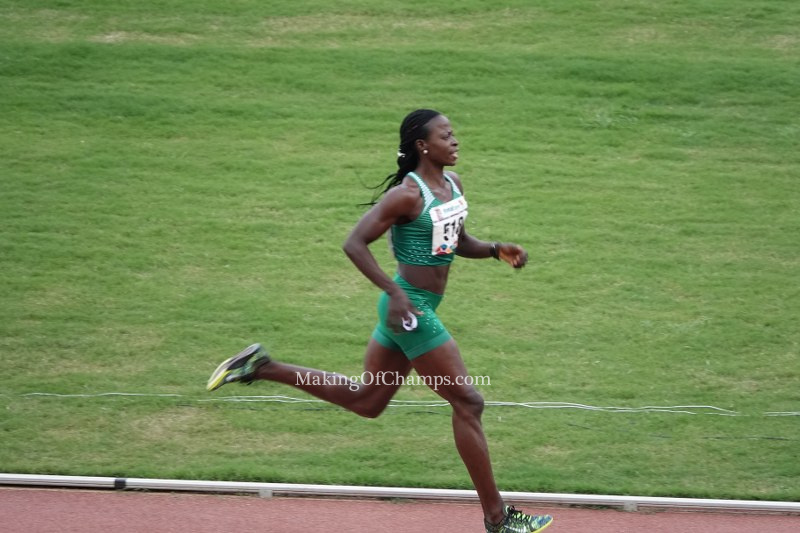 It's testament to how much she has improved this season, recording PBs in some of her events in the Heptathlon: Shot put (11.43m) and Javelin (40.83m). In the 100m Hurdles, she went under 14s for the first time in three years, clocking an SB of 13.81s.
Francis competed in the 100m Hurdles heat but was unable to run in the final as it would have been quite grueling to still meet up with the Heptathlon schedule. Like the proverbial "A bird at hand is worth more than two in the bush," she committed everything into the Heptathlon and had GOLD almost at her grasp, running a blistering 800m to win the final event, but she narrowly fell short to settle for Silver.
If Francis carries this form into 2020, she might well hit over 6000points very soon, likely going to become the second Nigerian in history to hit those points.
When the startlist for the women's 4x400m was released, many were startled seeing Francis in the line up. Not only was her inclusion surprising, she was taking the lead-off leg. In the last four African Games, Nigeria had not lost a 4x400m final, but it looked like the country was on a self-destruct mission this time around.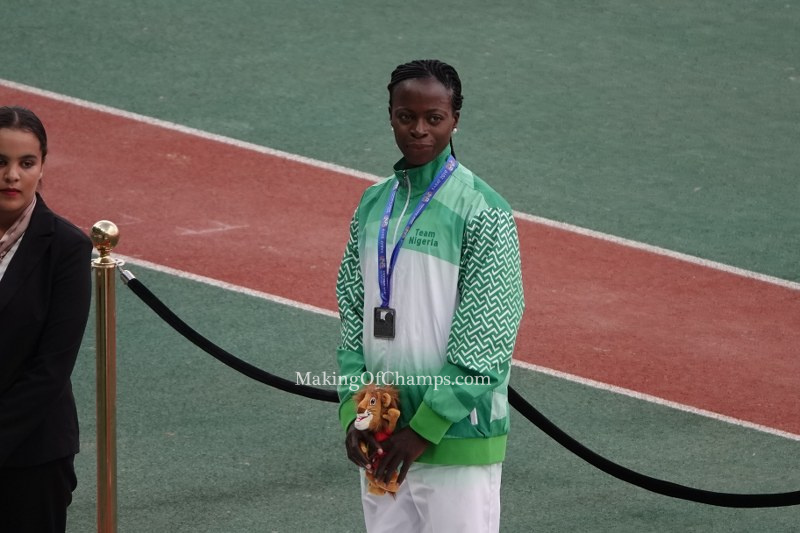 As if she was out to prove her doubters wrong, Francis ran a good first leg to hand-off to Patience Okon-George who then stretched Nigeria's lead before the team brought home the baton to win GOLD in this event.
Two international medals for Francis in 2019; she has definitely earned her spot in our list.
MoC Ranking: 10
IAAF Nigeria Ranking: 19
                                 9) Grace Anigbata
After winning the 2018 African Championships title and then the National Sports Festival (NSF) title last December, Grace Anigbata sojourned abroad to start life in the National Junior College Athletic Association (NJCAA) and it didn't take long for her to make her mark in the circuit.
What makes Anigbata stand out is her ability to transition effortlessly across three events: Long Jump, High Jump and Triple Jump, and she doesn't just make up the numbers in these events, she challenges for honours.
Starting her 2019 Indoor season with the Triple Jump, she finished 3rd in only one out of three competitions, winning the other two to earn her first NJCAA title with a new Personal Best (PB) of 13.17m. In fact she won two NJCAA titles as she claimed the High Jump title as well, scaling a new PB of 1.76m.
It must be said that this year has been Anigbata's debut in the Indoor circuit and she adapted so well and had laurels to show for it. Moving to the outdoors from April, she continued where she left off in March.
This year in the outdoors, Anigbata did not lose a single Triple Jump competition she entered for, winning all seven that she participated in.
In May, Anigbata clinched the NJCAA title, winning double National honours with victory at the Division 1 Championships, jumping a distance of 13.96m (NWI) to win the event.
Anigbata's best moment in 2019 came at the African Games in Morocco where she claimed a successive African title in the Triple Jump, winning GOLD with a mark of 13.75m. In 2018 at the African Championships in Asaba, Anigbata claimed her first African title, winning with a mark of 14.02m. With victory in Rabat, she remains undefeated on the continent.
MoC Ranking: 9
IAAF Nigeria Ranking: 7
                                    8) Kelechi Nwanaga
In a space of four years, Kelechi Nwanaga has really cemented her place as the best Javelin thrower on the continent and she has so many laurels to back up that status.
When she made her senior debut in Congo Brazzaville in 2015, Nwanaga made sure she embraced the opportunity, even surprising herself to win GOLD, and that was what really launched her international career for Nigeria as she went on to break the National Record (NR) in 2017 with a throw of 58.17m.
Since moving to the US, she has steadily continued her progress, and while representing her school, she made the regional final of the NCAA Eastern Conference, although she didn't make it past the preliminary round.
This year, out of the eight major competitions that she took part in, Nwanaga won five of those, with the biggest one coming from the African Games where she successfully defended her title.
Nwanaga didn't have much competition during the National Trials, and it was quite evident she would win even before the spear had left her arm during the event. As was expected, she won her 4th National title with a throw of 50.30m to earn her place on the Nigerian team to Morocco.
Coming up against South Africa's Sunette Viljoen, Nwanaga knew she had to come up with an optimal performance if she was to retain her title. Although the Nigerian led all through going into the last throw, it was not even Viljoen who threatened her for GOLD; it was her compatriot, Jo-Ane van Dyk who threw 55.38m to knock her off 1st spot.
Boxed at a corner and seeing GOLD slipping away, Nwanaga made the last throw count, landing a much better mark of 55.88m to climb back up to successfully retain the African Games crown, and her celebration afterwards summed what it meant to her.
Two African titles in two years (African Championships title in Asaba), there's no disputing that Nwanaga knows how to come big when it matters most, at least on the continent no one has beaten her in the last two major championships.
MoC Ranking: 8
IAAF Nigeria Ranking: 34
                        7) Patience Okon-George
In the last five years, there hasn't been any consistent female quarter-miler in Nigeria like Patience Okon-George, more like the go-to 400m sprinter for the country who delivers all time.
In fact, Okon-George's consistency and dominance has seen her become No.1 in the country, running the fastest time by a Nigerian 400m athlete (50.71s) since the days of the legendary Falilat Ogunkoya.
This year, not even the emergence of the younger Favour Ofili could threaten Okon-George from claiming her fourth consecutive 400m National title, and she did it with a World Championships qualifying time of 51.66s to make the Doha team.
Four years ago in Brazzaville, Okon-George finished 2nd, and she probably would have looked at upgrading on that placement while competing in Morocco. However, things didn't go her way as she finished outside the podium in 5th, clocking 52.18s.
For what she missed in the open event, she atoned for in the relays. Running the second leg in the women's 4x400m final, Okon-George gave the team a healthy lead to consolidate on and bring the baton home to clinch GOLD.
With her influence, Nigeria was able to successfully defend its 4x400m title and they did it beating a Botswana team that had Amantle Montsho and Galefele Moroko.
Okon-George who made her World Championships bow for years ago in Beijing, made the trip to Doha in September for her third consecutive Worlds, listed to compete in the 400m and 4x400m.
Although some might not have expected her to make it past the first round, she qualified for the semifinals (her third in a row since competing at the World Championships), finishing 6th in 51.89s. She then competed in the 4x400m, but the team did not make the final to secure an automatic Olympics qualification.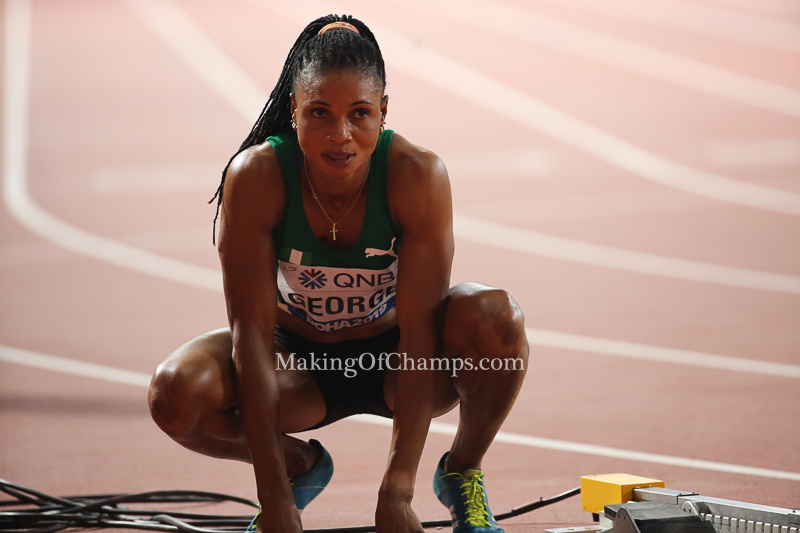 Such is her dedication, that at the World Relays in Yokohama, Okon-George was drafted to run the 4x100m for Nigeria as they were short on athletes in this event, thereby indirectly impacting on her own schedule for the 4x400m.
One thing is sure, in 2020 she will still be the one to beat, and there's hardly any doubt that she won't be on the plane to Tokyo for her second Olympic Games.
MoC Ranking: 7
IAAF Nigeria Ranking: 5
6) Temilola Ogunrinde
In a space of 14 months, Temilola Ogunrinde has gone on to endear herself in the hearts of the Nigerian Athletics fan base, etching her name in the country's folklore as one of the best Hammer throwers to wear the green and white colours.
Prior to the African Championships in Asaba last year, not many knew much about Ogunrinde who was born in USA before switching allegiance to represent Nigeria. She instantly changed her popularity status by throwing a National Record (NR) of 67.39m to win Silver.
It's one thing to make an immediate impact when repping a country for the first time, but sustaining that momentum takes some dedication and hard work, as your first achievement could look like a fluke.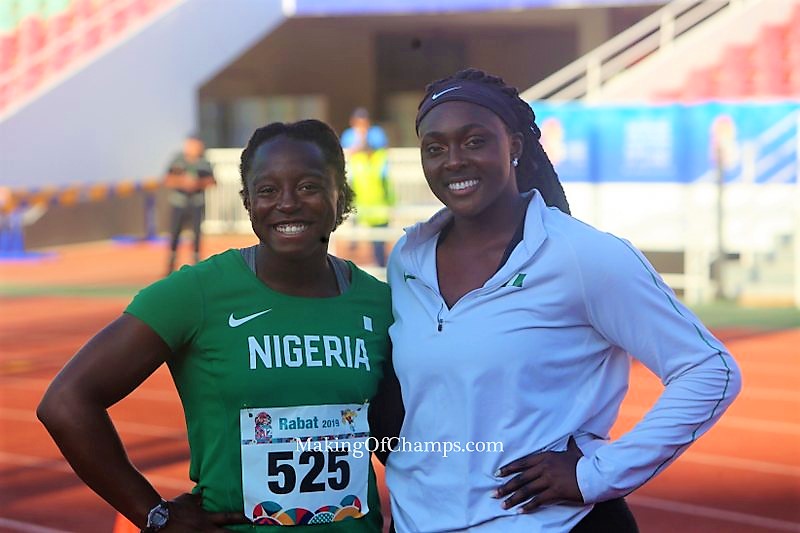 In 2019, Ogunrinde further showed that her 2018 form was not a flash in the pan, improving by over 1m on her previous NR, throwing a massive 68.85m in June to finish 5th at the NCAA Championships. That 5th place in Texas was her lowest placement, winning five of the Hammer throw events she competed in this year.
Competing at her maiden African Games, Ogunrinde won her second continental Hammer Silver medal, throwing a mark of 64.68m, thereby becoming the first Nigerian to win Silver in this event since Susan Adeoye Olufunke did same in 2003.
She may have missed out on the World Championships, narrowly missing out on qualification mark for Doha, but 2019 has seen her improve massively, and definitely her time will come to make her mark on the world stage.
Still only 23, Ogunrinde has a lot of time on her hands, and she can only get better. There's every possibility that with the trajectory of her improvement, she can go on to qualify for the Olympics. The qualification mark of 72.50m might look big, but it's not beyond Ogunrinde.
MoC Ranking: 6
IAAF Nigeria Ranking: 12