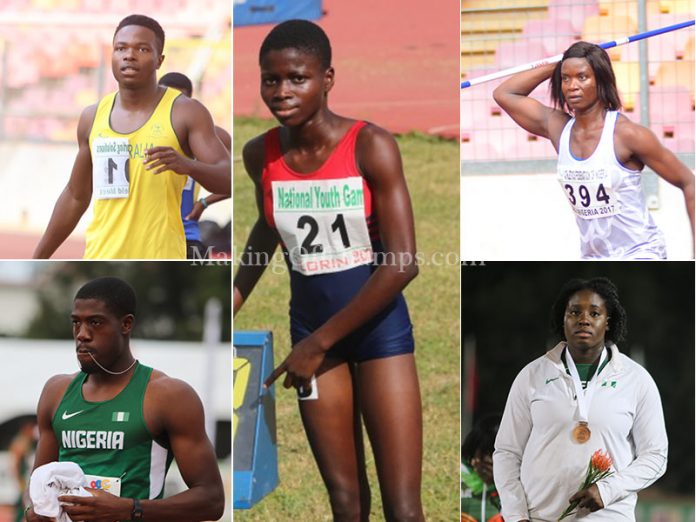 Merry Christmas Champs!
Yesterday, we commenced the countdown of our Top 20 Nigerian Athletes in 2018, featuring Nos. 20 to 16 on the list. Today, we will go a notch higher as we present Part 2 of the series where we unveil Nos. 15 to 11 on our list of Top 20 Nigerian Athletes in 2018 as follows:
Chioma Onyekwere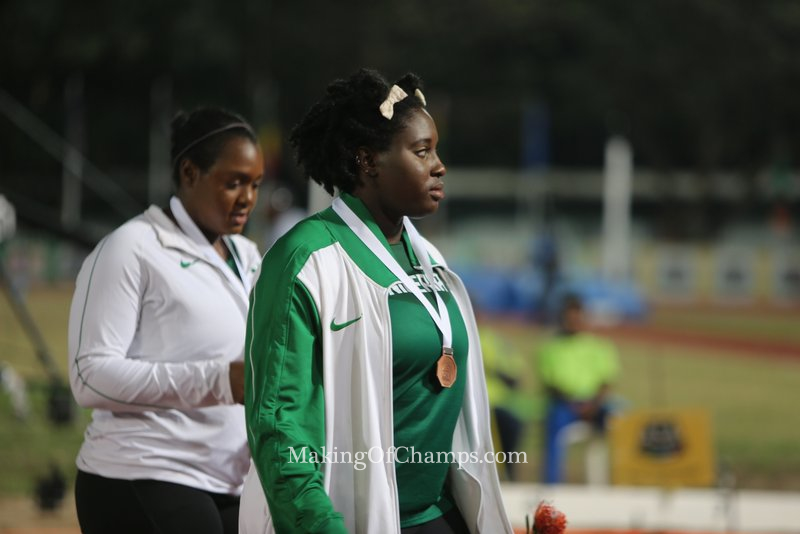 Two years ago, Chioma Onyekwere made her debut outing for Nigeria at the African Championships in Durban where she claimed Bronze medals in the Shot put and Discus respectively.
However, at Asaba 2018, she was the woman to beat as she struck GOLD for Nigeria in the Discus throw with a Personal Best (PB) of 58.09m in the third round of the event.
Not only did she win GOLD; she also inspired teammate and African Championships Record holder (59.79m) Chinwe Okoro to Silver with a throw of 57.37m. Ironically, that was the only event where Nigeria secured a 1-2 at the Championships in Asaba.
Onyekwere went on to represent the continent at the IAAF Continental Cup in Ostrava a month later and narrowly missed out on a medal, settling for 4th position with a throw of 56.68m.
Kelechi Nwanaga
Occupying our No.14 spot is National Record (NR) holder in the women's Javelin throw, Kelechi Nwanaga, who is currently studying at the University of Maryland Baltimore County (UMBC).
Prior to her move to the US, Nwanaga had dominated the event on the domestic scene and even won GOLD at the 2015 African Games in Congo Brazzaville.
In 2018, Nwanaga made her Commonwealth Games debut where she finished in 6th place with a distance of 53.17m. Nevertheless, she bounced back into reckoning in Asaba as she produced a big performance on Day 4 of the African Championships.
After South Africa's Jo-Ane Van Dyk laid down the gauntlet to lead proceedings after the third round with her effort of 53.72m, Nwanaga responded with a throw of 56.96m in the fifth round, which was enough for GOLD, and the South African had to settle for a second consecutive Silver medal at the African Championships.
This was no doubt a huge consolation for the Nigerian thrower who missed a podium finish in Durban two years ago after placing 4th in the event. Nwanaga thereafter competed at the Continental Cup in Ostrava where she secured 8th position.
Usheoritse Itsekiri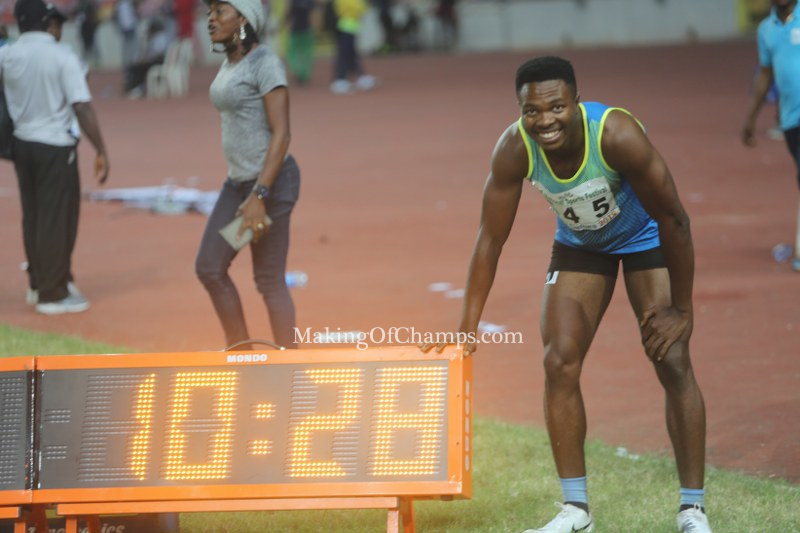 The year 2018 was a defining one for sprinter Usheoritse Itsekiri, who has now carved a niche for himself as one athlete to watch out for.
Itsekiri started the season on a good note as he stormed to victory at the Athletics Federation of Nigeria (AFN) Golden League held in Kaduna in December, clocking a time of 10.46s. He also won his 100m heat at the next Golden League in Port Harcourt.
At the Commonwealth Games Trials in Abuja held in February, Itsekiri returned a time of 10.46s to win his heat, then placed 2nd in the semis with 10.48s. He finished 4th in the final in 10.43s, which was a PB, and was selected on the team to Gold Coast as a member of the relay team.
He also made the relay team to the African Championships where he was a part of Nigeria's quartet that finished 2nd to South Africa in the heats. The team eventually won Silver in the final.
However, Itsekiri's proudest moment in 2018 would certainly be his GOLD medal-winning feat at the recently concluded NSF where he emerged the fastest man while representing Rivers State.
Itsekiri consistently broke his times and maintained an unbeaten streak all through, running a PB of 10.40s to win his heat. He then lowered his mark to 10.31s to win his semifinal race.
He produced an enormous upset in the final to clinch the title in yet another PB of 10.27s. What a year this has been for Itsekiri!
Chidi Okezie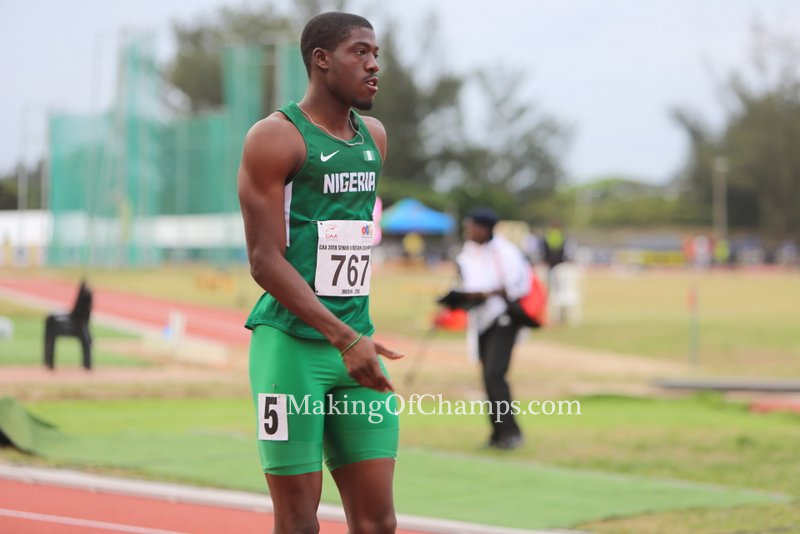 Since making his maiden appearance for the country at the 2016 World Indoors in Portland, Chidi Okezie has now become one of Nigeria's most consistent quartermilers.
At Durban 2016, the 25-year old won his first Silverware for Nigeria, a Bronze medal in the 400m, which was dominated by Botswana's duo of Baboloki Thebe and Karabo Sibanda.
Back in April, Okezie made his Commonwealth Games debut in Gold Coast, finishing 4th in his heat with a Season's Best (SB) of 45.85s, and 7th in the semis (47.33s).
Two months later, Okezie stormed to a PB of 45.65s while competing in New York, making him Nigeria's No.1 quartermiler this season and giving him a boost ahead of the African Championships in Asaba.
At the African Championships, Okezie claimed victory in Heat 3 of the men's 400m, holding off the threat of Zakhiti Kene to cross the line in 46.33s.
Later that day, he also ran a fantastic home straight in one of the men's 400m semis, coming from behind to win in a time of 46.05s. In the men's final, Okezie had to settle for Bronze behind Thebe and South Africa's Thapelo Phora, crossing the line in a time of 45.65s, thus equalling his PB.
He then ran a stunning anchor leg for Nigeria in the men's 4x400m, teaming up with Orukpe Erayokan, Rilwan Alowonle and Isah Salihu to win Bronze in a time of 3:04.33.
Racing alongside Caster Semenya, Lydia Jele and Thebe, Okezie did Africa proud at the IAAF Continental Cup in Ostrava as part of the Mixed Relay team which claimed Silver behind Team Americas. In fact, he was Nigeria's only medallist in Ostrava.
Okezie ended his season at the National Sport Festival (NSF) in Abuja where he got to the semis. He also spoke with Making of Champions about the projects he's involved with off the track:
Nse Imaobong Uko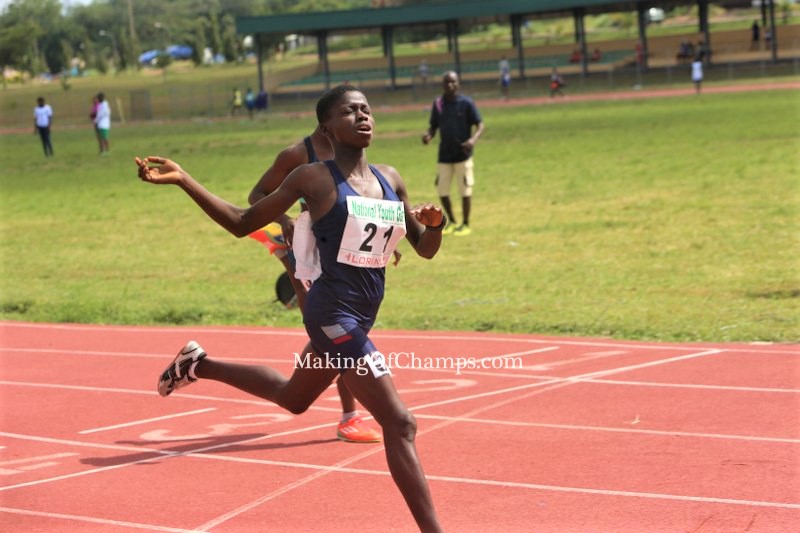 Our No.11 top Nigerian Athlete of the Year is none other than this fantastic teenager from Akwa Ibom State, Nse Imaobong Uko, who can as well be referred to as 'The Athletics revelation of the Year'!
Uko was the outstanding athlete at the 2018 National Youth Games in Ilorin where she emerged the only athlete to win two individual titles in Ilorin.
She first clinched the Girls' 400m title after putting up a dominant display, winning her heat in 57.24s, and then clocking a lifetime best of 55.78s to win GOLD barely an hour after winning her 200m semifinal race.
The following day, she stunned tournament favourite Praise Oforku, coming from behind to snatch victory in the 200m where she also clocked a PB of 24.94s. She then played a pivotal role in the mixed 4x400m relay where she won her 3rd GOLD medal of the competition.
Despite her flawless display, not many thought she stood a chance at the NSF, considering that she would be squaring off with her much older rivals. However, her performance in Abuja has left no one in doubt that she is indeed the next Salwa Eid Naser in the making.
Uko impressed in the women's 400m heats where she finished 2nd to Delta's Praise Idamadudu, clocking a PB of 55.29s. She smashed her time in the semifinal race which she narrowly lost to African Championships Bronze medallist, Yinka Ajayi, running a new PB of 53.20s.
Having demonstrated a glimpse of her abilities, spectators at the National Stadium in Abuja knew that they would be treated to something special in the final, and the young athlete did not disappoint.
The whole stadium was in a frenzy as Uko sailed past her rivals to strike GOLD in the final with a PB of 52.36s as Ajayi settled for Silver in 52.46s, and Idamadudu Bronze in 53.62s. What a rare sight that was!
Listen to Uko speak about her GOLD-winning feat at the 2018 NSF to Making of Champions:
Watch out for Part 3 of this series which comes up tomorrow. Wishing you Happy Holidays!