It's that time of the year again when we present our Top list of athletes that made a difference in their respective events in the course of the year.
In 2018, Nigerian athletes battled for honours at the Commonwealth Games in Gold Coast, African Championships in Asaba and the National Sports Festival (NSF) in Abuja amongst other events. In Part 1 of this series, we will feature Nos. 20 to 16 of our Top 20 Nigerian Athletes in 2018. Here goes:
Austin Nwoye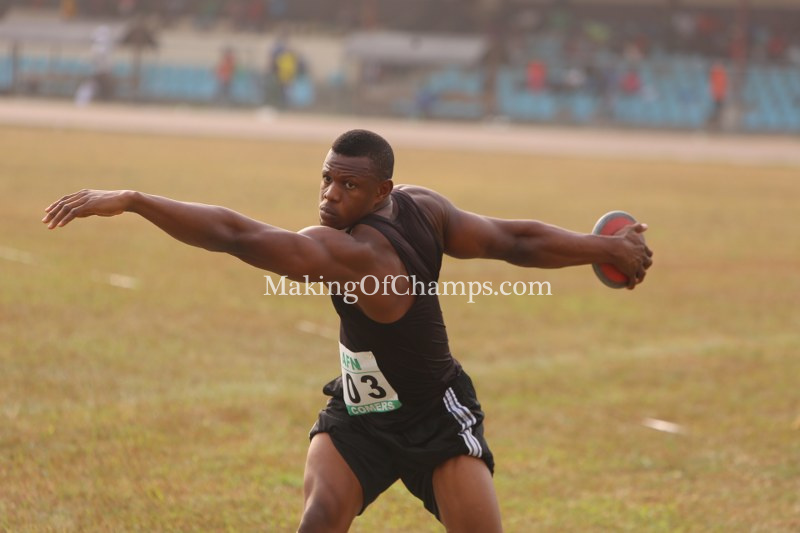 At No. 20 is Austin Nwoye who overcame several challenges to end the 2018 Athletics season on a high, winning the men's Discus throw at the 19th NSF with a Festival Record of 55.23m.
Nwoye has dominated the event in recent years on the home front, and his consistency certainly paid off this year after not making it to the Commonwealth Games and eventually Did Not Start (DNS) at the African Championships.
As if that wasn't enough, the thrower lost his coach after the African Championships but rather than despair, he took his teammates under his wings. As a result, teammate Princess Kara was also inspired to win a GOLD medal in the women's Discus event.
Watch Nwoye pay a tribute to his late coach, Felix Opuana, in this interview with Making of Champions:
Orukpe Erayokan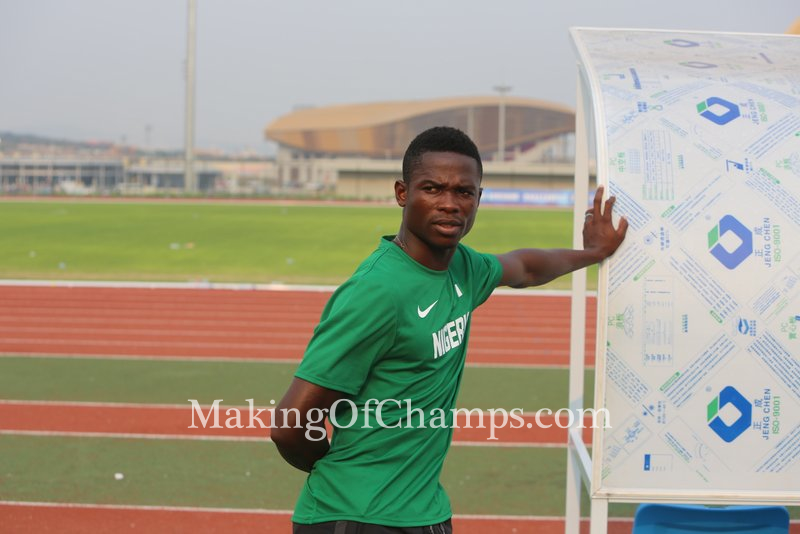 No.19 on our list is talented quartermiler Orukpe Erayokan who came into national reckoning after winning the men's 400m title at the 2012 NSF in Lagos. He has since represented Nigeria in several events including the 2015 African Games, IAAF World Relays, 2016 Olympics in Rio and 2018 Commonwealth Games.
In Gold Coast, Orukpe competed in the heats of the 400m where he finished 4th and didn't make it to the semis. At the African Championships, Erayokan placed 2nd in the semis with a time of 46.10s, before finishing in 5th place in the final after crossing the line in 46.38s.
He went on to run a spectacular first leg for Nigeria in the men's 4x400m and joined forces with Rilwan Alowonle, Isah Salihu and Chidi Okezie to win Bronze in a time of 3:04.33. Kenya claimed GOLD, while South Africa settled for Silver in the race.
Orukpe then shifted his sights to the NSF in Abuja where he maintained an unbeaten run through the rounds. It was very clear that he came to Abuja with one goal in mind: retaining the title he won at the Eko 2012 NSF.
He won his heat in 46.56s- the overall fastest time in the heats, and extended his dominance to the semis where he ran the overall fastest time of 46.45s. He stormed to GOLD in the final after stopping the clock in 46.32s. He also partnered with Joy Abu, Isah Salihu, and Kemi Francis to win Bronze in the mixed 4x400m relay in Abuja.
He went on to speak to Making of Champions about his target for 2019:
Seye Ogunlewe
Having won three consecutive national 100m titles from 2015 to 2017, Seye Ogunlewe represented Nigeria at the Commonwealth Games in Gold Coast and the African Championships in 2018. Along with Ogho-Oghene Egwero and Enoch Adegoke, Ogunlewe is tied on the No.2 spot of Nigeria's fastest sprinters in 2018 with a Season's Best (SB) of 10.19s.
In Gold Coast, the 27-year old finished 2nd to Jamaica's Yohan Blake in the heats where he returned a time of 10.20s. In the semis, he equalled the mark to place 3rd, then narrowly missed out on a medal in the final, clocking the same time of 10.19s as Blake who won Bronze.
In Asaba, Ogunlewe was the only Nigerian male athlete to win his 100m heat, clocking a time of 10.42s.
He then placed 2nd in the semis in 10.39s and in the final, settled for 5th position in a time of 10.45s.
However, he bounced back in the 4x100m relays final, anchoring Team Nigeria to Silver behind South Africa, partnering with Egwero, Divine Oduduru and Emmanuel Arowolo to win the country's first Silverware in the event in four years as the last medal won by the team was at the 2014 African Championships in Marrakech.
Ogunlewe has high hopes for the men's 4x100m team and believes that with more support, the squad can go places:
17. Queen Obisesan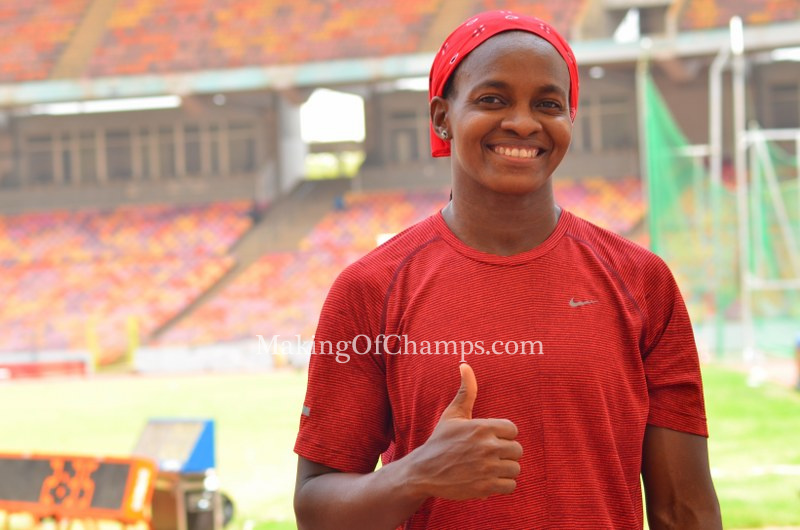 Obisesan has been Nigeria's most consistent female thrower in the Hammer event in almost a decade, and surely merits her place on this list.
Obisesan opened her season by breaking her National Record (NR) of 63.79m in the event set in 2013, replacing it with a superior mark of 65.01m at the Athletics Federation of Nigeria (AFN) Golden League held in Port Harcourt in January.
Not done with breaking records, Obisesan extended her mark to 66.20m a month later during the Commonwealth Games Trials in Abuja. She then broke the record again and this time around, set a new mark of 66.86m.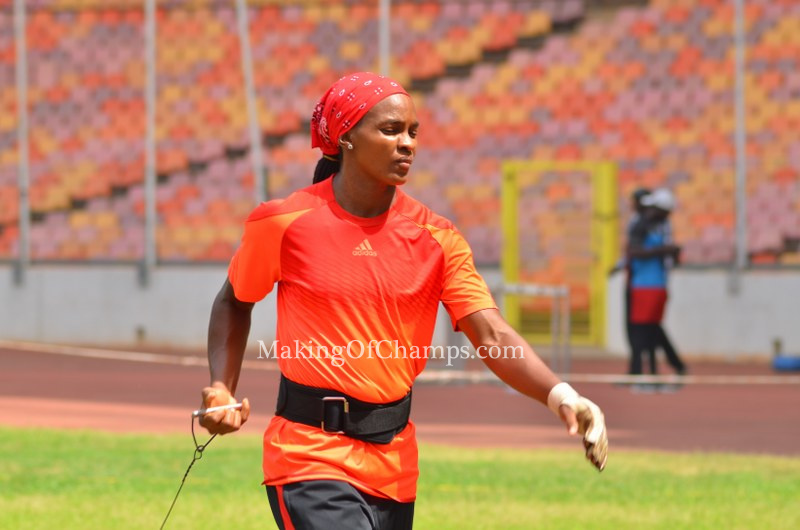 This performance earned her a place on the Nigerian team to the Commonwealth Games in Gold Coast where she eventually finished 5th with a distance of 63.84m. At the African Championships, she also placed 5th with a mark of 63.02m despite arriving the tournament as one of the favourites in the event.
That notwithstanding, Obisesan put the disappointments behind her to strike GOLD for Delta State at the 19th NSF where she shattered the previous record set by Vivian Chukwuemeka at the 2006 Gateway Games. Obisesan won the event with a superior distance of 64.96m, thus ending her season on a good note.
16. Samuel Kure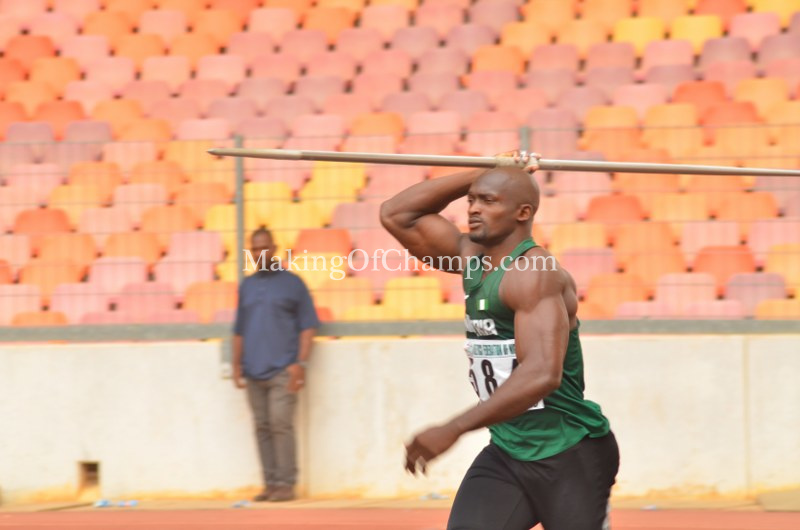 Nigeria's No.1 Javelin thrower for several years now, Samuel Kure takes No.16 position on our top list for 2018. Kure's maiden outing for Nigeria was at the 2016 African Championships in Durban. However, he has now gone a step further as he was part of Nigeria's contingent to the Commonwealth Games in Gold Coast and African Championships in Asaba.
On his debut outing at the Commonwealth Games, Kure competed in the qualifying rounds of the men's Javelin event but was unable to advance to the final after finishing 15th on the overall rankings, with the Top 12 throwers qualifying for the final. However, he set a Personal Best of 73.49m.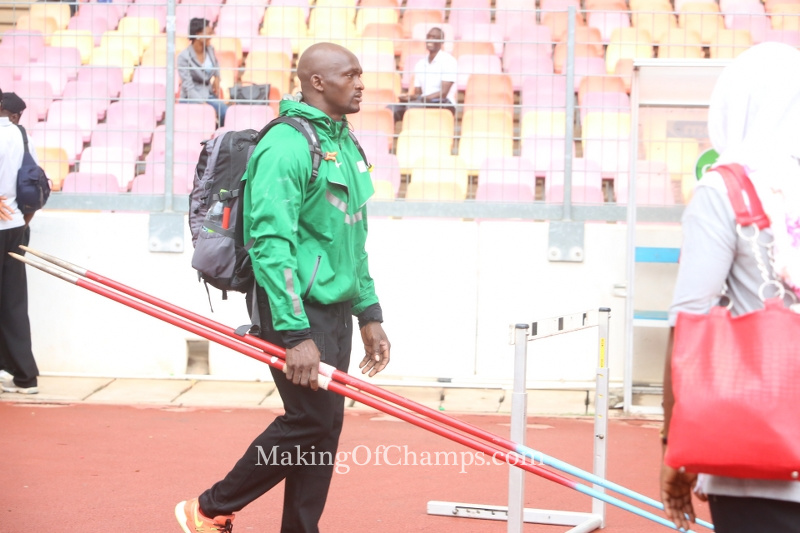 In the men's Javelin final in Asaba, Kure erased his former PB to set a new mark of 75.69m which earned him a Bronze medal behind former World Champion Julius Yego (77.34m) and South Africa's Rensburg Philmar (76.57m).
At the 2018 NSF, Kure obliterated Samuel Lakudos' long standing record of 68.40m set in 1989, setting a new Festival Record of 70.24m. Kure would no doubt be proud of his achievements in the 2018 Athletics season.
Watch out for Part 2 of the series where we feature Nos. 15 to 11 of our Top 20 Nigerian Athletes in 2018. Who do you expect to make the list?