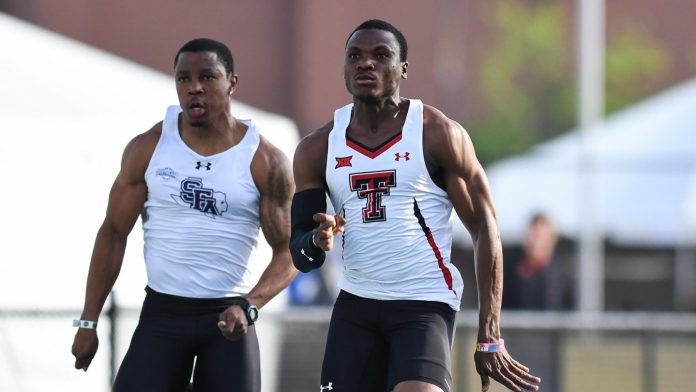 Not long after narrowly matching his 100m Personal Best (PB), Divine Oduduru came back to storm to a new 200m PB of 20.13s and win an individual double, then making it a triple after helping his team win the 4x100m at the Big 12 Championships in Waco, Texas.
It was a remarkable victory for Oduduru who went on to set a new 200m school record for Texas Tech, also surpassing Trayvon Bromell's previous Stadium Record of 20.30s, and moving up in the world rankings this year to a joint 15th place alongside South Africa's Anaso Jobodwana.
Oduduru had earlier on clinched the 100m title winning with a time of 10.11s, but he only rested for an hour and 5 minutes before the commencement of the 200m final.
There was nothing Terrell Smith could do to change the outcome of the race for him to finish above the Nigerian, finishing 2nd yet again to Oduduru and posting a time of 20.51s while Darrion Flowers was 3rd in 20.69s.
For Oduduru, it was a good outing for him and his school, running the second leg in the 4x100m relay and playing his part in helping his team to victory with a time of 39.39s, making it a hat-trick of titles at the meet.
The 2015 African Games 200m Silver medallist last month raced to a PB of 20.15s, but it was evident that it was only a matter of time before he bettered that and possibly scratch under 20s.
To compete in three big races in one day and all within a space of three hours is no easy feat, it's also commendable that he was triumphant in all three.
At the moment, there's no male Nigerian sprinter faster than Oduduru as he currently holds the fastest time in the country in both the 100m and 200m. If he continues with this form, it could only be a matter of time before he joins the elite list of male sprinters to run below 10s in the 100m and under 20s in the 200m.