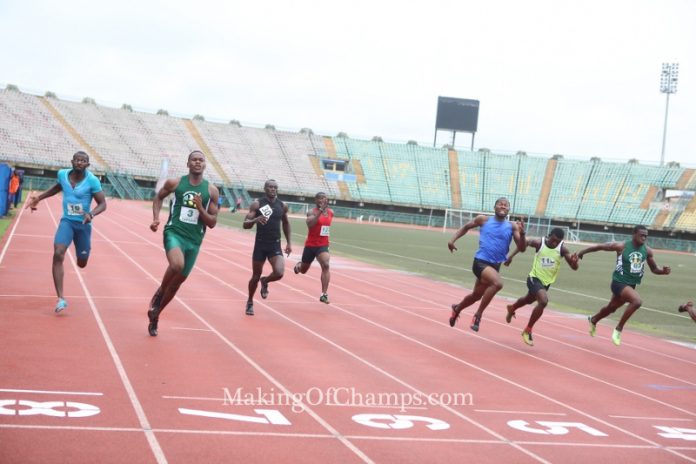 Lagos-based athletes defied the rain to compete at the 2nd Nkem Ezealah Memorial Meet held at the Teslim Balogun Stadium on Saturday. The first edition of the competition was held last year at the Yaba College of Education, Lagos.
The athletes competed in the men and women's 100m, men and women's 400m, men and women's Triple Jump, and men and women's 4x100m relay.
The event took off with the heats of the women's 100m. Making of Champions' MoC) Joy Udo-Gabriel easily won Heat 1 in 12.0s to finish ahead of Alawode Abiola (12.6s) and Raimot Omotosho (12.7s).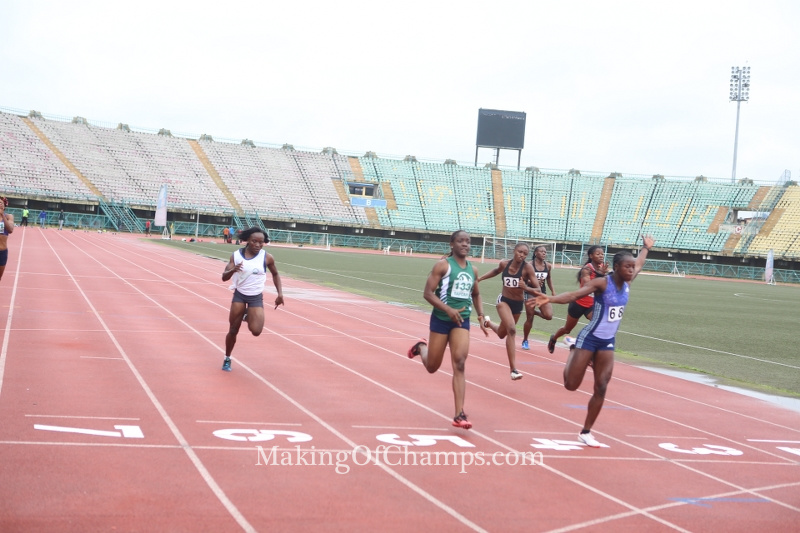 Eaglesight's Blessing Ogundiran ran the overall fastest time in the heats, clocking 11.9s to win Heat 2, with Iyanu Bada (12.1s) and MoC's Moyosore Badejo (12.1s) following.
Esteem Athletics Club's Ruth Usoro was the woman to beat in Heat 3, which she dominated with a time of 12.3s. Doris Nwakigwe (12.4s) and Rhoda Obamuwagun (12.7s) placed 2nd and 3rd respectively.
In the men's event, Peter Edwin clocked a time of 10.8s to win Heat 1 ahead of Sani Muhammed (10.8s) and David Nnorom (10.9s). Funmilola Badewa clocked the overall fastest time in the heats to win Heat 2 in 10.5s, with Terry Maurice (10.6s) and Nicholas Akinniyi (10.7s) following.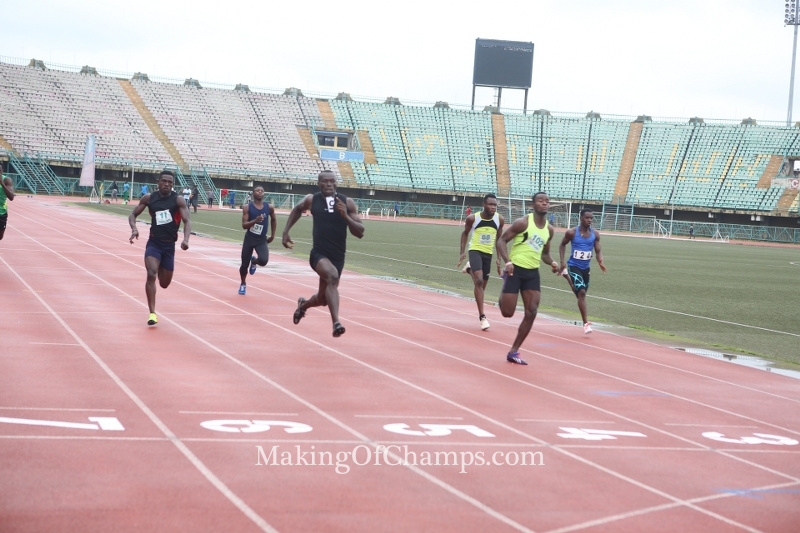 Esteem's David Sule won Heat 3 in 10.8s. Chukwu Peter (10.9s) and Adeyemi Ebunoluwa (11.0s) placed 2nd and 3rd respectively. Arinze Benjamin dominated Heat 4 in 10.7s. He was followed by Martins Ogierakhi and Abejoye Oyeniyi who posted 10.7s and 10.8s respectively.
Hamed Kasumu of the Nigeria Police returned a time of 10.7s to win Heat 5 ahead of Hanson Dianabasi (10.7s) and Joshua Unuawuodo (11.4s). The final heat was won by MoC's Jerry Jakpa in 10.8s, while Okelu Kingsley (11.2s) and Christian Ifeanyi (11.4s) were 2nd and 3rd respectively.
In a keenly contested women's 100m final, Ogundiran continued her impressive outing by pipping National U-20 Silver medallist Udo-Gabriel to the title, posting a time of 11.72s, while the latter clocked 11.82s. Bada (12.02s), Usoro (12.16s) and Badejo (12.31s) were the next top finishers.
The men's 100m final men was an explosive race which saw Jakpa storming to victory ahead of  Maurice, taking the win in 10.5s. The Eaglesight athlete was 2nd in 10.6s, while Badewa settled for 3rd in 10.7s. Benjamin was 4th in 10.7s.
The women's 400m heats were dominated by MoC's duo of Glory Nyenke and Blessing Obarierhu.  Nyenke took Heat 1 ahead of Charity Adegoke (56.5s) and Mary Emmanuel (64.8s). Obarierhu on the other hand, dominated Heat 2 in 58.7s. She was followed by Linda Friday (60.0s) and Olamide Oluwaseun (63.4s).
Funmilola Badewa won Heat 1 of the men's 400m in 48.2s, while Sehubo Ekundayo (50.1s) and Tope Olaniyan (50.2s) followed. Heat 2 was taken by Ishaku Muhammed (49.4s), who finished ahead of Segun Akhigbe (51.0s) and Christian Martins (51.5s).
Segun Ogunkole (51.2s), Saheed Jimoh (51.3s) and Christian Ifeanyi (52.0s) were the Top 3 finishers in Heat 3, while Fatola Adedoyin (51.2s), Uche Nwabenu (51.2s) and Afolabi David (54.2s) placed 1st, 2nd and 3rd respectively in Heat 4.
Udo-Gabriel, Nyenke, Badejo and Chiamaka Egbochinam teamed up to secure a convincing win for MoC in the women's 4x100m, returning a time of 47.5s to finish ahead of Eaglesight (48.0s) and the Nigeria Police team, which clocked a time of 48.5s.
The team's fortunes were reversed in the men's 4x100m race which saw the Police team snatch the win in 41.2s. Eaglesight followed with 41.3s, while MoC finished 3rd with 42.0s.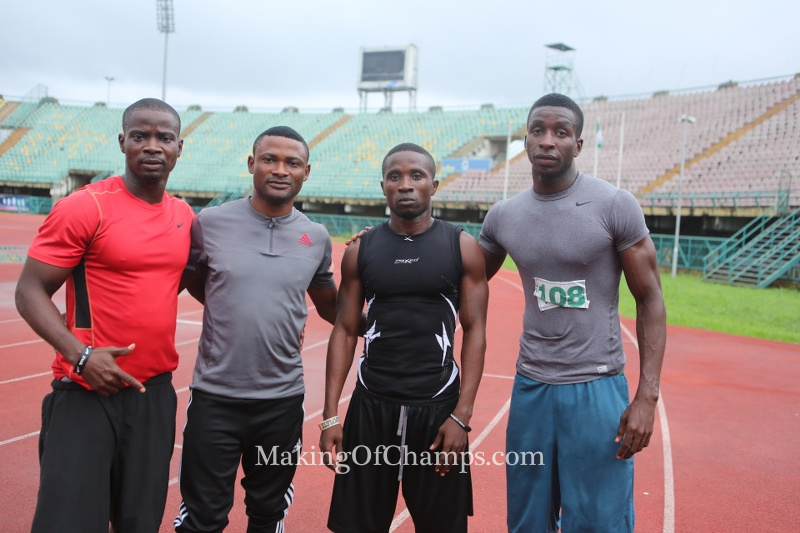 The 5km Walk was won by Kazeem Adeyemi of the Nigeria Police in 24:56.84, while Hussain Yunusa and Alade Felix settled for 2nd and 3rd respectively with 26:14.19 and 26:33.15.
Godwin Monday won the men's Triple Jump event with his leap of 14.33m, while Olufarati Emmanuel (14.21m) and Aliyu Maude (13.64m) followed.
Head Coach of Esteem Athletics Club which the late sprinter Nkem Ezealah belonged to and captained, Adu Uruemu, stated that the competition would have been more flamboyant but for a last minute change in venue.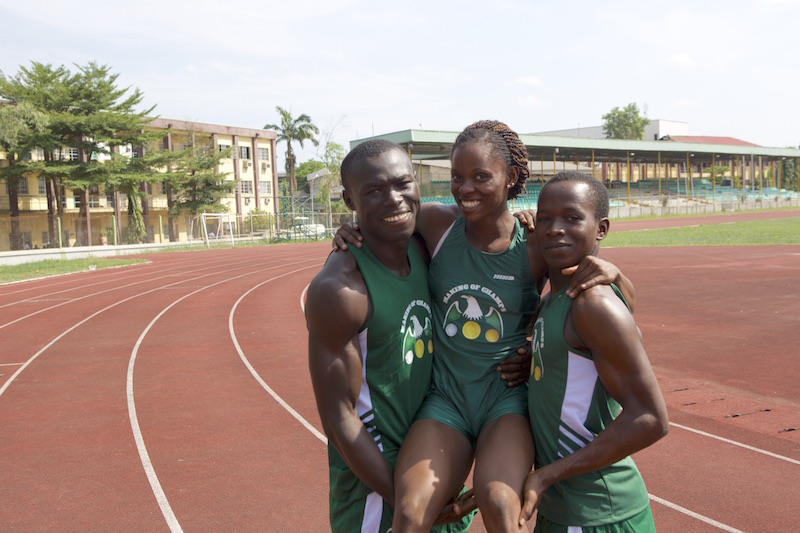 He said: "The Meet is not as flamboyant as last year, but it's going to be an annual event. We had to switch venues due to a change in date of some national competitions, but we will work at making it better. Of course we miss Nkem at Esteem Athletics Club.
"For example we didn't have a relay team today. That would not have been the case if she was around. She was focused, dedicated and hardworking, someone whose character the younger athletes can imbibe. We haven't had a captain like her, because nobody can fill her shoes. To be honest, no one in the club really wants to take over that position because she was one of a kind."
Ezealah died in a car crash in March, 2016, and had competed internationally for Nigeria before her death.
*All the times used are hand-timed